Robert Alexander Busby Jr.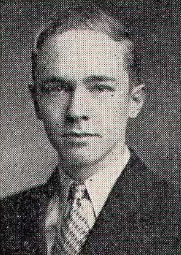 PVT in 603rd Engineer Camouflage Bn : Co C
ASN#17069227
Born 1919 in IA, Died 2006
Artist
County of residence at enlistment: Polk County, IA
Other residence(s): Des Moines, IA; Laguna Beach, CA; Huntington Beach, CA
United States Army, European Theatre of Operations
College education before the war: Pratt 4 years
Notes: sketched cars
Source: 603rd Camouflage Engineer Roster provided by W. Anderson; Comment by Howard Holt; Company C roster; photo from 1937 high school yearbook
Robert Busby was born on December 28, 1919 in Des Moines, Iowa. He graduated from Roosevelt High School in Des Moines in 1937, where he had been a member of the Art Club, and then spent four years studying art at Pratt Institute in NYC.
NOTE: His only sibling, his sister Jean, had preceded him as an art student. She was nine years older than he, and attended Grinnell College, the American Academy of Art in Chicago, and the University of Chicago, before taking a job as an illustrator with a publishing company in New York City (probably one of the things that drew him to attend Pratt).
He enlisted in the Army on October 9, 1942. His WW2 compensation record shows that he spent 3 years and 5 months in the Army. He was based in the US through December 1944, at which point he went overseas. This form shows that he started with the 603rd, and then was part of the 486th Engineer Maintenance Co.
He separated from the Army in February, 1946. The form (completed in October 1949) has a line indicating that "applicant separated from service in Japan to accept civil employment with the War Department in Japan." At the time (1949) his address was still an APO address in San Francisco, so presumably he was still in Japan then.
Several ship and air records show him traveling between Yokohama and San Francisco or Seattle through at least November 30, 1950. A May 1949 record says he intended (at that time) to spend two years abroad. So he may have stayed with the Occupation until its end in 1952. One of these forms gives his job title as administrative assistant.
As hard as I looked I could find NOTHING else about his professional or personal life until his death on November 10, 2006 in Fullerton, California (per his Social Security death record). The zipcode listed in that record is actually for Laguna Woods, California, and there are several city directory records and voter registration records showing a Robert A. Busby in Laguna Woods or Laguna Beach or Huntington Beach in the decades prior.
NOTE: Disappointing--because I thought for sure that with an art degree and 6 years in Japan that there would be an interesting story to follow!
Photograph:
1937 High School Yearbook
https://www.ancestry.com/interactive/1265/31244_187604-00029?pid=74563528&treeid=&personid=&rc=&usePUB=true&_phsrc=eSI37&_phstart=successSource
Sources:
1941 Draft Card
https://search.ancestry.com/cgi-bin/sse.dll?indiv=1&dbid=2238&h=38120508&tid=&pid=&usePUB=true&_phsrc=eSI34&_phstart=successSource
1942 Enlistment Record
https://search.ancestry.com/cgi-bin/sse.dll?indiv=1&dbid=8939&h=3720335&tid=&pid=&usePUB=true&_phsrc=eSI35&_phstart=successSource
1949 Ship Record from Seattle to Yokohama (one of several records like this; did not link all of them)
https://search.ancestry.com/cgi-bin/sse.dll?indiv=1&dbid=2250&h=175458&tid=&pid=&usePUB=true&_phsrc=eSI50&_phstart=successSource
1949 World War 2 Compensation Record
https://search.ancestry.com/cgi-bin/sse.dll?indiv=1&dbid=8825&h=218914&tid=&pid=&usePUB=true&_phsrc=eSI33&_phstart=successSource
City Directory (1950-1993)
https://search.ancestry.com/cgi-bin/sse.dll?indiv=1&dbid=1732&h=378315319&tid=&pid=&usePUB=true&_phsrc=eSI84&_phstart=successSource
2006 Social Security Death Record
https://search.ancestry.com/cgi-bin/sse.dll?indiv=1&dbid=60901&h=42466098&tid=&pid=&usePUB=true&_phsrc=eSI34&_phstart=successSource