Carl Julius Beato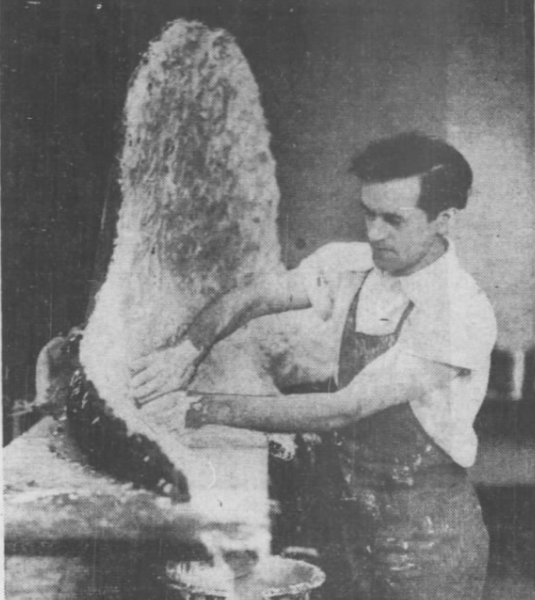 CPL in 603rd Engineer Camouflage Bn : HQ & Service Co
ASN#33170661
Born 1912 in PA, Died 1992
Artist
County of residence at enlistment: Westmoreland County, PA
Other residence(s): Forest Hills, MD
United States Army, did not accompany the unit to Europe
Occupation before the war: artists, sculptors, and teachers of art
College education before the war: Carnegie Tech 4 years
Source: 603rd Camouflage Engineer Roster provided by W. Anderson; photo courtesy Pittsburgh Post-Gazette on Newspapers .com
Carol Beato was born May 14, 1912 in Shire Oaks PA, the middle of five children. His father was a "day man" in a coal mine and his parents had both been born in Czechoslovakia. He graduated from Carnegie Tech in Pittsburgh (now Carnegie Mellon University), where he studied sculpture while also working at the Carnegie Museum of Natural History.
In the Museum he worked as assistant to Ottmar von Fuehrer, the staff artist at Carnegie Tech, from 1935-1939, and then then as Preparator and Sculptor in Vertebrate Paleontology in 1940-1942 (also apparently under von Fuehrer). He assisted von Fuehrer and his wife with the development of the "Arizona Desert Group" diorama and also worked on a diorama of prehistoric Pennsylvania (prehistoric lizards, limestone caves, etc.)
While at Carnegie, he was written up in the Pittsburgh Press in 1938 for a sculpture of a man on horseback entitled "The Last Arrow," made of a quarter mile of galvanized wire wrapped around and around.
He enlisted in the Army in February, 1942, directly from his job at Carnegie Tech, and was in the Army for almost four years; half of which was spent in active foreign service. He was in the OSS (a wartime intelligence agency that was predecessor to the CIA) for at least part of that time.
He married Helen Cekus on July 12, 1943; they had four children; sadly his wife died young in 1968 (at the age of 48).
After the war he took a job at the Naval Intelligence Support Center in Suitland, MD where he worked as a cartographic engineer, and became Chief of their Terrain Models Division. He worked there for 32 years, retiring in 1977.
His career saw him as an artist, sculptor, and master craftsman--doing work both for the government and in private exhibits.
In 1964, he was written up in a Toronto, Canada newspaper on the exhibit of another one of his quarter-mile of wire sculptures--this one a female figure entitled "The Wire Man's Daughter."
He holds a 1968 patent for a "method and apparatus for making 3D contact prints"—a 3D printer.
In 1982 he married Mary Frances Langworthy Potter.
He died December 20, 1992 in Alexandria, Virginia. (His residence at the time was in Forest Heights, Maryland where he lived for 40 years.)
Sources:
1930 census
https://www.ancestry.com/discoveryui-content/view/56969376:6224?ssrc=pt&tid=106870610&pid=180057133397
Carnegie Museum of Natural History, Botany Hall website - contains information about his work on dioramas in the 1930s and 1940s.
https://botanyhall.com/cast-of-characters/
1938 Pittsburgh Press article about his sculpture; includes photo of him and of his wire sculpture
https://www.newspapers.com/image/146967631/?terms=carl%2Bj%2Bbeato
Two 1940 Pittsburgh Post-Gazette articles showing photos of Carl working on sculptures for a display of prehistoric Pennsylvania.
https://www.newspapers.com/image/88911934/?terms=carl%2Bbeato
https://www.newspapers.com/image/89920729/?terms=carl%2Bbeato
1940 draft card
https://www.ancestry.com/discoveryui-content/view/7345080:2238?ssrc=pt&tid=106870610&pid=180057133397
1942 enlistment record
https://aad.archives.gov/aad/record-detail.jsp?dt=893&mtch=1&tf=F&q=33170661&bc=,sl,fd&rpp=10&pg=1&rid=3655856
1943 marriage record
https://search.ancestry.com/cgi-bin/sse.dll?indiv=1&dbid=61381&h=2536109&tid=&pid=&usePUB=true&_phsrc=bdi50&_phstart=successSource
1949 Naval Training Bulletin, 1949; discusses his work after the work; includes photo
https://books.google.com/books?id=BI0hyDNTTTkC&pg=PA8&lpg=PA8&dq=carl+j+beato&source=bl&ots=jH_1GJItN-&sig=ACfU3U2dxOxcjOUR6Jpw9-IM26F3NM5mCw&hl=en&sa=X&ved=2ahUKEwik75bNjpvpAhXXgnIEHZ_uDIsQ6AEwBHoECAoQAQ#v=onepage&q=carl%20j%20beato&f=false
1950 World War II Compensation Record; identifies him as having served 23 months in active domestic service and 23 months in active foreign service
https://www.ancestry.com/sharing/19997449?h=034e7f&utm_campaign=bandido-webparts&utm_source=post-share-modal&utm_medium=copy-url
1982 marriage record
https://search.ancestry.com/cgi-bin/sse.dll?indiv=1&dbid=9279&h=12683449&ssrc=pt&tid=106870610&pid=180057133397&usePUB=true
His printer patent (includes a downloadable PDF with drawings of his invention and description of how it works)
http://www.freepatentsonline.com/3368471.html
Family Tree info including obituary and other interesting tidbits (includes photo)
http://www.jbdaedal.com/genealogy/147.htm
Washington Post Obituary
https://www.washingtonpost.com/archive/local/1992/12/23/diplomat-john-f-melby-dies/d250c4b6-7bf9-4899-87e9-3e799877a153/
Confirmation of above claim that he was in OSS during war; he is listed in following OSS personnel file
https://www.archives.gov/files/iwg/declassified-records/rg-226-oss/personnel-database.pdf