Marvin Brudno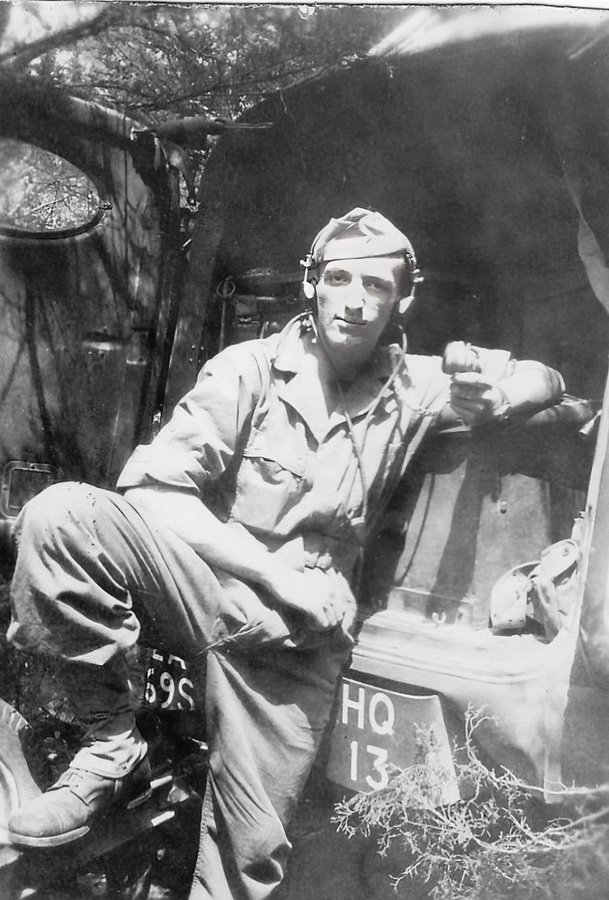 T/5 in Signal Co, Special : Radio B
Military occupational specialty: 776 (radio operator, low speed)
ASN#32674025
Born 1922 in NY, Died 1980
County of residence at enlistment: Monroe County, NY
Other residence(s): Rochester, NY; Fairport, NY
United States Army, European Theatre of Operations
Occupation before the war: stock clerks
College education before the war: Rochester Business Institute 1 year
Marvin Brudno was born on August 2, 1922 in Rochester, NY, the younger of two children. His father was a house painter; both of his parents had been born in Poland/Russia. He attended Monroe High School in Rochester, graduating in 1940. While there he served on the staff of "Monroe Life," the school newspaper.
He was an accounting student at Rochester Business Institute when he registered for the draft on June 30, 1942. Six months later, on January 1, 1943, he enlisted in the Army, giving his occupation as stock clerk.
He served in the Signal Company Special during the war. During the war he wrote the words and music for two songs along with fellow Ghost Army soldier John Raparelli: "My Wishful Night" and "C'mon Will Ya Hey!" Both songs are copyrighted 1944. A third song entitled "The Blackness of Night," added another co-author, fellow soldier Morrison Morefield. Unfortunately, none of these songs were ever recorded.
Marvin was discharged with the rank of T/5 on October 23, 1945. Less than two months later, on December 15, 1945, he married Eunice Galinsky in Rochester. The Brudnos would go on to have two daughters: Shelle and Stacey.
Marvin went to work as an accountant in Rochester after the war. A 1969 newspaper article recognized his promotion to office supervisor for the Rochester branch of Chase Brass & Copper Co. But he also became a motorsports photojournalist, doing business as Continental News-Photo, beginning in the 1960s. His articles and photos appeared in newspapers and magazines in the US, Sweden, and Japan, and he contributed photographs to numerous motor racing books. His photography, both scenic and racing, was shown and sold in art galleries and outdoor art festivals. His youngest daughter, Stacey, joined him in the business in 1968; until 1977 she was the only woman member of the American Racing Press Association.
Besides attending auto rallies with his wife, Marvin's hobbies included fishing, camping, and bowling. Marvin and Eunice were also active in Temple Emanu-El of Irondequoit, NY.
Marvin served his racing, photography, and out of doors interests with memberships and terms as an officer of a number of organizations. He was a member and past executive director of the Sports Car Club of America, Finger Lakes Region; a member and former treasurer of the MG Car Club of Western NY; a member of the American Auto Racing Writers & Broadcasters Association; and a member of the American Racing Press Association. During the 1950s he also served as regional director of the National Campers and Hikers Association, with a focus on the Adirondacks and Thousand Islands regions.
Marvin died on April 14, 1980 while living in Fairport, NY and is buried at White Haven Memorial Park in Pittsford, NY.
Sources:
1930 census
https://www.ancestry.com/discoveryui-content/view/122676932:6224?tid=&pid=&queryId=084fa338d7eba82f2f4181816aebafc4&_phsrc=Ssr3&_phstart=successSource
1936 Monroe High School yearbook
https://www.ancestry.com/imageviewer/collections/1265/images/43135_b179868_00054?treeid=&personid=&rc=&usePUB=true&_phsrc=Ssr16&_phstart=successSource&pId=989041313
1942 draft card
https://www.ancestry.com/discoveryui-content/view/303754177:2238?tid=&pid=&queryId=084fa338d7eba82f2f4181816aebafc4&_phsrc=Ssr7&_phstart=successSource
1943 enlistment record
https://www.ancestry.com/discoveryui-content/view/3624789:8939?tid=&pid=&queryId=084fa338d7eba82f2f4181816aebafc4&_phsrc=Ssr2&_phstart=successSource
1945 marriage record
https://www.ancestry.com/discoveryui-content/view/5967754:61632?tid=&pid=&queryId=084fa338d7eba82f2f4181816aebafc4&_phsrc=Ssr8&_phstart=successSource
1946 World War II Jewish Servicemen Cards
https://www.ancestry.com/discoveryui-content/view/7397:2125?tid=&pid=&queryId=084fa338d7eba82f2f4181816aebafc4&_phsrc=Ssr13&_phstart=successSource
1949 Rochester city directory
https://www.ancestry.com/discoveryui-content/view/66775588:2469?tid=&pid=&queryId=084fa338d7eba82f2f4181816aebafc4&_phsrc=lKq11&_phstart=successSource
1957 Rochester city directory
https://www.ancestry.com/discoveryui-content/view/1483671700:2469?tid=&pid=&queryId=084fa338d7eba82f2f4181816aebafc4&_phsrc=rTA1&_phstart=successSource
1953 article in the Democrat and Chronicle (Rochester, NY) about his involvement in Temple Emanu-El
https://www.newspapers.com/image/135434204/?article=3c458d70-411f-4b2a-901f-737272f37da6&xid=4712&terms=Mr._Marvin_Brudno&_gl=1*p60aus*_gcl_au*MTc3NzMwMTQ1NC4xNjg2OTIyMjQ3*_ga*MzAwMjYwMDUyLjE2ODY5MjIyNDc.*_ga_4QT8FMEX30*YzI1MmRjOWMtOTIxNi00N2NhLTk2M2YtNDFlYjczNzBjMThmLjMyLjEuMTY4NzEyMzE0MS4zNi4wLjA.&_ga=2.210983569.503738418.1687099326-300260052.1686922247
1964 article in the Democrat and Chronicle (Rochester, NY); he is elected treasurer of Western NY MG Car Club
https://www.newspapers.com/image/137376573/?article=f86c5a63-dd7a-46fd-9ebc-5668597b9b81&xid=4712&terms=Marvin_Brudno&_ga=2.35739556.503738418.1687099326-300260052.1686922247
1969 article in the Democrat and Chronicle (Rochester, NY) about a promotion
https://www.newspapers.com/image/136554365/?article=d2d2cf96-df3e-4487-af83-7506f347f43c&xid=4712&terms=Marvin_Brudno&_ga=2.50951085.503738418.1687099326-300260052.1686922247
1977 article in the Democrat and Chronicle (Rochester, NY) about Marvin and his daughter Stacey's work in race photography
https://www.newspapers.com/image/136959337/?article=ac0f2c8b-bb00-4bf6-93de-88fa4c017145&xid=4712&terms=Marvin_Brudno&_gl=1*hr90bm*_gcl_au*MTc3NzMwMTQ1NC4xNjg2OTIyMjQ3*_ga*MzAwMjYwMDUyLjE2ODY5MjIyNDc.*_ga_4QT8FMEX30*YzI1MmRjOWMtOTIxNi00N2NhLTk2M2YtNDFlYjczNzBjMThmLjMzLjEuMTY4NzE5ODg0MS4zOC4wLjA.&_ga=2.47939363.503738418.1687099326-300260052.1686922247
1980 Social Security Applications and Claims Index
https://www.ancestry.com/discoveryui-content/view/33801985:60901?tid=&pid=&queryId=084fa338d7eba82f2f4181816aebafc4&_phsrc=Ssr1&_phstart=successSource
1980 Find a Grave record
https://www.findagrave.com/memorial/239422452/marvin-brudno
1980 US Headstone Applications for Military Veterans
https://www.ancestry.com/discoveryui-content/view/3588390:2375?tid=&pid=&queryId=084fa338d7eba82f2f4181816aebafc4&_phsrc=Ssr10&_phstart=successSource
1980 Social Security Death Index
https://www.ancestry.com/discoveryui-content/view/7619591:3693?tid=&pid=&queryId=084fa338d7eba82f2f4181816aebafc4&_phsrc=Ssr9&_phstart=successSource
1980 VA death record
https://www.ancestry.com/discoveryui-content/view/11041071:2441?tid=&pid=&queryId=084fa338d7eba82f2f4181816aebafc4&_phsrc=Ssr12&_phstart=successSource
2023 (June 12) GALP Veteran Biography Worksheet from daughter, Stacey Brudno-Drange