Edward J Biow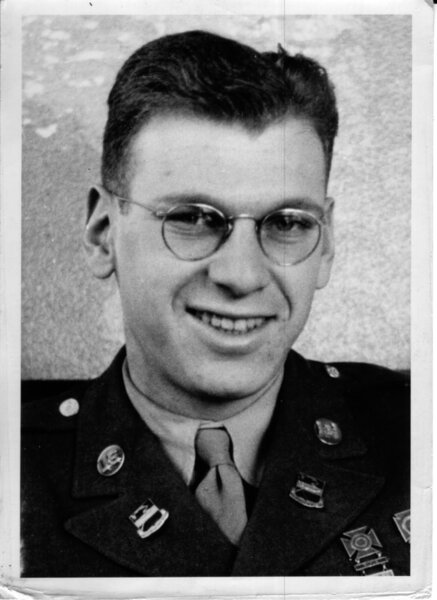 PFC in 603rd Engineer Camouflage Bn : HQ & Service Co
ASN#32358200
Born 1921 in NY, Died 2016
Artist
County of residence at enlistment: Queens County, NY
Other residence(s): Lake Oswego, OR in 1998 and 2002; Stafford, OR in 2002; Portland, OR in 2003
United States Army, European Theatre of Operations
Occupation before the war: unskilled occupations in manufacture of paper and pulp
College education before the war: Pratt 3 years
Notes: PVT, Co A in New York Area Leave List
Source: 603rd Camouflage Engineer Roster provided by W. Anderson; Photo of 603rd Company A, 13 May 1945; 603rd reunion mailing list; Company D With Addresses Roster; Company A Roster; Bernie Mason Company A, B, D Roster; bio info from The Ghost Army by Beyer/Sayles; photo from Biow Collection, GALP Archive
Ed Biow was born on July 19, 1921 in Manhattan, the older of two children. His father Jesse owned an advertising company, J. M. Biow, in New York City. His father's first cousin, Milton, was also in the business, and considered to be one of the pioneers of modern advertising with The Biow Company. So clearly advertising ran in the family.
Ed studied at Pratt, and while he was there took a lab course in camouflage R&D. He was just "amateuring around," he later said, but it led him, with other Pratt students, into the 603rd Engineer Camouflage Battalion.
Ed registered for the draft on February 15, 1942, and enlisted on June 22, 1942, right after he graduated from Pratt. He saw European service with the Ghost Army.
After the war, he pursued a career in advertising, working for his father's company. In 1952 he married Gloria Stevenson.
At some point he appears to have taken over his father's company, and eventually he and Gloria relocated to the Portland, OR area.
He died on July 19, 2016 in Milwaukie, OR.
Sources:
1940 census
https://www.ancestry.com/discoveryui-content/view/7026075:2442?tid=&pid=&queryId=1b93753fb4b259a6ad0b3a7b2ae7297f&_phsrc=Zvs6&_phstart=successSource
1942 draft card
https://search.ancestry.com/cgi-bin/sse.dll?indiv=1&dbid=2238&h=193780883&tid=&pid=&queryId=1b93753fb4b259a6ad0b3a7b2ae7297f&usePUB=true&_phsrc=Zvs4&_phstart=successSource
1942 enlistment record
https://search.ancestry.com/cgi-bin/sse.dll?indiv=1&dbid=8939&h=3302843&tid=&pid=&queryId=1b93753fb4b259a6ad0b3a7b2ae7297f&usePUB=true&_phsrc=Zvs5&_phstart=successSource
1952 marriage record
https://www.ancestry.com/discoveryui-content/view/4048280:61406?tid=&pid=&queryId=1b93753fb4b259a6ad0b3a7b2ae7297f&_phsrc=Zvs9&_phstart=successSource
1994 US phone and address directories; Portland, OR
https://search.ancestry.com/cgi-bin/sse.dll?indiv=1&dbid=7339&h=266083148&tid=&pid=&queryId=1b93753fb4b259a6ad0b3a7b2ae7297f&usePUB=true&_phsrc=Zvs11&_phstart=successSource
1997-2001 US phone and address directories; Lake Oswego, OR
https://search.ancestry.com/cgi-bin/sse.dll?indiv=1&dbid=7339&h=50186752&tid=&pid=&queryId=1b93753fb4b259a6ad0b3a7b2ae7297f&usePUB=true&_phsrc=Zvs9&_phstart=successSource