Edward Eugene Boccia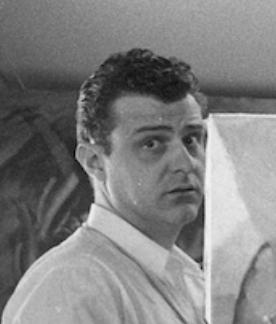 PFC in 603rd Engineer Camouflage Bn : Co B, 1st Platoon
ASN#12134981
Born 1921 in NJ, Died 2012
Artist
County of residence at enlistment: Essex County, NJ
Other residence(s): Newark, NJ; St. Louis, MO; Webster Groves, MO
United States Army, European Theatre of Operations
Occupation before the war: occupations in manufacture of automobiles, n.e.c
College education before the war: Pratt 3 years; Art Students League
College education after the war: Columbia (BS and MA)
Notes: Rank changed from PVT in GA roster to PFC per New York Area Leave List; promoted to T/5 according to Forte Meade clipping; formerly Co C; Co. clown; great entertainer
Source: 603rd Camouflage Engineer Roster provided by W. Anderson; Comment by Howard Holt; 603rd Company C handwritten roster; Company C roster; Company B Names and Addresses roster; bio info from The Ghost Army by Beyer/Sayles; Fort Meade clipping from Harold Dahl; Singer letter, 11/29/1944; photo from LINEA (Art Students League of NY)
Ed Boccia was born on June 22, 1921 in Newark, NJ. He was the younger of two sons; his father, a jewelry salesman, and all four of his grandparents were born in Italy.
Young Ed was always interested in art. In a 2003 interview, he said that "for as long as I can remember, drawing and painting have been as natural to me as breathing. I can't conceive of not producing artistic work."
While still in high school, he took classes at the Newark School of Fine and Industrial Arts, and after graduating he attended the Art Students League in New York. He won a scholarship to Pratt and enrolled as a student there in 1939, falling in love with another student, Madeleine Wysong, whom he later married.
He registered for the draft near the end of his third year at Pratt, on February 16, 1942, and enlisted on August 15, 1942, joining the 603rd Engineer Camouflage Battalion with other Pratt students.
His obituary in the St. Louis Post-Dispatch recalls that in Europe "he never stopped painting and drawing. He used art supplies his mother sent from home. He painted from foxholes and cafes when he could. Then he'd roll up his artwork and send it back to his mother."
In a 1944 letter to his wife, fellow Ghost Army soldier Arthur Singer reported on some of the artists in the 603rd: "I've seen a lot of work that Contreras, Sihvonen, and Boccia have done—they are three of the best artists in the place and do amazingly sensitive work."
He was discharged from the Army with the rank of T/5, married Madeleine, and went back to school to earn a B.S. and an M.A. at Columbia on the GI Bill. While still completing his master's degree, he was offered a job as dean of the Columbus Art School in Ohio; he also taught drawing and painting there.
He and Madeleine became the parents of two children: Alice and David. (Sadly, David died in 1984.)
In 1951 he was appointed assistant dean of the School of Fine Arts at Washington University in St. Louis; a position he held until 1954 when he resigned from his administrative work to become an associate professor in drawing and focus on his own painting. According to his St. Louis Post-Dispatch obituary, "he would say, 'I started at the top and worked my way down.'"
He was promoted to a full professorship in 1966, and held that position until 1986 when he became professor emeritus.
Ed was a prolific artist, creating some 1400 paintings in his lifetime. Right after he arrived in St. Louis, he met an arts patron named Morton "Buster" May, head of the May Department Stores Co. May was a well-known art collector and could afford to buy what he wanted. Each spring he would visit Ed's home studio in Webster Groves, MO to look over what Ed had painted or drawn since his last visit. In a 1985 interview, Ed described their relationship: "He wanted to see everything, and I have always been very prolific. One year he would buy drawings like he was buying Hershey bars--the next year, a stack of paintings."
May bought hundreds of Ed's works, using a truck to take them back to his home in Clayton, MO. He kept buying until his death in 1983; what he didn't keep he gave to friends, colleagues, universities, and museums.
Petruta Lipan, director of museums and galleries at St. Louis University says that Ed was "a significant member of the Expressionist movement, known for masterfully reconciling tone and color." He was best known for his large triptychs, many with themes related to Catholic mysticism. His St. Louis Public Radio obituary says that "Mr. Boccia's art reflects the influence of many artists--Picasso, Cézanne, Nolde--but none is paid more homage than the German expressionist painter, Max Beckmann." Beckmann had taught briefly at Washington University before Ed arrived there. While he did not meet him, he "consoled himself with Beckmann's easel, which he came by through an indirect inheritance." It was his patron, Buster May, who introduced him to Beckmann's work.
Ed's paintings are filled with pagan and Christian themes, as well as themes from music and literature. He described his own work as dealing with "love, lust, and life."
His work is included in the collections of the St. Louis Art Museum, the Denver Art Museum, the Nelson-Atkins Museum in Kansas City, the St. Louis University Museum of Art, Washington University's Mildred Lane Kemper Museum, the Museum of Art in Fort Lauderdale, the National Picture Gallery in Athens, and more than 600 private collections.
During his career he held more than 50 one-man shows and participated in over 100 group shows. These shows were held in 16 states and the District of Columbia, as well as in Florence, Rome, and Athens. He won top prizes at many of these shows, and a number of other honors. He was awarded the "Borso di Studio" from the Italian government and a knighthood by the "Cavaliereal Merito Della Republica" in Italy. St. Louis University, which holds more than 100 of his works, made him a member of the Order of the Crown of King St Louis IX in 1990.
He was a member of the St. Louis Artists Guild and the National Society of Arts and Letters, chairing their fine arts committee from 1995-1999.
In 2010, he received the Webster Groves Lifetime Achievement Award.
After retiring from full-time teaching, he also took up poetry. He credited the idea of becoming a poet to an art student of his who interrupted a lecture to say that Prof. Boccia's descriptions were so poetic that he should write them down.
His biography in International Who's Who in Poetry lists his publications: four books of poetry, replete with his illustrations, as well as poems published in numerous magazines and anthologies. While he was a serious poet, and won national and international awards for his poetry, his daughter says: "From his core, he was a painter. He was born to be a painter."
Two years before Ed's death, Missouri's then poet laureate, David Clewell, said of his work: "As long as this man breathes the planet's air, he cannot stop painting. Nor can he stop the pursuit of another of his passions: making poems."
He died on September 3, 2012 at his home in Webster Groves, MO and is buried at St. Paul Churchyard in Affton, MO.
Sources:
1930 census
https://www.ancestry.com/discoveryui-content/view/122652760:6224?tid=&pid=&queryId=b73c00ae6687580c3970254caf8b2cf4&_phsrc=Rgd6&_phstart=successSource
1942 draft card
https://search.ancestry.com/cgi-bin/sse.dll?indiv=1&dbid=2238&h=302094827&tid=&pid=&queryId=411e3cbf39a5d28c2a382f05579d03e1&usePUB=true&_phsrc=Rgd2&_phstart=successSource
1942 enlistment record
https://search.ancestry.com/cgi-bin/sse.dll?indiv=1&dbid=8939&h=3369179&tid=&pid=&queryId=411e3cbf39a5d28c2a382f05579d03e1&usePUB=true&_phsrc=Rgd3&_phstart=successSource
1944 (November 29) letter from Arthur Singer to his wife; GALP Archives
1951 article in St. Louis Post-Dispatch re his winning an art prize
https://www.newspapers.com/image/139802300/?terms=edward%20e%20boccia&match=1
1954 article in St. Louis Post-Dispatch re his first full-scale one man show
https://www.newspapers.com/image/139467794/?terms=edward%20e%20boccia&match=1
1955 article in St. Louis Post-Dispatch re his winning an art prize
https://www.newspapers.com/image/139754718/?terms=edward%20e%20boccia&match=1
1955 article in St. Louis Post-Dispatch re his winning an art prize (includes details about his work at the university)
https://www.newspapers.com/image/139751105/?terms=edward%20e%20boccia&match=1
1958 article in St. Louis Post-Dispatch re his winning an art prize
https://www.newspapers.com/image/140461822/?terms=edward%20e%20boccia&match=1
1959 article by Edward Boccia in St. Louis Post-Dispatch entitled "Artist's Reflections from Italy" about his year abroad
https://www.newspapers.com/image/140480851/?terms=edward%20e%20boccia&match=1
2005 International Who's Who in Poetry (bio details)
https://books.google.com/books?id=mAY2Ja6t6eAC&pg=PA176&lpg=PA176&dq=madeleine+wysong&source=bl&ots=I_olO6fDc4&sig=ACfU3U1bkEgPz2eZXUxweF1UQKQb3wTxEw&hl=en&sa=X&ved=2ahUKEwj_jMv3tp7wAhWSFFkFHQd8BYkQ6AEwEnoECAYQAw#v=onepage&q=madeleine%20wysong&f=false
2012 Find a Grave record
https://www.findagrave.com/memorial/96600555/edward-eugene-boccia
2012 death notice in St. Louis Post-Dispatch
https://www.newspapers.com/image/151041956/?article=819bd0f5-c640-480d-abbd-d05033e9f4ca
2012 full obituary in St. Louis Post-Dispatch
https://www.stltoday.com/news/local/obituaries/edward-boccia-dies-washington-university-teacher-and-artist-who-became-famous-by-doing-things-his/article_20e4c60c-b419-5eb9-8498-0544ad5ad519.html
2012 St. Louis Public Radio obituary
https://news.stlpublicradio.org/arts/2012-09-07/obituary-of-edward-boccia-renowned-artist-poet-and-professor
Edward E. Boccia Artist Trust official website