James Arthur "Bud" Bogle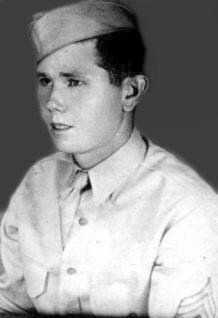 T/3 in 23rd Headquarters Co
Military occupational specialty: 805 (cryptographic technician)
ASN#34380463
Born 1921 in NC, Died 2000
County of residence at enlistment: Burke County, NC
Other residence(s): Conover, NC
United States Army, European Theatre of Operations
Occupation before the war: semiskilled motion picture projectionists
James Arthur Bogle was born on May 2, 1921 in Granite Falls, NC, one of 10 children.
After graduating from high school he worked as a motion picture projectionist at the Colonial Theatre in Valdese, NC (where the family lived). He enlisted on July 30, 1942 at Fort Jackson in Columbia, SC.
The tall, thin blue-eyed redhead was discharged from the army with five Bronze Stars on September 22, 1945 at Pine Camp. His records say he had been a cryptographic technician, and served in Rhineland, Ardennes, Central Germany, Normandy, and Northern France campaigns.
In 1948 he re-enlisted, and ended up serving in the Korean War and the Vietnam War, retiring as a major. I was unable to find any other information about his military experience.
He married Edyth Deal (1919-2007), also a NC native, who had herself served in the Navy during World War II. They had one son, Charles S. Bogle, and one grandson, Charles J. Bogle (I believe he currently serves as the Cultural Contacts Coordinator for the City of Savannah GA; there is an email there if contact is desired.)
He died on November 8, 2000 and was buried in Conover, NC.
Photograph
https://www.ancestry.com/mediaui-viewer/collection/1030/tree/81990235/person/40452903471/media/4405db0a-25ea-43b2-84c6-e6864392e11e?_phsrc=DTT26&usePUBJs=true
Sources:
1942 draft card
https://search.ancestry.com/cgi-bin/sse.dll?indiv=try&db=YMDraftCardsWWII&h=1855195
1942 enlistment record
https://aad.archives.gov/aad/record-detail.jsp?dt=893&mtch=1&tf=F&q=34380463&bc=,sl,fd&rpp=10&pg=1&rid=4794246
North Carolina discharge and statement of service record
https://search.ancestry.com/cgi-bin/sse.dll?indiv=try&db=FS1NCDischargeandService&h=36793
1948 newspaper article describing his enlistment
https://www.newspapers.com/image/618082507/?terms=james%2Ba%2Bbogle
Find a Grave death record
https://search.ancestry.com/cgi-bin/sse.dll?indiv=try&db=FindAGraveUS&h=94629300
Obituary from Charlotte (NC) Observer
https://www.newspapers.com/image/?clipping_id=52320936&fcfToken=eyJhbGciOiJIUzI1NiIsInR5cCI6IkpXVCJ9.eyJmcmVlLXZpZXctaWQiOjYyOTc1Nzg1MywiaWF0IjoxNTkwNjkyNzEzLCJleHAiOjE1OTA3NzkxMTN9.DJ_ygo6L0fXOkNcjlUxrhlTi7mIEQAtrQ9cH3gn0SqQ