Charles Joseph "Beef" Boullianne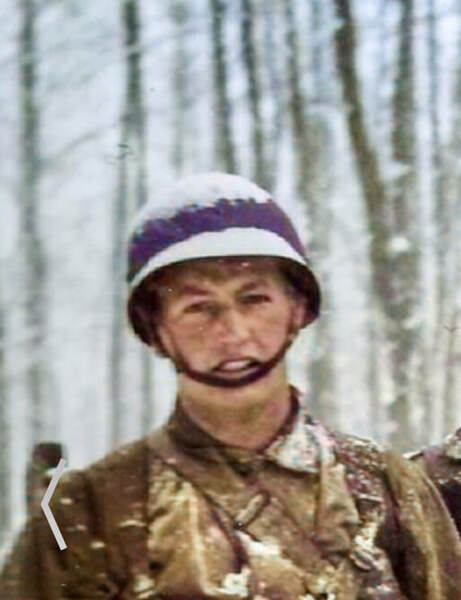 T/5 in 603rd Engineer Camouflage Bn : Co B, 1st Platoon
ASN#12154901
Born 1922 in NY, Died 1977
County of residence at enlistment: Queens County, NY
Other residence(s): Whitestone, NY; Hampton, VA
United States Army, European Theatre of Operations
Occupation before the war: unskilled occupations in laundering, cleaning, dyeing, and pressing apparel and other articles
Notes: Rank changed from PVT in GA roster to T/5 per New York Area Leave List
Source: 603rd Camouflage Engineer Roster provided by W. Anderson; Company B Names and Addresses roster
Charles Boullianne was born on August 27, 1922 in New York City, the oldest of five children of a New York City cop.
When he registered for the draft, on June 30, 1942, he said that he was working at Wheeler Ship Building Corporation,* located in the Whitestone neighborhood of Queens.
When he enlisted four months later, he reported that he had completed three years of high school, and that his employment category was "unskilled occupations in laundering, cleaning, dyeing, and pressing."
He was eventually assigned to the 603rd Engineer Camouflage Battalion, and served in Europe with the unit (where his nickname was "Beef." As in "Beef Boullianne.") He had just turned 20 years old when he enlisted, but he must have demonstrated an interest and aptitude in army work, along with leadership skills, because he was quickly promoted to the rank of T/5.
After the war he stayed in the Army, serving in Korea and Vietnam. He married Shirley Adele Jones and they had two children: Karen and Spencer David.
The family moved to Hampton, VA in 1954. Charles was stationed at Fort Monroe, the headquarters of the Continental Army Command (CONARC), from 1955-1973. Shirley eventually took a job with the Fort Monroe Public Affairs Office, a position she held for 35 years.
Charles earned the rank of SGT 1st Class, and was recognized several times for his achievements. In 1955, when he was in charge of the US Army Hospital X-Ray Lab, he was honored as soldier of the month.
He retired after a 20-year plus career in the Army in 1966, and in 1972 went to work as the Fort Monroe sports director. He and Shirley were also active in the Fort Monroe bowling league.
He died of a heart attack on April 24, 1977, and is buried in the veterans' section at Hampton (VA) Memorial Gardens.
*The Navy had expanded next to Wheeler at the start of the war, and by 1942 the new yard had merged with Wheeler's facility. They began work in 1942 on wooden-hulled minesweepers, which were followed by orders for steel-hulled small coastal freighters for the US Army.
Sources:
1930 census
https://www.ancestry.com/discoveryui-content/view/45545894:6224?tid=&pid=&queryId=040f08646b26bebaa189ea3904361b54&_phsrc=zuS7&_phstart=successSource
1940 census
https://www.ancestry.com/discoveryui-content/view/9371157:2442?tid=&pid=&queryId=040f08646b26bebaa189ea3904361b54&_phsrc=zuS6&_phstart=successSource
1942 draft card
https://www.ancestry.com/discoveryui-content/view/194260915:2238?tid=&pid=&queryId=54c8136521e63729a36bb3ed88fd03fa&_phsrc=zuS2&_phstart=successSource
1942 enlistment record
https://search.ancestry.com/cgi-bin/sse.dll?indiv=1&dbid=8939&h=3435113&tid=&pid=&queryId=54c8136521e63729a36bb3ed88fd03fa&usePUB=true&_phsrc=zuS1&_phstart=successSource
1955 article in the Newport News Daily Press (VA) re his being "soldier of the month" at Fort Monroe
https://www.newspapers.com/image/231098113/?terms=charles%20j%20boullianne&match=1
1956 article in the Newport News Daily Press (VA) re his winning a suggestion contest at Fort Monroe
https://www.newspapers.com/image/231373699/?terms=charles%20j%20boullianne&match=1
1977 Social Security applications and claims index
https://www.ancestry.com/discoveryui-content/view/39044930:60901?tid=&pid=&queryId=54c8136521e63729a36bb3ed88fd03fa&_phsrc=zuS3&_phstart=successSource
1977 Find a Grave record
https://www.findagrave.com/memorial/181786429/charles-j.-boullianne
1977 VA death record
https://www.ancestry.com/discoveryui-content/view/12089816:2441?tid=&pid=&queryId=040f08646b26bebaa189ea3904361b54&_phsrc=zuS8&_phstart=successSource
1977 Virginia death record
https://search.ancestry.com/cgi-bin/sse.dll?indiv=1&dbid=9278&h=2484575&tid=&pid=&queryId=040f08646b26bebaa189ea3904361b54&usePUB=true&_phsrc=zuS9&_phstart=successSource
1977 obituary in the Newport News Daily Press (VA)
https://www.newspapers.com/image/233580120/?terms=charles%20j%20boullianne&match=1
1999 wife's obituary
https://www.genealogybank.com/doc/obituaries/obit/0FA913C20C1DA2C9-0FA913C20C1DA2C9?h=1&fname=&lname=boullianne&fullname=&kwinc=&kwexc=&rgfromDate=&rgtoDate=&formDate=&formDateFlex=exact&dateType=range&processingtime=&addedFrom=&addedTo=&sid=hxkhkrtsodcerxizqigtfsaagjaxlyzv_wma-gateway001_1640040160298