John Arthur Borders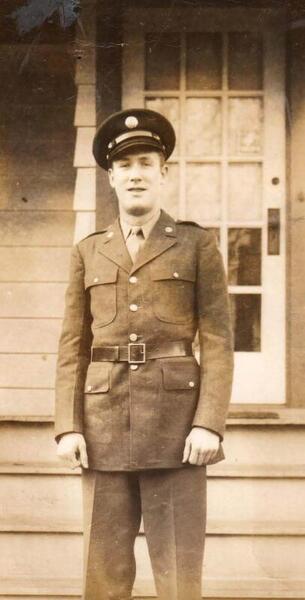 SGT in 3132nd Signal Service Co : 2nd Platoon
ASN#12094655
Born 1922 in NJ, Died 1967
County of residence at enlistment: Bergen County, NJ
Other residence(s): Hillsdale, NJ; Paramus, NJ
United States Army, European Theatre of Operations
Occupation before the war: clerks, general office
Source: W. Anderson Notes; photo courtesy of Borders family
Jack Borders was born on June 17, 1922 in Jersey City, NJ, the older of two brothers. He graduated from Parkridge High School in 1940.
At the time he registered for the draft, on June 30, 1942, he was living with his family in Hillsdale, NJ and working as a clerk for American Surety Co. in New York City.
He enlisted on June 7, 1943 and was trained as a radio operator. He also spent five months in the ASTP (Army Specialized Training Program), doing a general course for a month at Grinnell College in Iowa, and then four months at the University of Chicago, studying math, physics, chemistry, English, mapping, and surveying. (The ASTP was a program designed to meet the wartime demand for junior officers and soldiers with technical skills.)
He served with the Ghost Army during the war, and was discharged with the rank of SGT. His separation papers state that he had served as a "sonic technician in creating deceptive battle sounds on radio. Set up units on half tracks, did minor field servicing and repairs. Was track commander with supervision of drive and gunner."
Jack returned to American Surety after the war. He married Claudine J. Russell, and they would go on to have three children: Robert, Claudia, and Deborah. The family settled in Paramus, NJ, and John was a member of VFW Post #6699.
By the 1960s, Jack was working as a senior accountant and management consultant at E. H. Scull Co. in NYC. (Scull's clients were primarily retail stores.)
On Friday evening, February 24, 1967, Jack left work late; he had been working to meet a deadline for a corporate merger and decided to bring the work home for the weekend. He took a bus to Paramus, walked across the street to catch a cab home, slipped on the ice, and was run over by a panel truck, suffering a compound fracture of his leg as well as other injuries. While he seemed at first to recover, he suffered a pulmonary embolism (caused by the original injuries) later that year, and died on December 23 at the age of 45.
He is buried at Maryrest Cemetery in Mahwah, NJ.
Sources:
1940 census
https://www.ancestry.com/family-tree/person/tree/100629969/person/430004601733/facts?_phsrc=Gzh6&_phstart=successSource
1942 Draft Card
https://search.ancestry.com/cgi-bin/sse.dll?indiv=1&dbid=2238&h=301007847&tid=&pid=&queryId=490c7c56d9bbd306010f3b9a07dc1b70&usePUB=true&_phsrc=Gzh3&_phstart=successSource
1967 Find a Grave record
https://www.findagrave.com/memorial/6767695/john-a.-borders
1967 obituary in the Hackensack Record (NJ)
https://www.newspapers.com/image/491735000/?article=a088f146-584f-4210-8d1d-f207d7dd2f7b&focus=0.28201333,0.32562897,0.3985122,0.5247018&xid=3355&_ga=2.174131362.180304495.1608154538-26722667.1608053771
1969 Workman's Comp claim against his employer (appeal by employer)
https://casetext.com/case/matter-of-borders-v-eh-scull-co-inc