Italo George Botti
PVT in 603rd Engineer Camouflage Bn : HQ & Service Co
ASN#32896417 Casualty: Wounded
Born 1923 in NY, Died 2003
Artist
County of residence at enlistment: Kings County, NY
Other residence(s): Evanston, IL; Sarasota, FL
United States Army, European Theatre of Operations
Occupation before the war: commercial artist
College education before the war: Leonardo da Vinci School of Art in Brooklyn/Art Students League post graduate
Notes: Purple Heart; served in Europe per biography on family website
Source: 603rd roster from Seymour Nussenbaum's scrapbook, July 1943
Italo Botti was born in New York City on March 24, 1923, the second oldest of nine children. He was descended from a family of artisans who had first established the family business in Naples in 1684.
He lived with his family in a 12-unit building in Brooklyn which had been built only three years before he was born; 4 of the 12 units were occupied by various Bottis.
He won a scholarship to attend the Leonardo da Vinci School of Art in Brooklyn at the age of nine. All told, he studied at six New York art schools, including the Art Students League of New York. (He also taught there.)
His draft card lists his profession in 1942 as art student. His April 23, 1943 enlistment card says he is a commercial artist.
He was released from the service after his time in Europe on February 3, 1946, along with two Bronze Stars and a Purple Heart. He then taught at City College of New York and re-established himself as an artist. He worked as a painter, muralist, sculptor, and stained glass artist.
He married Ethlyn (Lyn) C. Panzironi on April 16, 1947; he had met her when they were both studying at the Art Students League. She was descended from a family of artisans who had first established their family business in Florence in 1726. Lyn was also skilled in stained glass, sculpture, murals, and painting. (NOTE: Lyn had been divorced in 1946 from a man named Robert Clark Fagan; was still using the name Fagan on the marriage license.)
In 1961 the family relocated to Evanston, Illinois where they established Botti Studio. According to an interview with son Christopher in 2015, the family had moved to the Chicago area because they had won a contract to do extensive renovation work to Catholic properties in Chicago.
In an article in the Chicago Tribune in 2000, Ruth Igoe writes that the combined Botti/Panzironi household "resembled a guild, training and educating each generation in the ancient arts of stained glass, mosaics, marble, and metalworking."
The Bottis had three children—Ettore Christopher Botti, Dominick Lyn Botti, and Robert Tuthill (possibly a nephew of Lyn's; her sister's married name was Tuthill). Dominick died in 2000 of a heart attack; he was also an artisan/designer. Christopher is president of Botti Studios.
A 1988 article says that 90% of the studio's stained glass went into churches, although they had recently done work at the United Airlines Terminal at O'Hare and at Frito-Lay company offices in Chicago.
Later in life, the Bottis split their time between Evanston and Sarasota, Florida, where they also had an outpost of Botti Studio.
Italo did a number of paintings under the pseudonym of George Barrel, early in his career. Later he used Barrel-Botti, and then just Botti. (There was an older Argentinian painter by the name of Italo Botti (1889-1974); perhaps he did not wish to be confused with him.)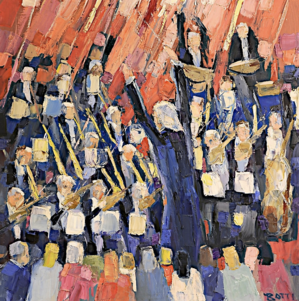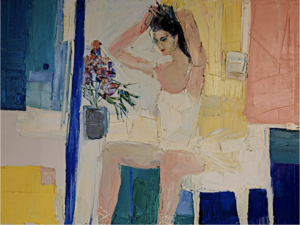 His brother was quoted in his 2003 obituary describing Italo's work: "Yellow, blue, green, his paintings always depicted joy and happiness," said his brother, former DuPage County Board Chairman Aldo Botti. "If ever a man could paint a breeze, the aroma of flowers and the sound of music, it was him."
He painted thousands of works; a quick check of eBay on June 3, 2020 shows 11 paintings of his currently for sale—ranging in price from $350 to $3,900.
He also taught at the Art Institute of Chicago.
He died on April 23, 2003, in Sarasota, Florida while undergoing heart surgery. Lyn just died recently—on April 1, 2020, at the age of 98. In a 2015 article in Evanston Now, she was described as still walking to the studio to work every day (at the age of 94!).
The studio, which employs 40 artists and craftspeople, survives them; it is currently located in Glenview, Illinois and Christopher Botti serves as president. Between 2010-2015, the studio completed a $177 million renovation project of all 75 stained glass windows at St. Patrick's Cathedral in NYC.
Sources:
1942 Draft Card
https://search.ancestry.com/cgi-bin/sse.dll?indiv=1&dbid=2238&h=194883311&tid=&pid=&usePUB=true&_phsrc=DTT104&_phstart=successSource
1943 Enlistment Record
https://search.ancestry.com/cgi-bin/sse.dll?indiv=1&dbid=8939&h=3430057&tid=&pid=&usePUB=true&_phsrc=DTT106&_phstart=successSource
1946 Marriage License Index (note: first use of middle initial G.)
https://search.ancestry.com/cgi-bin/sse.dll?indiv=1&dbid=61406&h=2203555&tid=&pid=&usePUB=true&_phsrc=DTT105&_phstart=successSource
Son Dominick's Obituary from 2000 (contains info re family business)
https://www.newspapers.com/image/170536938/?terms=italo%2Bgeorge%2Bbotti
Article about son Christopher from 2015 (contains info re family business)
https://evanstonnow.com/story/business/charles-bartling/2015-09-24/72403/pope-to-see-work-by-evanston-studio
Wife Lyn's art bio from the Botti Studio for Architectural Arts
https://www.bottistudio.com/ehthlyn-shop
Italo's art bio from the Botti Studio for Architectural Arts
https://www.bottistudio.com/italo-shop
More Italo art bio (scroll down or search w/in page on Botti)
http://www.kevindaniel.x10.mx/newyork.html
Italo bio material from primary source
https://www.worthpoint.com/worthopedia/italo-botti-oil-painting-36-24-signed-1789982834
Article from Daily Northwestern, May 5, 1988, about Italo Botti
https://www.genealogybank.com/nbshare/AC01190128015051314361591127283
Obituary from Chicago Tribune
https://www.chicagotribune.com/news/ct-xpm-2003-05-03-0305030175-story.html