William Addison Gaskill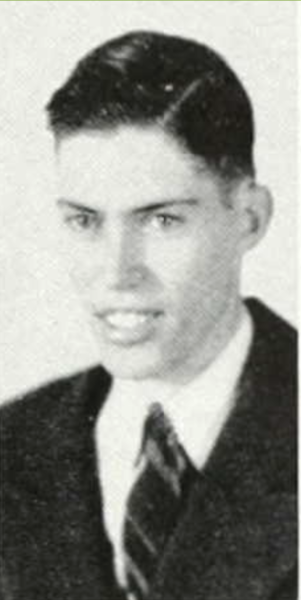 T/5 in 3133rd Signal Service Co
ASN#18147492
Born 1921 in NE, Died 2018
County of residence at enlistment: Dona Ana County, NM
Other residence(s): Minden, NE; Hampton, GA; Portland, OR
United States Army, European Theatre of Operations
College education before the war: New Mexico State 2 years
College education after the war: Texas A&M; Univ. of Pittsburgh
Notes: SGT in 1944 Christmas Program
Source: 3133rd Program, 15 Sept 1944; 3133rd roster from 10th Mountain Division Museum at Fort Drum; AES 1944 Christmas Dinner Program; photo from 1943 college yearbook
Bill Gaskill was born on June 7, 1921 in Holdrege, NE. He was an only child of older parents; his father was a carpenter.
He was involved with Scouting as a boy, and graduated from Holdrege High School in 1940. He then spent two and a half years studying electrical engineering at New Mexico College of Agriculture and Mechanic Arts, now New Mexico State University in Las Cruces, NM.
Bill registered for the draft on February 16, 1942 and joined ROTC at the university, hoping that would allow him to stay in school. In a 2016 interview in the Portland Tribune he said that "it didn't take long to learn that everyone in the ROTC program was going to be drafted, and we went as a unit into the Army. We went for training, but they didn't let us stay together and broke us up based on our qualifications." He entered active service on April 17, 1943.
He spent the academic year 1943-1944 studying at Texas A&M through the Army Specialized Training Program (ASTP). (This was a program designed to meet the wartime demand for junior officers and soldiers with technical skills.)
Bill married Margery Jean Tillotson on May 6, 1944, and then headed off to Pine Camp to meet up with other soldiers assigned to the sonic deception units. Bill ended up in the 3133 Signal Service Company, and saw service in Italy during the war.
He was discharged from the Army on February 14, 1946 with the rank of T/5, having finished his army career with the 977th Signal Service Company. He wrapped up his undergraduate degree at Texas A&M and received a master's degree from the University of Pittsburgh.
Eventually he took a job in Georgia, and he and Margery raised three sons in Hampton, GA. In November 1968 he went on a job interview in Portland, OR, saw roses blooming and no snow on the ground, and decided to make the cross country move.
Margery died in 1993, and in 1994 Bill married his second wife, Polly, who had been a family friend back in Georgia. She was also widowed, and between them they had seven children, 11 grandchildren, and 20 great-grandchildren.
Bill died on December 4, 2018, at the age of 97.
Photos
1943 yearbook photo (see below); clip attached
Sources:
1930 census
https://www.ancestry.com/discoveryui-content/view/107588059:6224?tid=&pid=&queryId=d44a3615f3215c0d59091af6048b622b&_phsrc=ipw5&_phstart=successSource
1940 census
https://www.ancestry.com/discoveryui-content/view/61712212:2442?tid=&pid=&queryId=d44a3615f3215c0d59091af6048b622b&_phsrc=ipw6&_phstart=successSource
1940 article in the Holdrege Daily Citizen (NE) re his high school graduation
https://www.newspapers.com/image/702701454/?terms=william%20a%20gaskill&match=1
1942 draft card
https://www.ancestry.com/discoveryui-content/view/6221980:2238?tid=&pid=&queryId=d44a3615f3215c0d59091af6048b622b&_phsrc=ipw4&_phstart=successSource
1942 enlistment record
https://aad.archives.gov/aad/record-detail.jsp?dt=929&mtch=1&cat=all&tf=F&q=18147492&bc=&rpp=10&pg=1&rid=276852
1943 college yearbook (he was a junior)
https://www.ancestry.com/discoveryui-content/view/147546399:1265?tid=&pid=&queryId=d44a3615f3215c0d59091af6048b622b&_phsrc=ipw6&_phstart=successSource
1944 Nebraska index to marriages
https://www.ancestry.com/discoveryui-content/view/182094:62096?tid=&pid=&queryId=d44a3615f3215c0d59091af6048b622b&_phsrc=tbh1&_phstart=successSource
1944 article in the Holdrege Daily Citizen (NE) re his marriage
https://www.newspapers.com/image/702801761/?terms=william%20a%20gaskill&match=1
1944 article in the Minden Courier (NE) re his wife joining him at Pine Camp
https://www.newspapers.com/image/728843310/?terms=william%20a%20gaskill&match=1
1946 New Mexico WW2 Records
https://www.ancestry.com/discoveryui-content/view/114542:8867?tid=&pid=&queryId=bf4d281a0099e6e36673f0c166f8c85e&_phsrc=ipw3&_phstart=successSource
1993 US Public Records Index for Portland, Oregon
https://www.ancestry.com/discoveryui-content/view/145207484:1788?tid=&pid=&queryId=d44a3615f3215c0d59091af6048b622b&_phsrc=tbh2&_phstart=successSource
2016 article in the Portland Tribune re his Ghost Army experience
https://pamplinmedia.com/rc/64-features/295035-170851-local-resident-served-in-the-elite-ghost-army-during-world-war-ii