Stanley Paul Guzik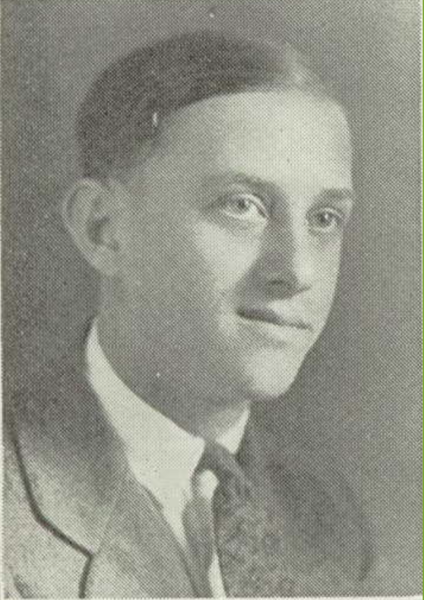 SGT in 603rd Engineer Camouflage Bn : Co B, 3rd Platoon
ASN#33019746
Born 1907 in PA, Died 1979
Artist
County of residence at enlistment: Cambria County, PA
Other residence(s): Johnston, PA
United States Army, European Theatre of Operations
Occupation before the war: commercial artists
Source: 603rd Camouflage Engineer Roster provided by W. Anderson; Company B Names and Addresses roster; photo from 1925 high school yearbook
Stan Guzik was born on June 30, 1907 in South Fork, PA, the fourth living child and first son in his family. (By 1910 Stan's parents had lost four children in birth or infancy, and another daughter, born after Stan, would die as a teenager.) His father, a coal miner, had been born in Krosno, Poland, and his mother in Vienna, Austria.
The family moved into Johnstown sometime in the teens when Stan's father got work as a laborer. Stan graduated from Greater Johnstown High School in 1925; the yearbook reports that he was a cartoonist and art editor for the school newspaper/yearbook.
After graduation he got a job painting; the 1930 census states that he was a painter at a steelworks. By 1938 he was working as a sign painter. When he registered for the draft, on October 16, 1940, he was working as a sign painter for Oppy Signs & Neon Company in Johnstown.
He enlisted on May 15, 1942, reporting his job as commercial artist. Like many other artists, he became part of the 603rd Camouflage Engineers, and saw service in Europe with the unit. Sometime in early 1944, before the unit went overseas, he married Grace Alice Shaffer who brought her 12-year-old son, Frederick Jacobs, to the marriage.
He was discharged from the Army with the rank of SGT on September 16, 1945 and returned to Johnstown, Grace, and his job at Oppy. He was still working there in 1958.
Stan died on September 5, 1979 in Johnstown, and is buried at Grandview Cemetery in Southmont, PA.
Photo:
1925 high school yearbook photo (clipping attached)
https://www.ancestry.com/discoveryui-content/view/454740391:1265?ssrc=pt&tid=12227467&pid=-309254695
From ancestry.com(clipping attached), Rizzo/Evanik Family Tree
https://www.ancestry.com/mediaui-viewer/tree/152399107/person/332020130662/media/f4b9cebc-edcb-46fa-8bb4-ec7eb7a4bef2?_phsrc=XFP5&_phstart=successSource
Sources:
1907 birth certificate
https://www.ancestry.com/discoveryui-content/view/649840:60484?tid=&pid=&queryId=9f9436ad965fa6f42a1b28bda1327eed&_phsrc=srs4&_phstart=successSource
1910 census
https://www.ancestry.com/discoveryui-content/view/118461403:7884?ssrc=pt&tid=12227467&pid=-309254695
1920 census
https://www.ancestry.com/discoveryui-content/view/42383671:6061?ssrc=pt&tid=12227467&pid=-309254695
1925 high school yearbook
https://www.ancestry.com/imageviewer/collections/1265/images/sid_3222_1925_0620?ssrc=pt&treeid=12227467&personid=-309254695&usePUB=true&usePUBJs=true&pId=454740391
1930 census
https://www.ancestry.com/discoveryui-content/view/50223280:6224?ssrc=pt&tid=12227467&pid=-309254695
1940 census
https://www.ancestry.com/discoveryui-content/view/28472043:2442?ssrc=pt&tid=12227467&pid=-309254695
1940 draft record
https://www.ancestry.com/discoveryui-content/view/5606561:2238?tid=&pid=&queryId=9f9436ad965fa6f42a1b28bda1327eed&_phsrc=srs2&_phstart=successSource
1942 enlistment record
https://search.ancestry.com/cgi-bin/sse.dll?indiv=1&dbid=8939&h=5616491&tid=&pid=&queryId=9f9436ad965fa6f42a1b28bda1327eed&usePUB=true&_phsrc=srs2&_phstart=successSource
1950 Pennsylvania US Veterans Compensation File
https://search.ancestry.com/cgi-bin/sse.dll?indiv=1&dbid=3147&h=639511&tid=&pid=&queryId=9f9436ad965fa6f42a1b28bda1327eed&usePUB=true&_phsrc=srs2&_phstart=successSource
1958 city directory, Johnstown PA
https://www.ancestry.com/discoveryui-content/view/182973535:2469?tid=&pid=&queryId=3cd952980c632ac0fc7020416a5c529e&_phsrc=XFP4&_phstart=successSource
1979 Find a Grave record
https://www.findagrave.com/memorial/178226520/stanley-paul-guzik
1979 VA death record
https://www.ancestry.com/discoveryui-content/view/1344175:2441?ssrc=pt&tid=12227467&pid=-309254695