Jacob Goldberg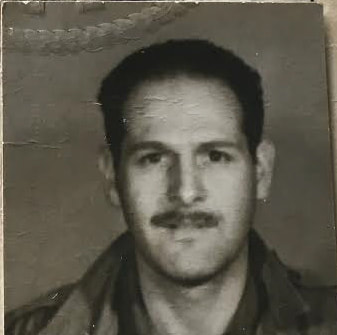 PFC in 603rd Engineer Camouflage Bn : Medical Det
ASN#32248168
Born 1914 in PA, Died 2008
County of residence at enlistment: Mercer County, NJ
Other residence(s): Trenton, NJ; Ewing, NJ
United States Army, European Theatre of Operations
Occupation before the war: semi skilled chauffeurs and drivers, bus, taxi, truck and tractor
Notes: Bronze Star; GO #32, Par 1, Sec V, 15 Jun 45, Hq 12th A Gp. Heroic Achievement in connection with military operations on 13 Mar 45 near Pickard, Germany
Source: Travel Orders, 23d HQ, 29 August 1945; Awards and Decorations; photo courtesy Linda Ayre
Jacob Goldberg was born on September 25, 1914 in Chester, PA. He was the second of four children born to two Russian-born parents who had emigrated to the US only four years before his birth.
By the time Jacob registered for the draft, on October 15, 1940, the family was living in Trenton, NJ. Jacob had done a year in high school, and was working for Drake Bakeries in Newark, possibly as a driver. When he enlisted, on March 10, 1942, his profession was listed in the category of "semi-skilled chauffeurs and drivers."
He served in the Ghost Army as a medic, and was awarded the Bronze Star for Heroism on the Ghost Army's deadliest day, March 15, 1945. The citation read: "When an enemy artillery shell exploded in the midst of a group of officers and men, wounding fifteen, he calmly and efficiently administered expert treatment to them while enemy shells continued to fall in the area. His admirable efforts resulted in the saving of the leg and probably the life of one man, and assured the recovery of the remainder of the wounded."
Jacob was discharged from the Army on September 19, 1945, and made his way back to Trenton. He married Miriam Rosenberg in 1949, and they would go on to have two daughters: Sharen and Linda. Jacob lived in Trenton and Ewing most of his life; prior to retirement he worked as a traffic investigator for the New Jersey Department of Transportation. He was a member of Ahavath Israel Congregation and a founding member of Herzel Zion Hebrew School.
Miriam died in 2005, and Jacob followed her on December 17, 2008. He is buried at Fountain Lawn Memorial Park in Ewing, NJ.
Sources:
1930 census
https://www.ancestry.com/discoveryui-content/view/50997625:6224?tid=&pid=&queryId=9ee76d947d31be9465b90e50e0faa8c0&_phsrc=nXX14&_phstart=success
1940 draft card
https://search.ancestry.com/cgi-bin/sse.dll?indiv=1&dbid=2238&h=300991632&tid=&pid=&queryId=93d9818c3194f9e07ace9c78f3cc5ee8&usePUB=true&_phsrc=nXX7&_phstart=successSource
1942 enlistment record
https://search.ancestry.com/cgi-bin/sse.dll?indiv=1&dbid=8939&h=5407927&tid=&pid=&queryId=93d9818c3194f9e07ace9c78f3cc5ee8&usePUB=true&_phsrc=nXX7&_phstart=successSource
1949 marriage record
https://search.ancestry.com/cgi-bin/sse.dll?indiv=1&dbid=61253&h=992271064&tid=&pid=&queryId=ef0817efed8f42e346014ef86d8a120e&usePUB=true&_phsrc=wLp2&_phstart=successSource
2008 VA death record
https://www.ancestry.com/discoveryui-content/view/10347653:2441?tid=&pid=&queryId=c181128a4d74bf0aa44889b3cf5199ca&_phsrc=nXX8&_phstart=successSource
2008 Social Security death index
https://search.ancestry.com/cgi-bin/sse.dll?indiv=1&dbid=3693&h=83793273&tid=&pid=&queryId=9ee76d947d31be9465b90e50e0faa8c0&usePUB=true&_phsrc=nXX11&_phstart=successSource
2008 Obituary in The Times (Trenton NJ)
https://www.genealogybank.com/doc/obituaries/obit/1252A61264942E78-1252A61264942E78?h=1&fname=jacob&lname=goldberg&fullname=&rgfromDate=2008&rgtoDate=2008&formDate=&formDateFlex=exact&dateType=range&kwinc=&kwexc=&sid=njqpwenrjwzyaoinmrttwhjmrumxmvcy_wma-gateway014_1613163697527