Harry Arnold (or Arman) Gottesman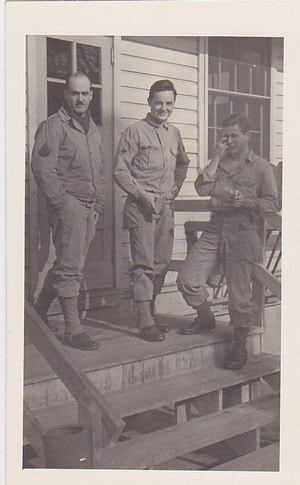 PVT in 603rd Engineer Camouflage Bn : HQ & Service Co
ASN#12154590
Born 1909 in PA, Died 2001
Artist
County of residence at enlistment: New York County, NY
Other residence(s): New York, NY; Elmira, NY; Cleveland, OH
United States Army, European Theatre of Operations
Occupation before the war: salespersons
College education before the war: Univ. of Michigan 4 years
Notes: Formerly Co C
Source: 603rd Camouflage Engineer Roster provided by W. Anderson; 603rd Company C handwritten roster; photo of Harry (at left) at Ft Meade from GALP website
Harry Gottesman was born on October 21, 1909 in Brownsville, PA, the second of eight children. His parents had both emigrated from Hungary; his father had started a meat market in Brownsville when he was a very young man and built it into a chain of markets. Harry graduated from Brownsville High School, where he was captain of both the football and basketball teams, and a champion tennis player. He then studied architecture at the University of Michigan. His father had died in 1923, and at some point the family moved to New York City.
At the time of the 1940 census, and his draft registration later that year, he was the proprietor of a stationery business in New York, with at least one brother working for him.
He married Ruth Storck on February 21, 1942 and enlisted in the Army on October 16, 1942. His artistic background earned him a spot in the 603rd Engineer Camouflage Battalion.
Harry and Ruth would go on to have two children: Jon and Tina. By 1952, Harry was Art Director of Artistic Card Company in Elmira, NY, a position he held until 1968. That year he became Art Director and Secretary of Paramount Distillers in Cleveland, and the family moved to Ohio. Harry remained at Paramount until his retirement.
Ruth, a print and textile designer, died in 1974. Harry later married Miriam Portnoe Hyde.
He died on July 22, 2001, in Olmsted Township, OH, and, at his wishes, his body was donated to the Case Western Reserve Medical School.
NOTE re his name: His birth record lists him as "Arman Harry Gottesman." A number of Ancestry family trees list him as "Harry Arman Gottesman." His draft registration and his social security record list him as "Harry Arnold Gottesman." His enlistment registration says "Harry A. Gottesman." His marriage record and his obituary do not show a middle name.
Photo:
There are several snapshots of Harry when he served in the Ghost Army on the Ghost Army website. This is probably the best one.
https://ghostarmy.com/bio/f/stories/597
Sources:
1909 birth record
https://search.ancestry.com/cgi-bin/sse.dll?indiv=1&dbid=60484&h=806162&ssrc=pt&tid=81191870&pid=30434104000&usePUB=true
1920 census
https://www.ancestry.com/discoveryui-content/view/95493529:6061?tid=81191870&pid=30434104000
1940 census
https://www.ancestry.com/discoveryui-content/view/5880132:2442?tid=81191870&pid=30434104000
1940 draft card
https://search.ancestry.com/cgi-bin/sse.dll?indiv=1&dbid=2238&h=194390326&tid=&pid=&queryId=c89aa52bb33c2a9cb82fbe966c9ab94b&usePUB=true&_phsrc=JOh14&_phstart=successSource
1942 marriage record
https://search.ancestry.com/cgi-bin/sse.dll?indiv=1&dbid=61788&h=389157&ssrc=pt&tid=81191870&pid=30434104000&usePUB=true
1942 enlistment record
https://search.ancestry.com/cgi-bin/sse.dll?indiv=1&dbid=8939&h=5459452&tid=&pid=&queryId=c89aa52bb33c2a9cb82fbe966c9ab94b&usePUB=true&_phsrc=JOh15&_phstart=successSource
1974 wife obituary in the Elmira NY Star-Gazette
https://www.newspapers.com/image/279941921/?article=c01050d2-3f3a-4926-81f7-9def9bea7358
2001 obituary in the Elmira NY Star-Gazette
https://www.newspapers.com/image/278835092/?article=6e9b11d0-1bc8-433a-a039-39c69006ff64
2001 Social Security record
https://www.ancestry.com/discoveryui-content/view/33749615:60901?tid=&pid=&queryId=c59b1ff2853dc569e2708be9e79d5306&_phsrc=Fni1&_phstart=successSource
2001 Ohio death record
https://search.ancestry.com/cgi-bin/sse.dll?indiv=1&dbid=5763&h=4442077&ssrc=pt&tid=81191870&pid=30434104000&usePUB=true