Zygmunt Joszef Sopinski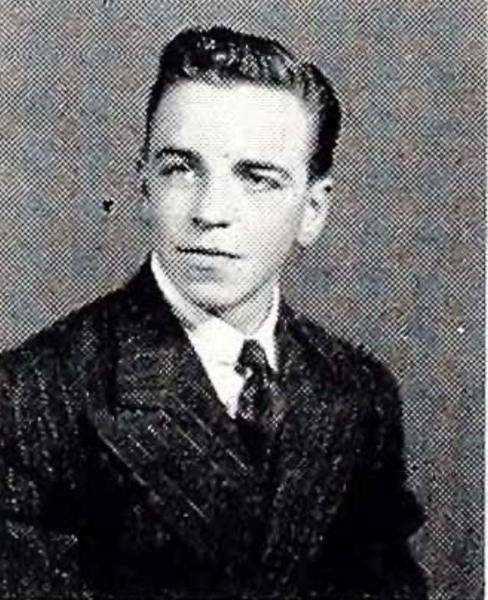 PFC in Signal Co, Special : Inst & Maint; Telephone & Wire
Military occupational specialty: 650 (telephone switchboard operator)
ASN#15104045
Born 1921 in IL, Died 2005
Artist
County of residence at enlistment: Marion County, IN
Other residence(s): Indianapolis, IN; Pico Rivera, CA
United States Army, European Theatre of Operations
Occupation before the war: actors and actresses
College education after the war: Herron Art Institute
Zygmunt Sopinski was born on May 16, 1921 in Chicago, IL. He and his twin brother Henry were the firstborn of four children. Both of their parents had been born in Poland; their father was a watchmaker by profession and also a talented woodcarver.
Sometime between 1935 and 1940 the family relocated to Indianapolis, and Zygmunt graduated from Arsenal Technical High School in Indianapolis with an A+ average. He won a scholarship to John Herron Art Institute (now the Herron School of Art and Design at Indiana University) and pursued his studies there with a focus on oil painting.
While they were still in high school both Zygmunt and Henry signed up for the Marine Corps Reserve. Zygmunt attended weekly drills from October 1938 to November 1940.
Zygmunt registered for the draft on February 16, 1942, and enlisted on July 1, 1942; he was assigned to the Signal Company Special as a telephone switchboard operator. He married Mary Merritt on October 5, 1943 (at which time he was stationed in Yuma, AZ) and in 1944 went to Europe with the unit.
His brother Henry also served in Europe during the war; he was commissioned a 1LT in July, 1944, and served as a bombardier on a B17 Flying Fortress.
After the war Zygmunt returned to Indianapolis and his studies at Herron. In 1947 he won an award for achievement in 2nd and 3rd year classes, and in 1950 he graduated with a DFA (diploma in fine arts).
Almost nothing else is known about his life and work. He and Mary had a daughter, Detra Lee, and the family moved to California in the early 1950s, eventually settling in the city of Pico Rivera in Los Angeles County.
He filed a patent for a torque wrench in 1972 with a partner.
Zygmunt died on December 4, 2005 in Pico Rivera.
Photo:
1940 yearbook photo (see link below)
Sources:
1921 birth certificate index
https://search.ancestry.com/cgi-bin/sse.dll?indiv=1&dbid=2545&h=119919&tid=&pid=&queryId=7101eebb1408adefe438b6d1bf725650&usePUB=true&_phsrc=qDv9&_phstart=successSource
1930 census
https://www.ancestry.com/discoveryui-content/view/84170162:6224
1938 US Marine Corps Muster Rolls
https://www.ancestry.com/discoveryui-content/view/11622141:1089?tid=&pid=&queryId=7101eebb1408adefe438b6d1bf725650&_phsrc=qDv6&_phstart=successSource
1939 US Marine Corps Muster Rolls
https://www.ancestry.com/discoveryui-content/view/7514668:1089?tid=&pid=&queryId=d2f2ed4a0a71d3138070c940f322978c&_phsrc=qDv1&_phstart=successSource
1940 census
https://www.ancestry.com/discoveryui-content/view/56519520:2442?tid=&pid=&queryId=ddc325381ca65706b9acbc0f0b71aae1&_phsrc=jsO25&_phstart=successSource
1940 yearbook
https://www.ancestry.com/discoveryui-content/view/321322361:1265?tid=&pid=&queryId=ddc325381ca65706b9acbc0f0b71aae1&_phsrc=jsO19&_phstart=successSource
1940 article in the Indianapolis Star (IN) re his academic achievements in high school
https://www.newspapers.com/image/106364678/?terms=zygmunt%20sopinski&match=1
1940 US Marine Corps Muster Rolls
https://www.ancestry.com/discoveryui-content/view/7846752:1089?tid=&pid=&queryId=7101eebb1408adefe438b6d1bf725650&_phsrc=qDv5&_phstart=successSource
1941 article in Indianapolis News (IN) re his winning scholarship to art school
https://www.newspapers.com/image/314466496/?terms=zygmunt%20sopinski&match=1
1942 draft card
https://www.ancestry.com/discoveryui-content/view/40869600:2238?tid=&pid=&queryId=ec2218481ac1b09a0237125911f63f93&_phsrc=jsO23&_phstart=successSource
1942 enlistment record
https://aad.archives.gov/aad/record-detail.jsp?dt=929&mtch=1&cat=all&tf=F&q=15104045&bc=&rpp=10&pg=1&rid=142072
1943 marriage record
https://www.ancestry.com/discoveryui-content/view/38891284:70441?tid=&pid=&queryId=7101eebb1408adefe438b6d1bf725650&_phsrc=qDv7&_phstart=successSource
1943 article in the Indianapolis Star (IN) re his marriage and military career
https://www.newspapers.com/image/104920830/?terms=zygmunt%20sopinski&match=1
1944 article in the Indianapolis Star (IN) noting he is in Europe with a Signal Company
https://www.newspapers.com/image/104829105/?terms=zygmunt%20sopinski&match=1
1947 article in the Indianapolis Star (IN) re academic award he received in art school
https://www.newspapers.com/image/104963286/?terms=zygmunt%20sopinski&match=1
1949 article in the Indianapolis Star (IN) re his demonstrating oil painting techniques
https://www.newspapers.com/image/311068469/?terms=zygmunt%20sopinski&match=1
1950 article in the Indianapolis News (IN) re his graduation from art school
https://www.newspapers.com/image/311025718/?terms=zygmunt%20sopinski&match=1
1954 California voter registration
https://www.ancestry.com/discoveryui-content/view/19589796:61066?tid=&pid=&queryId=ddc325381ca65706b9acbc0f0b71aae1&_phsrc=jsO31&_phstart=successSource
1956 father's obituary in the Indianapolis News (IN)
https://www.newspapers.com/image/312119660/?terms=zygmunt%20sopinski&match=1
1964 article about his daughter's wedding in the Progress-Bulletin (Pomona CA)
https://www.newspapers.com/image/624723051/?terms=zygmunt%20sopinski&match=1
1970 US public records index
https://www.ancestry.com/discoveryui-content/view/382716501:1788?tid=&pid=&queryId=ddc325381ca65706b9acbc0f0b71aae1&_phsrc=jsO27&_phstart=successSource
1972 torque wrench patent
https://patents.google.com/patent/CA968194A/en
2005 Social Security death index
https://search.ancestry.com/cgi-bin/sse.dll?indiv=1&dbid=3693&h=76622162&tid=&pid=&queryId=ddc325381ca65706b9acbc0f0b71aae1&usePUB=true&_phsrc=jsO24&_phstart=successSource