Arnold Charles Shartin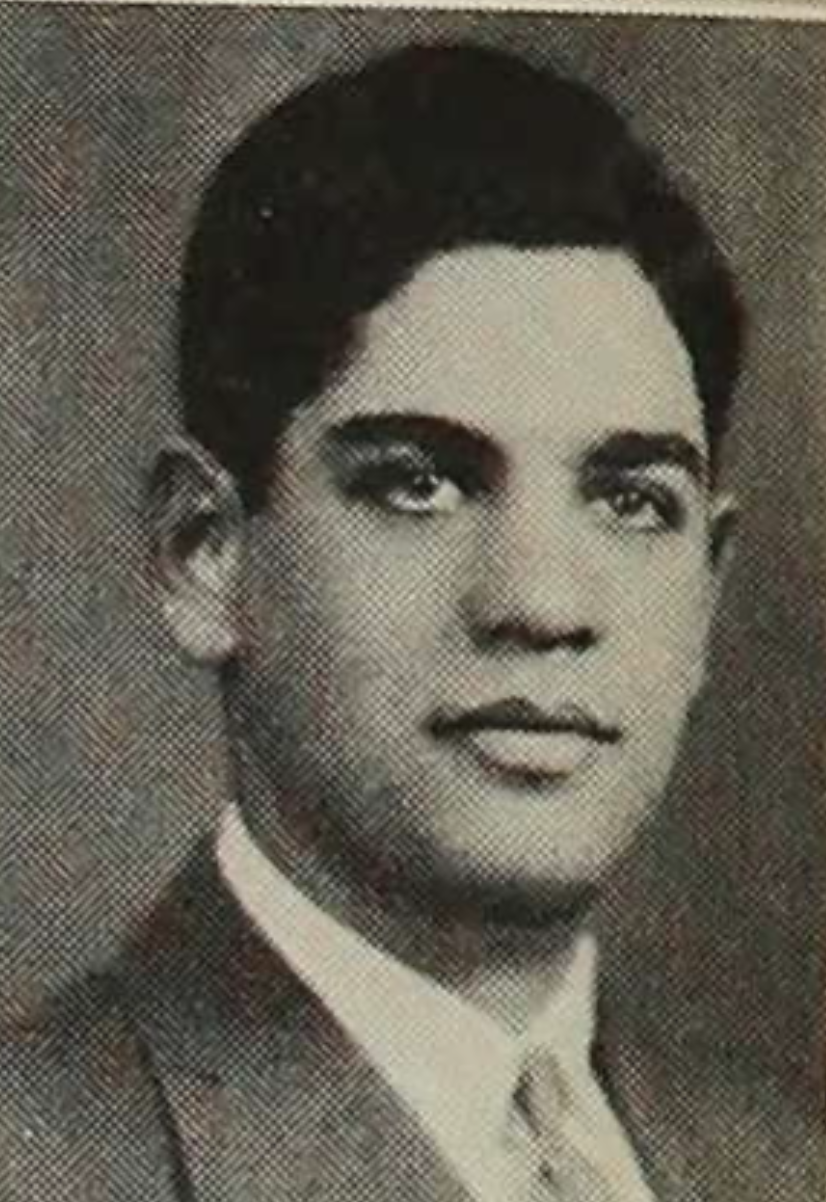 PVT in 3132nd Signal Service Co
ASN#17108294
Born 1922 in MN, Died 2002
County of residence at enlistment: Hennepin County, MN
Other residence(s): Minneapolis, MN; Des Moines, IA; Omaha, NB; Salt Lake City, UT; Encino, CA
United States Army, European Theatre of Operations
Occupation before the war: semiskilled routemen
Notes: Loved Basie's "One O'Clock Jump"; rank from 1944 newspaper article (which lists his rank first as CPL and then as PVT)
Source: W. Anderson Notes; 3132 Pine Camp Photo Names; photo from Ancestry® (West HS, 1940)
Arnold Shartin was born on November 10, 1922 in St. Paul, MN, the older of two children. His father was a real estate agent; all four of his grandparents had been born in Russia.
Arnold graduated from West High School in Minneapolis, MN in January, 1940; sadly, his father had died the year before. Arnold was on the Honor Roll at West, and served as a member of the Class Day Committee and the Class Play Committee.
After graduation, he got a job as a delivery truck driver for a liquor store. By 1942 he was working at M.J. Kronick, Master Cleaners and Dyers. He was likely working for them as a pickup/delivery driver since his enlistment record gives his occupation as "routeman." He registered for the draft on June 30, 1942 and enlisted two months later, on August 31.
He was eventually assigned to the 3132 Signal Service Company, and saw service in Europe with the unit.
By 1947, the year he married Dorothy Dion, he was living and working in Des Moines, IA. By 1950, the couple were back in Minneapolis with their young son, Stacy, and Arnold was working as office manager for a "film company."
Things moved quickly after that. By 1951 he was working for the Paramount Film Distributing Company and transferred to Des Moines, IA and Omaha, NB with the company. The Shartins' daughter Jolie was born in 1956, and by 1958 Arnold had become a salesman with the Los Angeles branch of Paramount. In 1959 he was appointed manager of the Salt Lake City, UT branch office.
He was back in the Los Angeles area by 1963, at which point he was working for MGM. As his son Stacy grew up, Arnold was an active parent in Little League and Boy Scouts.
In 1970, he left his job as the Los Angeles Division Manager for MGM, and eventually found his way to American Multiplex Cinemas (AMC).* There he worked his way up from Executive VP of Film Marketing, to President of Film Marketing, to Chairman in 1987.
He died on December 11, 2002 in Encino, CA.
In October, 2007, Arnold was inducted posthumously into the ShowEast Hall of Fame. ShowEast has been known as "the film convention" since 1999, and annually recognizes film executives who have made an exceptional contribution to the success of their organization and also to the wider cinema industry.
*This is not the television network AMC which is a completely different company.
Photo:
1940, high school yearbook (see link below)
Sources:
1922 birth record
https://www.ancestry.com/discoveryui-content/view/933718:9196?tid=&pid=&queryId=38e0e1ed2689fa18ea2a2b863b99c6d2&_phsrc=AXk13&_phstart=successSource
1930 census
https://www.ancestry.com/discoveryui-content/view/79726232:6224?tid=&pid=&queryId=4c898272e100a57f814333e255ca69d0&_phsrc=AXk10&_phstart=successSource
1940 census
https://www.ancestry.com/discoveryui-content/view/98070774:2442?tid=&pid=&queryId=38e0e1ed2689fa18ea2a2b863b99c6d2&_phsrc=AXk6&_phstart=successSource
1940 high school yearbook
https://www.ancestry.com/discoveryui-content/view/419898261:1265?tid=&pid=&queryId=38e0e1ed2689fa18ea2a2b863b99c6d2&_phsrc=AXk15&_phstart=successSource
1942 draft card
https://www.ancestry.com/discoveryui-content/view/16844889:2238?tid=&pid=&queryId=9ab742d4a0114409872f359501691753&_phsrc=AXk4&_phstart=successSource
1942 enlistment record (NOTE: birth year and birth place have been miscoded)
https://www.fold3.com/record/84637823/arnold-c-shartin-wwii-army-enlistment-records
1944 engagement announcement in the Star Tribune (Minneapolis MN) (earlier engagement; not the woman he married in 1947); confirms he was stationed at Pine Camp with rank of CPL or PVT
https://www.newspapers.com/image/181827382/?terms=arnold%20shartin&match=1
1947 marriage license record
https://www.ancestry.com/discoveryui-content/view/335025168:62116?tid=&pid=&queryId=38e0e1ed2689fa18ea2a2b863b99c6d2&_phsrc=AXk17&_phstart=successSource
1950 census
https://www.ancestry.com/discoveryui-content/view/94460464:62308?tid=&pid=&queryId=38e0e1ed2689fa18ea2a2b863b99c6d2&_phsrc=AXk14&_phstart=successSource
1958 article in the Deseret News and Telegram (Salt Lake City, UT) re his promotion to manager of the Salt Lake Branch Office of Paramount Film Distributing
https://www.newspapers.com/image/595574673/?terms=arnold%20c%20shartin&match=1
1959 Salt Lake City UT city directory
https://www.ancestry.com/discoveryui-content/view/898579959:2469?tid=&pid=&queryId=38e0e1ed2689fa18ea2a2b863b99c6d2&_phsrc=AXk20&_phstart=successSource
1969 article in the SF Valley Times (CA) re his leaving MGM
https://www.newspapers.com/image/580693385/?terms=arnold%20shartin&match=1
1984 article in the LA Times (CA) about his becoming executive VP of AMC Film Marketing
https://www.newspapers.com/image/400551969/?terms=arnold%20shartin&match=1
1987 article in the LA Times (CA) about his moving from the office of President of AMC Film Marketing to that of Chairman
https://www.newspapers.com/image/405068735/?terms=arnold%20c%20shartin&match=1
1996-2002 Encino CA phone directory
https://www.ancestry.com/discoveryui-content/view/292611105:7339?ssrc=pt&tid=150935670&pid=242204342006
2002 Social Security death index
https://search.ancestry.com/cgi-bin/sse.dll?indiv=1&dbid=3693&h=56437831&tid=&pid=&queryId=38e0e1ed2689fa18ea2a2b863b99c6d2&usePUB=true&_phsrc=AXk12&_phstart=successSource&_gl=1*10o8z03*_ga*OTIxNjgxNDkuMTY3MDA2OTczMg..*_ga_4QT8FMEX30*MTY3MjUzODM2OS4xMS4xLjE2NzI1MzkwNzIuNDguMC4w
2002 Find a Grave record
https://www.findagrave.com/memorial/93596626/arnold-charles-shartin?_gl=1*erwnx0*_ga*OTIxNjgxNDkuMTY3MDA2OTczMg..*_ga_4QT8FMEX30*MTY3MjUzODM2OS4xMS4xLjE2NzI1Mzk1MTUuNTMuMC4w
2007 article in the Hollywood Reporter; he was inducted posthumously into ShowEast Hall of Fame
https://www.hollywoodreporter.com/business/business-news/hall-fame-day-showeast-exhibs-152865/