Paul Bernhard Seckel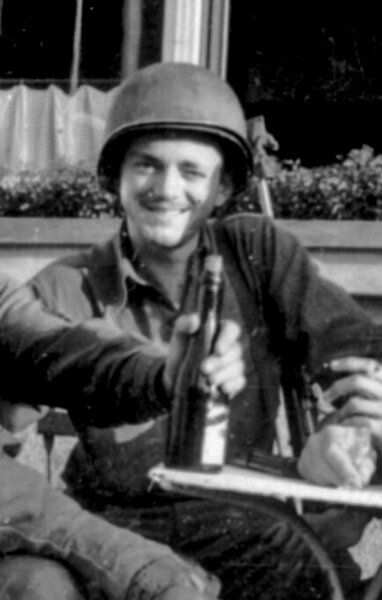 PFC in 603rd Engineer Camouflage Bn : Co B, 4th Platoon
ASN#33583051
Born 1918 in Germany, Died 2013
Artist
County of enlistment: Philadelphia, PA
Other residence(s): New Rochelle, NY; New York, NY
United States Army, European Theatre of Operations
College education before the war: Central School of Arts, London 4 years
College education after the war: Yale (MFA)
Source: YOU ON KP by Jack Masey; Company B Names and Addresses roster; bio info from The Ghost Army by Beyer/Sayles; photo from Tompkins Collection, GALP Archive
Paul Seckel was born on July 19, 1918 in Osnabrück, Germany, the oldest of five children. Sometime in the 1930s, his family left Germany for England and Paul studied for two years at the Central School of Arts in London (now part of Central St. Martin's College).
Paul's father, who held a PhD in math, was the first to come to the US, taking a position teaching math and German at Canisius College in Buffalo, NY. On September 23, 1939, three weeks after Britain declared war on Germany, Paul sailed out of Southampton on the Nieuw Amsterdam*, arriving in New York on September 29. In the spring of 1940 he was living in New York City, and working as a commercial artist. Around the same time, his mother and sister arrived in the US.
Paul registered for the draft on October 16, 1940 at which point he was either a student (or working at) what is now SUNY Buffalo.
At the time he enlisted, on February 8, 1943, he was living in Philadelphia and stated that he had four years of college. As an artist, he was assigned to the 603rd Engineer Camouflage Battalion, and was naturalized as a US citizen six months later, on August 2, 1943.
Like other Ghost Army artists, Paul did his share of sketches during his time in Europe. A couple of his pen and ink drawings of fellow soldiers are included in The Ghost Army of World War II.
Two more of his siblings arrived in the US in late 1944, sadly listing their country of citizenship as "stateless." His remaining sister had settled in Denmark.
After his discharge from the Army, Paul was admitted to Yale to pursue an MFA degree. While at Yale he met German-born composer and pianist Ruth Schöntal, a refugee from the Nazis. She and her family had immigrated to Sweden and later to Russia, Japan, and Mexico when a US visa was not available. After the war she was admitted to Yale where she studied with Paul Hindemith, who'd been instrumental in her acceptance at the university.
In 1950, Paul and Ruth married. They would go on to have three sons: Albert, Bernhard, and Ben.
The family eventually settled in New Rochelle, NY and Paul and Ruth pursued their careers in art and music respectively. Paul produced advertising art, cartoons, lithographs, and conventional paintings, including work in acrylics. The New York Times called him a "painter of eclectic vision." He also taught art. Ruth became a noted and award-winning musician, and also taught composition.
Ruth died in 2006. Paul died on October 29, 2013.
*NOTE: The Nieuw Amsterdam was only a little over a year old at this point but this was one of its last private voyages before the war. During the war it was outfitted as a troop transport ship and transported over 350,000 troops. By 1947 it was restored to private use and served passengers in the North Atlantic until the 1970s.
Sources:
1939 immigration record
https://search.ancestry.com/cgi-bin/sse.dll?indiv=1&dbid=7488&h=1005945187&tid=&pid=&queryId=980656593f8f992a49e31bb1e2d994cd&usePUB=true&_phsrc=nxD2&_phstart=successSource
1940 census (April)
https://www.ancestry.com/discoveryui-content/view/9724592:2442?tid=&pid=&queryId=980656593f8f992a49e31bb1e2d994cd&_phsrc=qCy4&_phstart=successSource
1940 draft card (October)
https://www.ancestry.com/discoveryui-content/view/302649572:2238?ssrc=pt&tid=10965519&pid=192182682945
1943 enlistment record (February)
https://search.ancestry.com/cgi-bin/sse.dll?indiv=1&dbid=8939&h=1052885&tid=&pid=&queryId=980656593f8f992a49e31bb1e2d994cd&usePUB=true&_phsrc=qCy5&_phstart=successSource
1943 naturalization record (August)
https://search.ancestry.com/cgi-bin/sse.dll?indiv=1&dbid=61200&h=78721&tid=&pid=&queryId=980656593f8f992a49e31bb1e2d994cd&usePUB=true&_phsrc=qCy4&_phstart=successSource
1950 marriage record
https://www.ancestry.com/discoveryui-content/view/1551600:61406?ssrc=pt&tid=10965519&pid=192182682945
1993, 1995 US Public Records Index (New Rochelle NY)
https://www.ancestry.com/discoveryui-content/view/222751282:1788?tid=&pid=&queryId=980656593f8f992a49e31bb1e2d994cd&_phsrc=qCy2&_phstart=successSource
1995 article in New York Times about an art exhibit of his work; contains biographical details
https://timesmachine.nytimes.com/timesmachine/1995/07/09/556095.html?pageNumber=378
2006 wife's obituary in New York Times
https://www.nytimes.com/2006/07/19/arts/music/19schonthal.html
2013 Social Security death index
https://search.ancestry.com/cgi-bin/sse.dll?indiv=1&dbid=3693&h=94534081&tid=&pid=&queryId=980656593f8f992a49e31bb1e2d994cd&usePUB=true&_phsrc=qCy1&_phstart=successSource