Arthur Rudolf Shilstone
T/5 in 603rd Engineer Camouflage Bn : Co B, 3rd Platoon
ASN#32636441
Born 1922 in NJ, Died 2020
Artist
County of residence at enlistment: Putnam County, NY
United States Army, European Theatre of Operations
College education before the war: Pratt 2 years
College education after the war: Pratt
Notes: Rank changed from PVT to T/5 per New York Area Leave List
Source: 603rd Camouflage Engineer Roster provided by W. Anderson; 603rd reunion mailing list; Company D With Addresses Roster; Company B Names and Addresses roster; bio info from The Ghost Army by Beyer/Sayles; photo from Shilstone Collection, GALP Archive
Arthur Shilstone was born on August 7, 1922 in Weehawken, NJ, the younger of two children. In his childhood the family lived in Glen Ridge, NJ; they moved to Lake Mahopac, NY during the 1930s.
He graduated from Mahopac High School in 1940; an art teacher there suggested he pursue his art studies at Pratt. He was accepted into their illustration program and he completed two years of study before he registered for the draft on July 11, 1942. He enlisted on November 19, 1942 and was directed into the 603rd Engineers Camouflage Battalion of the Ghost Army.
Like many of the Ghost Army's artists, he created numerous paintings and sketches of his European experience. "To be in the middle of this incredible adventure," he said, "with a world at war, in a foreign country? I just had to put it down."
One of Arthur's most famous paintings of his Ghost Army experiences was of two astonished Frenchmen on bicycles watching four GIs pick up what they thought was a 40-ton Sherman tank. "They looked at me, and they were looking for answers, and I finally said: 'The Americans are very strong.'" (He painted that moment for a 1985 story in Smithsonian on the unit.)
After the war he returned to Pratt and completed his degree in illustration, graduating in 1947. Arthur and fellow Ghost Army veteran and Pratt '47 graduate Bill Sayles started a design studio called AdVisuals which they ran for several years before both heading off to independent careers as illustrators.
Arthur married Beatrice Nickoll in 1953, and they would have two sons: Jonathan and William. They moved to Redding, CT in 1957, living in a remodeled barn that also served as his studio.
He had a long and prolific career as an illustrator; his illustrations appeared in more than 30 magazines including Smithsonian, Life Magazine, Saturday Evening Post, Sports Illustrated, Gourmet, The New York Times Magazine, and National Geographic. According to his obituary, "his 12-year stint with Life Magazine included reportorial drawings covering momentous trials and new stories of the day, including the funeral service in the Senate for controversial senator Joseph McCarthy; the Supreme Court case Brown vs. Board of Education decision to integrate schools; the infamous Sheppard murder case in Cleveland, OH; as well as the hearings to determine fault in the sinking of the ocean liner Andrea Doria."
He also produced illustrations for dozens of book jackets and album covers for artists such as Billie Holiday and Aaron Copeland. In addition, his works hang in boardrooms and offices of major US corporations and in many collections, such as those of the National Baseball Hall of Fame in Cooperstown, NY.
According to his obituary, he "was an official NASA artist, one of eight artists in the country chosen to cover the maiden voyage of the space shuttle. Several of his paintings covering space shuttle blast-offs and landings are displayed at the NASA Kennedy Space Center in Cape Canaveral, FL."
Later, Arthur changed his primary focus to fine art, painting sporting subjects, especially hunting and fishing, for art galleries. These works were published in Sports Afield, Field & Stream, Sporting Classics, and Gray's Sporting Journal.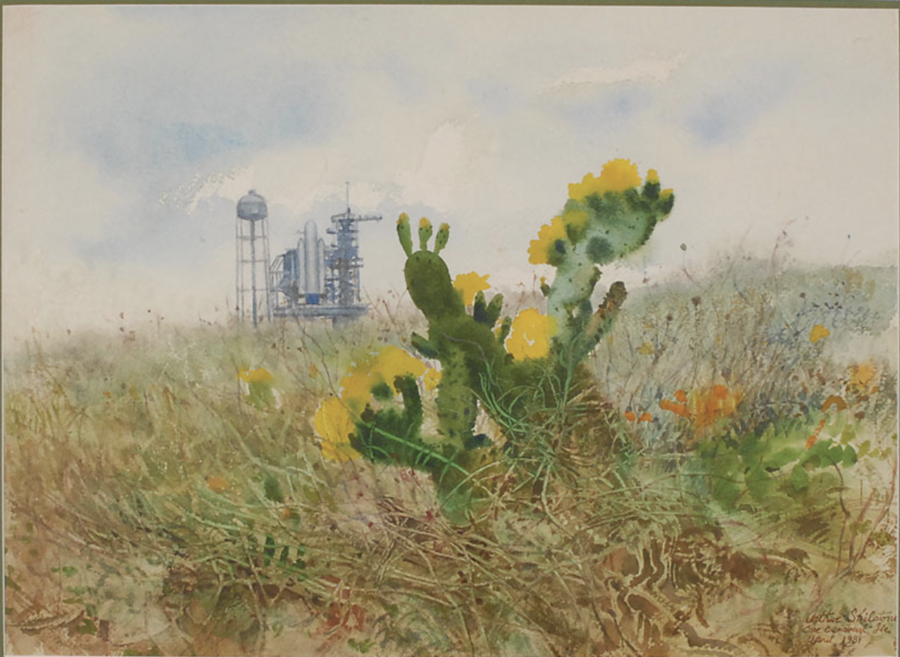 Several of his paintings based on his wartime experiences are on display at the National World War II Museum in New Orleans, LA.
A retrospective of his life's work was celebrated in the 2015 book, Arthur Shilstone: A Lifetime of Drawing and Painting by Fred Polhemus. His last painting was a commission of a fishing scene that he completed three months before his death.
He was a member of the Society of Illustrators in New York and a lifetime member of the American Watercolor Society.
He was also active in the Redding Boys Club, serving as a coach for Little League baseball and Pop Warner football, then as a board member, and finally as president. He and Bea were also founding members of the Redding Land Trust.
He was interviewed by Rick Beyer for the 2013 documentary The Ghost Army, and appeared at a number of Ghost Army events over the years. Rick says of Arthur: "He was warm and thoughtful, always happy to hear from us [Rick and his wife Marilyn]. He could be quite direct, and occasionally impatient, especially when he wanted to get back to his painting. But he also had a great sense of humor that was usually expressed in a dry chuckle and twinkling of the eyes. He was a bit bemused by all the attention given to the Ghost Army, but very appreciative of it as well. . . . He was generous in sharing his art for the documentary, the book that Liz and I did, and for numerous exhibits."
Arthur died on July 30, 2020 in his home in Redding, CT.
Sources
1930 census
https://www.ancestry.com/discoveryui-content/view/21283467:6224?ssrc=pt&tid=8776849&pid=-895761657
1942 draft card
https://search.ancestry.com/cgi-bin/sse.dll?indiv=1&dbid=2238&h=303428690&tid=&pid=&queryId=80038402ab523963eeb132e186742280&usePUB=true&_phsrc=kdl15&_phstart=successSource
1942 enlistment record
https://search.ancestry.com/cgi-bin/sse.dll?indiv=1&dbid=8939&h=1151013&tid=&pid=&queryId=80038402ab523963eeb132e186742280&usePUB=true&_phsrc=kdl16&_phstart=successSource
1953 marriage record
https://www.ancestry.com/discoveryui-content/view/3904461:61406?tid=&pid=&queryId=80038402ab523963eeb132e186742280&_phsrc=kdl17&_phstart=successSource
1953 article in Wisconsin Jewish Chronicle re the marriage
https://www.newspapers.com/image/49952021/?article=958bb5d7-4f07-405e-973b-2377a9241af4
2008 Prattfolio article "Faking Out the Enemy"
https://issuu.com/prattinstitute/docs/prattfolio-fall-2008-artinthetimesofwar
2020 obituary
https://www.legacy.com/obituaries/theridgefieldpress/obituary.aspx?n=arthur-shilstone&pid=196622064&fhid=13190
Personal website, photos of art, etc.