Richard Michael "Dick" Syracuse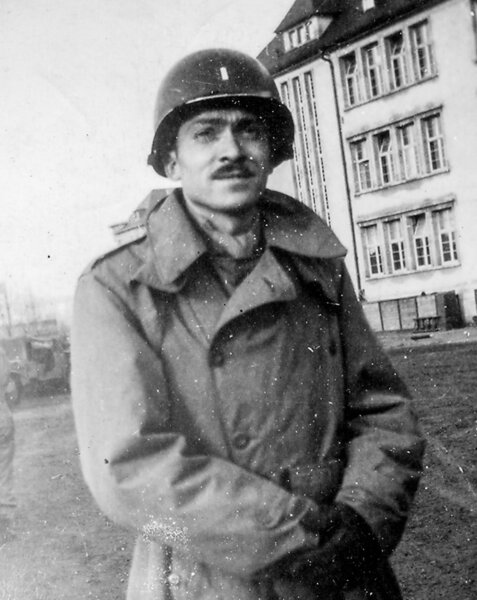 CPT in 3132nd Signal Service Co : 4th Platoon, Commander
ASN#482285
Born 1922 in NY, Died 2013
Other residence(s): Westchester, NY; New Rochelle, NY; Bronx, NY
United States Army, European Theatre of Operations
College education before the war: CCNY
Notes: "A Ball of Fire"; "A Genuine Ball of Fire!"; rank changed from 1LT in GA roster to CPT per his obituary
Source: W. Anderson Notes; Travel Orders, 23d HQ, 29 August 1945; 3132 Caption List; Sonic 4th Platoon, 1944; Ghost Army roster by state; 3132 Pine Camp Photo Names; bio info from The Ghost Army by Beyer/Sayles; photo from Syracuse Collection, GALP Archive
Dick Syracuse was born on April 5, 1922 in the Bronx, NY. He graduated from Stuyvesant High School, an exam school in New York City, and then studied chemical engineering at the College of the City of New York, graduating in 1942. He had entered ROTC and received a commission as a 2nd Lt. in the Army upon graduation; because of his college studies they first assigned him to be a chemical warfare officer. Eventually he ended up at Pine Camp (the training base for the Ghost Army sonic deception units) as a smoke officer. Although the Army eventually decided not to use smoke as part of the Ghost Army's deceptions, Lt. Syracuse and his platoon were designated to do reconnaissance and security for the sonic units.
Dick coined the expression "The Cecil B. DeMille Warriors" to describe the theatricality of the unit, a subject he loved to talk about. He says that he'd be in camp, listening to the recordings of the tanks. "After a while my eyes began to tell me what my ears were hearing, and I began to see tanks!"
According to Rick Beyer in The Ghost Army of World War II, "Syracuse recalled an operation during which he ran into an old friend serving in another unit. The man noted the Eighty-Third Infantry Division patch Syracuse was wearing. He remembered that the last time he saw Syracuse he was wearing the insignia of the Fifth Armored Division, and before that, another unit. Syracuse was secretly amused that his friend had stumbled upon evidence of his deception work but needed to come up with an explanation. Lowering his voice, he confided that he was a bit of a screwup, so he kept getting transferred. 'You better watch yourself,' warned his concerned friend. 'They're liable to bust you down and put a rifle in your hands' Syracuse could only smile."
After his discharge from the Army, with the rank of Captain, Dick worked in institutional PR, sales, and engineering, and also worked in the building business with his father in New York and Florida.
In 1953, he went into the building business with his brothers Joseph and Donald, working together as Syracuse Brothers, Inc., Syracuse Brothers Development Corp., and Briarcliff Contemporaries.
The following year he married Claire Coppola, and the couple would go on to have four children: Maleyne, Andrea, Richard Jr., and Rina. The family settled in New Rochelle, NY in 1960, and Dick and Claire would remain there throughout their lives.
According to his obituary, Dick thrived in the construction world. "Under Richard's leadership as President, Syracuse Brothers and its affiliated companies built over 500 single family homes in Westchester County. . . . [they] also build over 350 condominium townhouses, garden apartments, and high-rise apartments in New York and New Jersey."
Dick was also active in many professional and civic associations. He was a past president of the Westchester Home Builders Association as well as the Builders Institute of Westchester and Putnam Counties. He was a member of the New Rochelle Board of Education Plant Planning Committee and the New Rochelle Library Board of Trustees. He served as Chairman of the New Rochelle Planning Board, and was a past president and director of the New Rochelle Neighborhood Revitalization Corp.
Dick received many honors during his lifetime. In 1990 he was recognized as the Circolo Da Vinci "Man of the Year." He received commendations from both the New Rochelle City School District and the New Rochelle City Council for his service to both entities. He was also honored by the New Rochelle Historical Society for his lifetime of service to the city.
Dick died on September 25, 2013, of congestive heart failure, and is buried at Gate of Heaven Cemetery in Hawthorne, NY.
Want to know more? Watch the Rick Beyer interview of Dick Syracuse.
Sources:
1954 marriage record
https://www.ancestry.com/discoveryui-content/view/91605546:70865?indiv=1&tid=&pid=&queryId=30252214498d24de801484993957a83b&usePUB=true&_phsrc=gat2&_phstart=successSource
1963 article in The Herald Statesman (Yonkers NY) about a strike against building materials suppliers
https://www.newspapers.com/image/677952278/?terms=Richard%20M%20Syracuse&match=1
1966 article in The Herald Statesman (Yonkers NY) about construction in the Westchester area
https://www.newspapers.com/image/678169959/?terms=Richard%20M%20Syracuse&match=1
1972 article in The Daily Register (Red Bank NJ) re the construction of a $2 million high rise apartment complex by Syracuse Brothers
https://www.newspapers.com/image/516467875/?terms=richard%20syracuse&match=1
2013 article in Westchester Magazine
https://westchestermagazine.com/life-style/ghost-army-of-world-war-ii-and-new-rochelle-resident-richard-syracuse-the-subject-of-pbs-documentary-syracuse/
2013 Social Security Death Index
https://search.ancestry.com/cgi-bin/sse.dll?indiv=1&dbid=3693&h=94171103&tid=&pid=&queryId=2c6be00c6e81be2376ce7f00e368e631&usePUB=true&_phsrc=DSl4&_phstart=successSource
2013 Obituary
https://www.dignitymemorial.com/obituaries/new-rochelle-ny/richard-syracuse-5679206