Victor Sorrentino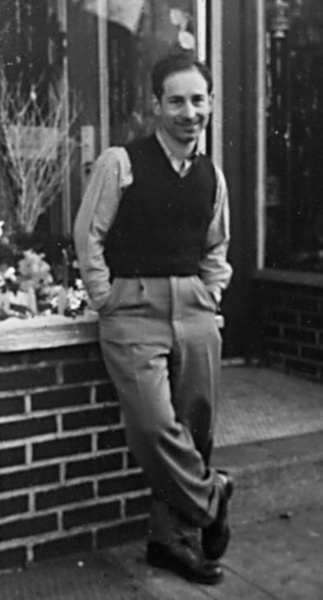 PFC in 406th Engineer Combat Co
Military occupational specialty: 345 (truck driver, light)
ASN#32863555
Born 1921 in NY, Died 2016
Artist
County of residence at enlistment: Kings County, NY
Other residence(s): Brooklyn, NY
United States Army, European Theatre of Operations
Occupation before the war: decorators and window dressers
Victor Sorrentino was born on July 7, 1921 in New York City, the fourth of seven children born to a flower shop salesman. His parents and older brother (who also worked in the flower shop) had all been born in Italy, emigrating to Brooklyn as a family in 1904.
By 1940, Victor's father was no longer able to work; both his mother and sister worked making flowers—his mother at home and his sister in a factory. At some point his sister started her own flower shop, Sorrentino Florist, and Victor, who had left high school after two years, was working there when he registered for the draft on February 15, 1942. He enlisted on March 15, 1943; his occupation is listed in the category of "decorators and window dressers," probably as part of his work at the florist.
Victor served as a truck driver in the 406th Engineer Combat Company, and went overseas with the unit. After the war was over, he returned to New York and married Beatrice "Vera" Romano on July 18, 1945. They would go on to have two children: Nicola (Nicky) and Rose.
The family continued in the flower business—in 1950 Victor's mother; three of his siblings and a nephew; and Victor, Vera, and baby Nicky all shared an apartment above the shop in the Borough Park neighborhood of Brooklyn. His brother and sister worked in the shop; he continued to drive a truck, although he may also have worked in the shop. (A 1950 family photograph shows him posed in front of the shop window.)
Sadly, Vera died in 1955 leaving Victor a widower with two young children.
Little else is known of his life and work.
He died on March 11, 2016 in Richmond VA and is buried at St. John Cemetery in Middle Village, Queens, NY.
Photos
In family tree in ancestry
https://www.ancestry.com/family-tree/person/tree/394044/person/-650418488/Gallery?_phtarg=EbB4
Sources:
1925 NY state census (he is mistakenly listed as Victoria)
https://www.ancestry.com/discoveryui-content/view/24036929:2704?ssrc=pt&tid=394044&pid=-650418488
1930 census
https://www.ancestry.com/discoveryui-content/view/40657552:6224?tid=&pid=&queryId=53bd09c486ee9d49df47a08961a35081&_phsrc=URa2&_phstart=successSource
1940 census
https://www.ancestry.com/discoveryui-content/view/2768417:2442?tid=&pid=&queryId=4871d5c29f5025bef6e21938b8c211ff&_phsrc=URa4&_phstart=successSource
1942 draft card
https://www.ancestry.com/discoveryui-content/view/195331042:2238?tid=&pid=&queryId=53bd09c486ee9d49df47a08961a35081&_phsrc=URa1&_phstart=successSource
1943 enlistment record
https://search.ancestry.com/cgi-bin/sse.dll?indiv=1&dbid=8939&h=1398103&tid=&pid=&queryId=4871d5c29f5025bef6e21938b8c211ff&usePUB=true&_phsrc=Csm22&_phstart=successSource
1945 marriage record
https://www.ancestry.com/discoveryui-content/view/435594:61406?tid=&pid=&queryId=53bd09c486ee9d49df47a08961a35081&_phsrc=URa5&_phstart=successSource
1950 census
https://www.ancestry.com/discoveryui-content/view/293270134:62308?tid=&pid=&queryId=e5627662a512f59056646d47e1671ee7&_phsrc=EYp1&_phstart=successSource
1993-2002 US phone and address directories (Brooklyn NY)
https://www.ancestry.com/discoveryui-content/view/39394522:7339?ssrc=pt&tid=394044&pid=-650418488
2016 Find a Grave record
https://www.findagrave.com/memorial/170104307/victor-sorrentino