Lessons from ELEPHANT
As in most of the 23rd deceptive work, it was impossible to discover exactly how successful Operation ELEPHANT was. There is every reason to suspect, however, that little good was done.
But even though the operation was of little help to the 2nd Armored Division, it was of considerable help to the 23rd. The technique and efficiency of the unit were boosted 100%. The 23rd learned: (1) There must be close coordination with higher headquarters directing the "big picture." Elephant suffered from delayed orders, lack of understanding and incomplete information. If deception was new to the 23rd, its needs, capabilities and limitations were completely unknown to the rest of the Army. This was corrected in later operations by the use of 23rd liaison officers. During inactive periods, these officers would act as DECEPTION "salesmen" – selling and explaining deception to whomever would listen. In this latter role, they were restricted by the TOP SECRET classification of their subject.
(2) There must be close association with the associated unit or units. ELEPHANT's chances of success were practically nullified by the 2nd Armored brazen movement in full regalia in broad daylight. No attempt was made to hide bumper markings, shoulder patches or CP signs. It immediately became clear that no cover plan could be successful without strict camouflage control of the "covered" unit. In future operations this error was partly corrected by detaching 23rd liaison officers to the associated real units, and partly by orders to them from higher headquarters prompted by the 23rd.
(3) Since the enemy was known to be employing a large number of low-grade agents for the express purpose of ascertaining U.S. shoulder patches, bumper markings and CP signs – and since it was quite apparent that a very accurate U.S. Order of Battle could be reconstructed by the enemy from these easy visual evidences -- it was obvious that the 23rd had a new "spoof" weapon to play with. The weapon was called SPECIAL EFFECTS. It included everything from borrowed shoulder patches to phony major generals, from empty gas convoys to prepared stories for loose tongues – anything to fool the enemy ground agent.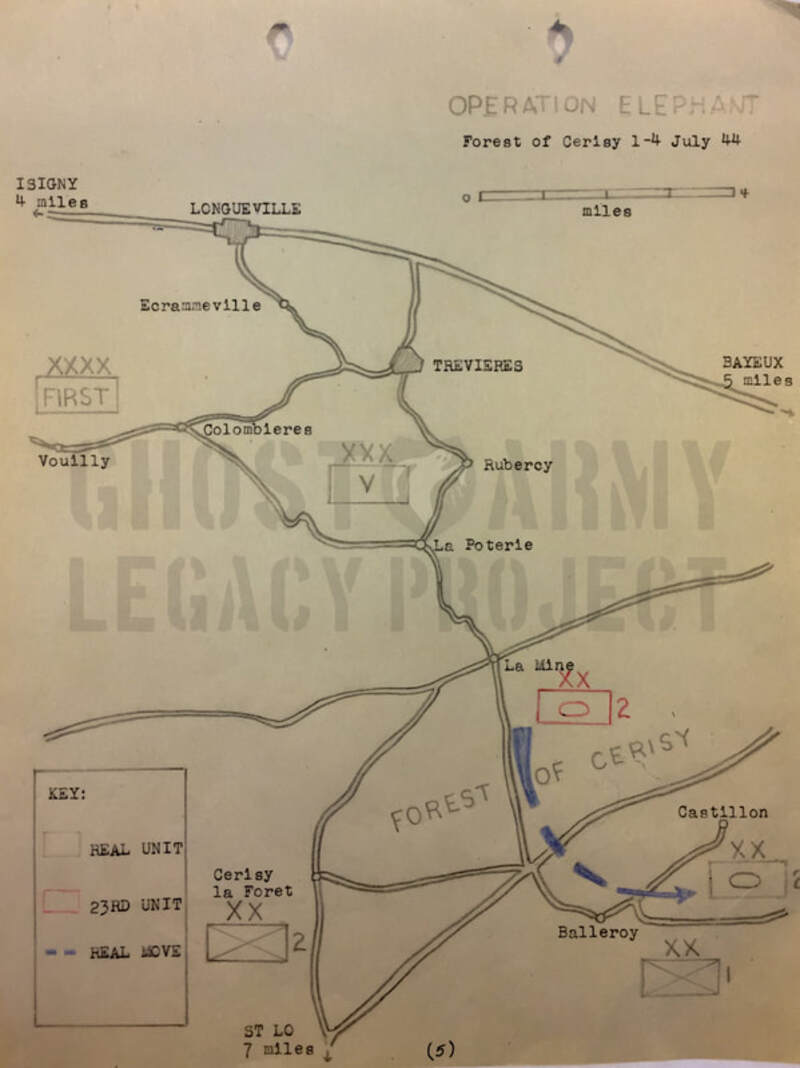 (4) By super skimping ELEPHANT was able to replace only parts of the 2nd Armored Division. Therefore, the capabilities of the 23rd were no longer advertised to include the simulation of more than one division unless additional troops were attached.
(5) The almost complete absence of the Luftwaffe decreased the value of dummy equipment which was designed for enemy aerial reconnaissance. Emphasis shifted to "Special Effects." In later operations, dummies were sometimes left out altogether.