D-Day and detachments
It took two months, two planes and nine ships to get all of the 23rd from England to France. Of course, this does not include replacements. The first group included four sergeants from the 603rd Engr Cam Bn Sp who left the unit at Bristol to go directly to an invasion staging area with the 602nd Engr Cam Bn. Their mission involved the use of phony "Q lighting" during the first critical nights following D Day. They left from Plymouth on four different LSTs and began landing on D Day H-10. It was soon apparent that there were so many real Q lights – at so many points – that the small deceptive effort would be ridiculous, so it was not tried. Instead, the sergeants busied themselves with the camouflage of early beach installations and supply dumps. Two of the party were wounded. (S/Sgt Chester J. Piasecki and Sgt. Tracy B. Slack.)
On 14 June 1st Lt. Bernard H. Mason, 603rd Engr Cam Bn Sp, flew to the Omaha Air Strip with 15 men and a trailer-load of dummy artillery. He was attached to VII Corps Artillery from D-9 to the end of the Cherbourg campaign. This employment of dummy 155 mm rifles was an experiment and it was considered successful. There were no casualties.
Lt. Cols James W. Snee, Armored O, and Olen J. Seaman Jr. Ln O, flew over the D-11. Through First Army they reserved a bivouac area for the 23rd advance echelon and reconnoitered the 2nd and 3rd Armd Divs for future employment of the ELEPHANT task force.
Col Reeder started for France with ELEPHANT (39-0. 1-WO, 319 EM) on 16 June. He was immediately misdirected to Exeter and the entourage spent the first two nights in the fields of Bishop's Court. On 18 June the group was re-routed east to a shabby camp near Southampton. On the following day they boarded LSTs 284 and 335. Then, by error, LST 284 dropped out of the convoy and hung off the Isle of Wight for a week. But no one cared because the ship was very comfortable and the weather perfect. Motion pictures were shown down in the tank deck and hot bread, butter and coffee were served at 0100 each night. The ship's phonograph had a large library of classical records. Buzz bombs were just beginning to come over Southern England but at that time they were more curious than frightful. On 24 June LST 335 put ashore on Utah Beach and three days later LST 284 came in. The gracious skipper of LST 284 made a final gesture toward Army-Navy goodwill by opening up his well-stocked larder to all departing passengers.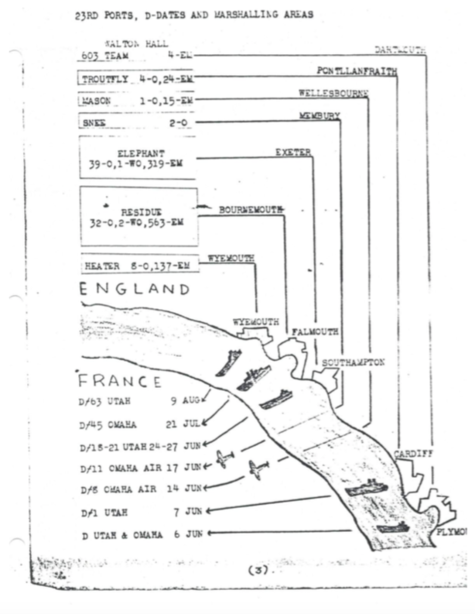 The residue of the command (32-0, w-WO, 563 EM) was officially called RESIDUE or informally, "Garbage." It remained at Walton Hall until 8 July. On that day under the leadership of Lt. Col Merrick H. Truly it departed for Charborough Park near Bournemouth. This was the spacious estate of Adm. Lord Reginald Ernst-Ernle Drax, K.C.B., D.S.O., and a very fine Lord indeed. Everyone lived in pup tents but the days were balmy and the Admiral often invited the officers in for a warm bath and a glass of port. RESIDUE stayed here for a week and enjoyed themselves very much watching the Lord's deer and playing baseball on his beautiful lawn. Toward the end, however, a jarring note was introduced when the gray-haired Knight Commander of the Bath said: "Someone has been in my sherry." The next morning RESIDUE pulled out for Falmouth where they boarded the Liberty ship JOHN S. MOSBY – incidentally the same boat that had carried TROUTFLY on D-1. It was a wretched ship which stuffed everyone into the No. 5 hatch. The trip was foggy, uneventful and generally unpleasant. On 21 July D-45 the last man got off on a big, wet "rhino" at Omaha Beach.
HEATER (3132nd Sig Serv Co Sp) did not arrive in England until 11 June so it was not prepared to come to France until 8 August. By this time marshalling yards and channel crossings had achieved a high state of efficiency. Consequently, HEATER had an extremely full passage on LST 1195 to Utah. It joined the 23rd on 9 Aug D-63 in Le Fremondre just north of Coutance. Now for the first time, Col. Reeder finally had all of his command together.