Rolf E Ahlsen
T/5 in 603rd Engineer Camouflage Bn : HQ & Service Co
ASN#32903251
Born 1911 in Sweden, Died 1995
Artist
Other residence(s): New York, NY; Phoenix, AZ
United States Army, did not accompany the unit to Europe
Notes: Rank changed from PVT on GA records to T/5 per National Memorial Cemetery records
Source: 603rd roster from Seymour Nussenbaum's scrapbook, June 1943
I was only able to find one Rolf Ahlsen anywhere in the US (ancestry, newspapers, Google) and he was an artist and served in WW2 so this has to be the right guy.
He was born in 1911 in Stockholm, Sweden and emigrated to the US in 1928. (Per ancestry)
Per his draft registration card he was working for the NY Daily News at the time he was drafted. He enlisted on May 14, 1943, and was released on December 29, 1945.
ancestry.com/interactive/2238/44027_02_00002-01991?pid=193377758&a...
He died on Feb. 18, 1995 in Phoenix, AZ, and is buried at the National Memorial Cemetery of Arizona in Phoenix. He is listed as a T/5 in the US Army in WW2.
His obituary says he was an editorial cartoonist.
newspapers.com/image/117071879/?article=38495704-ef21-4f8d-a9ee-76...
I found elsewhere that he co-created with Bill Kresse a Sunday strip in the NY Daily News from 1968-1972 called "Super" Duper about a bumbling superintendent.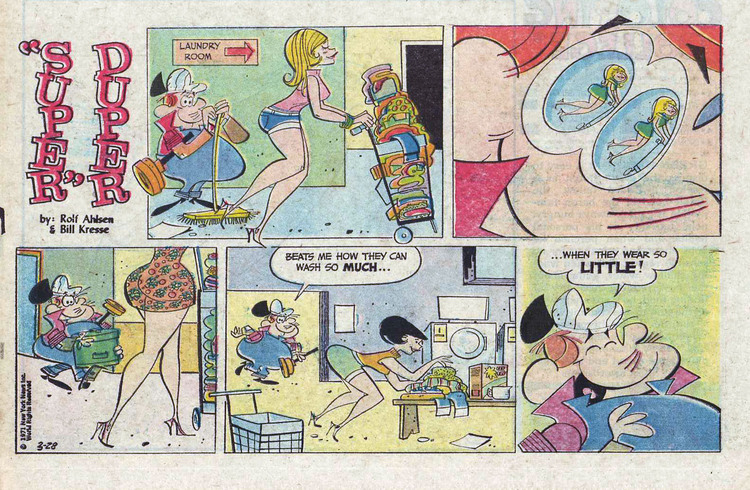 They also did a strip called
Scratch
. They were sometimes credited under their individual names and sometimes as Krahlsen (a combo of their last names).