David Allan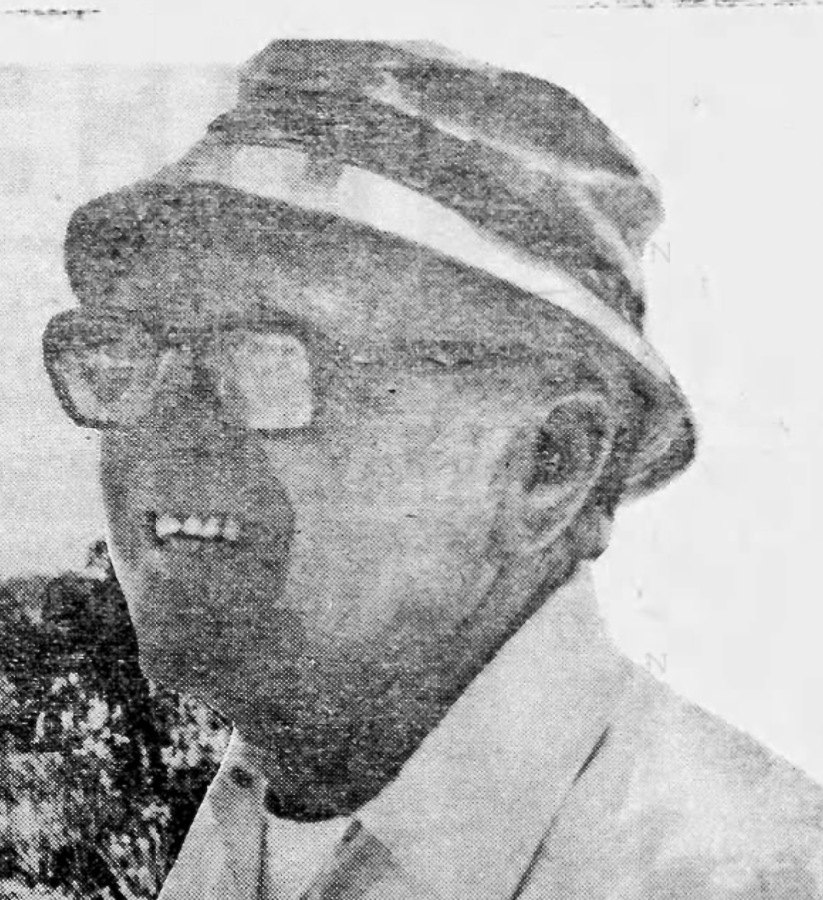 T/5 in 603rd Engineer Camouflage Bn : Co A
ASN#32989833
Born 1907 in Scotland, Died 1996
County of residence at enlistment: Nassau County, NY
Other residence(s): Glasgow, Scotland; Roslyn, NY; Bayville, NY
United States Army, European Theatre of Operations
Occupation before the war: miscellaneous servants, private family
Notes: Scotty in Company A photo
Source: Travel Orders, 23d HQ, 29 August 1945; Photo of 603rd Company A, 13 May 1945; Company A Roster; photo from Newsday article, May 5, 1977
David Allan was born on March 31, 1907 in Glasgow, Scotland. He had five sisters; he was the only boy in the family. He had a year or two of high school education in his background when he immigrated to the US. He arrived in New York on March 17, 1930, headed for a friend's in Hackensack, NJ and stating that his profession was "salesman." But by 1932 he had gone to live and work at the Frick Estate in Roslyn Harbor. (The property had been purchased in 1919 by Henry Clay Frick, co-founder of US Steel, for his son Childs Frick.) In 1936 and 1939 David gave his occupation as valet.
On August 22, 1939 he married Helen Miller Davidson, also born in Glasgow, in New York City. The couple traveled to Scotland for their honeymoon, visiting family. They sailed out of Glasgow, headed back to New York, on September 5, just two days after Great Britain declared war on Germany.
David registered for the draft on October 1, 1940 and enlisted on July 23, 1943. He was assigned to the 603rd Engineer Camouflage Battalion and saw service in Europe with the unit where his nickname was "Scotty." After returning home he reunited with Helen and his young daughter Janet at the Frick Estate, taking on the work of gardener. The Allans would have another daughter, Cathy, by 1947. Both daughters grew up on the estate, along with children of other employees. Helen and David had started out in a cottage near the Hempstead Harbor waterfront, and in 1955 moved into the gate lodge, a wingless miniature of the mansion.
Childs Frick was very interested in paleontology, zoology, and botany, and so he built a monkey house, an aviary, and a bear pit on the property. His wife, Frances, was an avid horticulturist and garden club member. She had hired trailblazing female landscape architect Marian Cruger Coffin to help design a formal garden. (Marian Coffin considered these grounds to be among her finest creations.) Both of these interests factored into the gardening work that David would do for the rest of his work life.
The estate consisted of 145 acres, and required a staff of 22-25 gardeners, eventually headed by David, to care for: two tennis courts, a swimming pool, a polo field, a ski slope, two ponds for skating and canoeing, a shooting range, bridle paths, meadows, apple orchards, a greenhouse, and vegetable and flower gardens. There was a large animal zoo including the previously mentioned monkey house, aviary, and bear pit (with a resident black bear), and polo ponies, Irish wolfhounds, foxes, peacocks, chickens, pheasants, turkeys, rabbits, snakes, alligators, and otters made their home on the property.
David continued on as head gardener until 1965 when Childs Frick died. David and Helen moved into the mansion to keep an eye on the books, antiques, art, and valuable objects that filled the house until the estate could be divided among the Frick children. In 1969, Nassau County acquired the estate buildings and grounds and established the Nassau County Museum of Art there. David and Helen moved back to the gate lodge, and David took up head gardener duties for a new employer, Nassau County (this time with only a staff of eight). A 1977 Newsday interview paraphrases him: "The county is a very different sort of employer, not as interested in restricting weeds or encouraging roses as in paving a parking lot or refurbishing an art gallery." David went on to say: "I'm kind of possessive about this place. But I'm getting used to it. I like people who appreciate the place. . . . A lot of people say 'Oh, it's so gorgeous here,' but I've seen it when it was in its glory, when there was tennis and swimming and horse riding and skiing. And white peacocks."
In September, 1977, David retired from his job after 45 years on the estate and he and Helen went to live in a house in Bayville. David planned to focus on his golf game. "Of course I'll miss my job. But I've seen this place when it was beautiful, and it's gone down so badly, it won't be hard to leave."
David died on December 22, 1996 and is interred at Fresh Pond Crematory and Columbarium, Middle Village, Queens NY. Helen lived to be 101, dying in Baltimore, MD in 2009.
NOTE: Fellow Ghost Army veteran Lloyd Reiss, also a member of the 603rd, would teach and direct programs at the Nassau County Museum of Art in the 1980s, and possibly in the 1970s as well, when David was still working there. It's fun to imagine the two old comrades running into each other!
Sources:
1930 immigration record (shipboard manifest)
https://search.ancestry.com/cgi-bin/sse.dll?indiv=1&dbid=7488&h=2011955095&tid=&pid=&queryId=3de415e485f0fdfd2117d0d09c74da92&usePUB=true&_phsrc=PjW2&_phstart=successSource&_gl=1*1de4wq7*_ga*MTcxMjk5NjA1MS4xNjgwMjIxOTQ5*_ga_4QT8FMEX30*YTA1NWEyNDgtODc0Yi00ZWUwLWE4ZTktM2U4MDcxMTVlODFkLjYuMS4xNjgwMzc4MTg0LjIxLjAuMA..
1936 shipboard manifest, Glasgow to New York
https://search.ancestry.com/cgi-bin/sse.dll?indiv=1&dbid=7488&h=22872342&tid=&pid=&queryId=90de82867ed26033a9960aaad9218ada&usePUB=true&_phsrc=RZw2&_phstart=successSource&_gl=1*1z03cau*_ga*MTcxMjk5NjA1MS4xNjgwMjIxOTQ5*_ga_4QT8FMEX30*YTA1NWEyNDgtODc0Yi00ZWUwLWE4ZTktM2U4MDcxMTVlODFkLjYuMS4xNjgwMzc3NDY2LjQuMC4w
1939 marriage index
https://search.ancestry.com/cgi-bin/sse.dll?indiv=1&dbid=61632&h=7368240&ssrc=pt&tid=167199660&pid=122166696124&usePUB=true&_gl=1*kvfbr4*_ga*MjAwMDM4MDQ3LjE2Nzk1MDE1NzU.*_ga_4QT8FMEX30*YTA1NWEyNDgtODc0Yi00ZWUwLWE4ZTktM2U4MDcxMTVlODFkLjI3LjEuMTY3OTc2NTE3OC41OC4wLjA.
1939 shipboard manifest, Glasgow to New York
https://search.ancestry.com/cgi-bin/sse.dll?indiv=1&dbid=7488&h=1005419258&tid=&pid=&queryId=cade182a1f5da5604ccc3b0389585e2d&usePUB=true&_phsrc=qcf6&_phstart=successSource&_gl=1*1im9ygn*_ga*MjAwMDM4MDQ3LjE2Nzk1MDE1NzU.*_ga_4QT8FMEX30*YTA1NWEyNDgtODc0Yi00ZWUwLWE4ZTktM2U4MDcxMTVlODFkLjI3LjEuMTY3OTc2NDM0NS41Ny4wLjA.
1940 census
https://www.ancestry.com/discoveryui-content/view/12098604:2442?tid=&pid=&queryId=cade182a1f5da5604ccc3b0389585e2d&_phsrc=qcf5&_phstart=successSource
1940 draft card
https://www.ancestry.com/discoveryui-content/view/302967107:2238?tid=&pid=&queryId=cade182a1f5da5604ccc3b0389585e2d&_phsrc=qcf1&_phstart=successSource
1943 enlistment record
https://www.ancestry.com/discoveryui-content/view/2822932:8939?tid=&pid=&queryId=cade182a1f5da5604ccc3b0389585e2d&_phsrc=qcf3&_phstart=successSource
1946 index to petitions for naturalization
https://www.ancestry.com/discoveryui-content/view/2478350:7733?tid=&pid=&queryId=cade182a1f5da5604ccc3b0389585e2d&_phsrc=qcf9&_phstart=successSource
1950 census
https://www.ancestry.com/discoveryui-content/view/280928925:62308?tid=&pid=&queryId=cade182a1f5da5604ccc3b0389585e2d&_phsrc=qcf2&_phstart=successSource
1977 Newsday article about David's work on the Frick Estate (two links)
https://www.newspapers.com/image/715867719/?terms=david%20allan
https://www.newspapers.com/image/731214637/?terms=david%20allan&match=9
1996 Social Security death index
https://www.ancestry.com/discoveryui-content/view/680403:3693?tid=&pid=&queryId=cade182a1f5da5604ccc3b0389585e2d&_phsrc=qcf4&_phstart=successSource
1996 Social Security applications and claims index
https://www.ancestry.com/discoveryui-content/view/801705386:60901?tid=&pid=&queryId=cade182a1f5da5604ccc3b0389585e2d&_phsrc=qcf10&_phstart=successSource
1996 Find a Grave record
https://www.findagrave.com/memorial/191872629/david-allan
Nassau County Museum of Art website (2 sites)
https://www.nassaucountyny.gov/2944/Nassau-County-Museum-of-Art
https://nassaumuseum.org/history/
Untapped New York website
https://untappedcities.com/2018/04/19/gold-coast-mansion-on-long-island-houses-an-art-museum/