George A Amsdill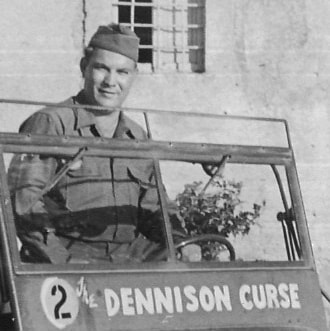 PVT in 3133rd Signal Service Co
ASN#42084789
Born 1922 in NY
County of residence at enlistment: Niagara County, NY
Other residence(s): Lewiston, NY
United States Army, European Theatre of Operations
Occupation before the war: machinists
Notes: PFC in 1944 Christmas Program
Source: 3133rd Program, 15 Sept 1944; 3133rd roster from 10th Mountain Division Museum at Fort Drum; AES 1944 Christmas Dinner Program; photo courtesy of 10th Mountain Division Museum at Fort Drum
Enlistment record:
https://aad.archives.gov/aad/record-detail.jsp?dt=893&mtch=1&tf=F&q=42084789&bc=,sl,fd&rpp=10&pg=1&rid=8296071
In the period from 1951-1956, city directories show him living in the Village of Lewiston, NY and working as a warehouseman for a company called Niagara Furniture.
The 1959 city directory says he is a state employee, and the 1960 directory says he is an equipment operator.
I also found a 1962 court case where he was a witness, and his profession is listed as a patrolman for the Village of Lewiston, or at the very least he had been in 1959, the year of the incident in the court case.
leagle.com/decision/196284034misc2d8061587
This was the only reference I could find to a police career, so can't independently confirm.
NOTE: The Village of Lewiston is a historic village in the western part of the town of Lewiston.
(Interesting side note: his son, George Jr., was a military policeman in the Army, and also served the village of Lewiston in a variety of positions from 1967-2003.)
Died February 26, 1982.
search.ancestry.com/cgi-bin/sse.dll?indiv=1&dbid=2441&h=40...