Eliot Heath Atkinson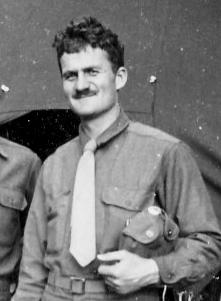 PVT in 603rd Engineer Camouflage Bn : Co D, 1st Platoon
ASN#11088515
Born 1907 in MA, Died 1982
Artist
County of residence at enlistment: Norfolk County, MA
United States Army, European Theatre of Operations
Occupation before the war: artists, sculptors, and teachers of art
College education before the war: Harvard 4 years
College education after the war: Art Students League; New School of Social Research
Source: 603rd Camouflage Engineer Roster provided by W. Anderson; Bernie Mason Company D Roster; photo from Dahl Collection, GALP Archive
He was born in Mattapoisett MA (where I think his family must have had a summer home) in 1907, and grew up in Brookline MA. He was descended from General William Heath (one of Washington's generals) and he was also the uncle of actor Sam Waterston.
He played high school football at the Rivers School in Brookline, and then graduated from Harvard in 1929 with a BA in Art History. He spent a year or two as a migrant worker--riding the rails and working on a wheat harvest in shucking and thrashing season and in a lumber camp in Minnesota. When he returned to Boston he worked as a bank manager, and then sold oil burners and real estate.
He also painted and played jazz piano.
He was in the Army from 1942-1945. His brother Samuel served in the Navy, becoming a Lieutenant Commander.
In October 1943 he married Margaretha van Limburg Stirum, the daughter of a Dutch count. They had two or three daughters (data wasn't clear to me and I didn't spend a lot of time trying to clarify).
After the war they settled in Amagansett, Long Island where he was active in an artistic group that included Jackson Pollock and Wilhelm de Kooning. He was also editor of Bonacker, a collection of sketches and creative writing. He also studied at the Art Students League in New York and at the New School of Social Research. In addition he was a jazz pianist, and played professionally with a jazz band for a while.
He painted in a style he called "Loopism," abstract expressionism based on the loop. In a newspaper interview he said that: "I was sketching in the Army. I was doing drapery, and I realized that drapery was based on loops."
By the 1950s the family was living in West Palm Beach where he taught drawing, painting, and composition at the Norton Gallery and School of Art and exhibited his painting in several local shows/galleries.
In the 1960s, they lived in New Hope, PA where he taught art at Mercer County (NJ) Community College; in a poverty program that taught art to children; and patients at the NJ State Hospital. He also exhibited in several local shows/galleries. His wife, "Peggy," was a sculptor and collage artist, and taught mentally disturbed children in Trenton.
Sometime after that the family returned to West Palm Beach. Eliot died of Alzheimer's in a West Virginia hospital in December, 1982.
NOTE: Interestingly enough, several articles reference his "English" accent--at first this put me off because I thought they must be talking about someone else. But then one article said he had an English accent because he was born near Cape Cod!! So it was probably one of those Kennedy-esque Beacon Hill Harvard accents.....
Sources
Draft Card
search.ancestry.com/cgi-bin/sse.dll?indiv=1&dbid=2238&h=19...
Enlistment Record
https://aad.archives.gov/aad/record-detail.jsp?dt=893&mtch=1&tf=F&q=11088515&bc=,sl,fd&rpp=10&pg=1&rid=421664
Obituary
newspapers.com/image/437375241/?terms=eliot%2Batkinson
Marriage Announcement
newspapers.com/image/433932818/?terms=eliot%2Batkinson
Three Interesting Profiles:
The first from an article in the 7/11/65 Trenton Evening Times (NJ) genealogybank.com/doc/newspapers/image/v2%3A1236872C1F6A0AE3%40GB3...
The second is from an article in the 6/23/68 Trenton Evening Times (NJ)
genealogybank.com/doc/newspapers/image/v2%3A1236872C1F6A0AE3%40GB3...
The third is from an article in the 5/21/78 Miami Herald. (Includes a photo.)
newspapers.com/image/627356764/?terms=eliot%2Batkinson
This is a photograph of Eliot's father, Robert Whitman Atkinson from the Brookline (MA) Historical Society. Notable not because of the photo but because the caption states that Robert was the grandfather of actor Sam Waterston, making Eliot Sam's uncle. (I confirmed on ancestry that Eliot's sister Alice married George Chychele Waterston.)
brooklinehistoricalsociety.org/archives/slideShow.asp?mainList=arc...