Harold Thomas Anderson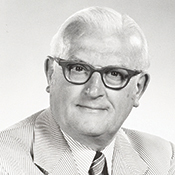 SGT in 406th Engineer Combat Co
Military occupational specialty: 59 (foreman, construction)
ASN#32754166
Born 1917 in NJ, Died 1999
County of residence at enlistment: Camden County, NJ
Other residence(s): Camden, NJ; Gloucester City, NJ; Delaware, NJ; Erlton, NJ; Cherry Hill, NJ; Medford, NJ
United States Army, European Theatre of Operations
Occupation before the war: salesman (wholesale foods)
Harold Anderson was born on March 19, 1917 in Camden, NJ, an only child. His father was an auctioneer. By 1930 he and his mother were living alone in Gloucester City and his mother was working as a forelady in a bank building.
Shortly before the war, Harold got a job as a salesman at DaCosta, a family-owned olive packing company in Camden. There he discovered his niche, and his passion for food sales. He registered for the draft on October 16, 1940, and managed to get in another two and a half years of work before he was called up. He also found time to marry Frances Elizabeth Geissler in 1943.
Harold was one of 15 young men from Gloucester City who enlisted in the Army between March 15-22, 1943. On March 25, they found themselves on a train headed to Camp Gordon, Georgia. There they would join the newly activated 293rd Engineer Combat Battalion, and be assigned to Company A. That spring and summer they trained in Georgia and Tennessee, and that fall boarded a train for Camp Pilot Knob, aka the Desert Training Center, five miles from Yuma, Arizona (just inside the California border). In mid-January 1944, the commander of the 293rd received an order to detach his best company for a secret mission. He selected Company A, and by January 30, 1944 the men were back in Tennessee. On April 7, 1944, Company A of the 293rd was officially reassigned and renamed as the 406th Engineer Combat Company, and the unit boarded a ship to England in early May.
That July, as the men of the 406th headed across England on their way to the war, the train stopped in the city of Gloucester. Here the local NAAFI (the organization that runs recreation, canteens, and PXs for British servicemen) served them tea, which was quaffed amid cheers from the soldiers from Gloucester City, New Jersey.
After their service in the Ghost Army all 15 men returned to the states. They were feted on July 14, 1945 by the Third Ward Regular Democratic Club while back in Gloucester City on 30-day furloughs.
After his discharge with the rank of SGT, Harold returned to the food industry and his wife and baby daughter, Joy, who'd been born just after Harold arrived in England. The Andersons would also have a son in 1946 named David and they settled in Haddon Heights, NJ.
In 1950, Harold was working as a food salesman for a wholesale grocery company. Later in the 1950s, Harold partnered with Emil Cashan to form Cashan & Company, one of the first regional distributors of national brands such as Hellmann's Mayonnaise. The company was eventually sold, and in 1959 Harold founded Haddon House Food Products, focused on the distribution of high-end specialty food products.
His biography on the Specialty Food Association website picks up the story. "'Years ago, you had to travel around the world to establish relationships; many companies did not have US offices like they do today,' says David Anderson, senior CEO of Haddon House, who continues his father's legacy along with his own son, David Anderson, Jr. 'My dad would spend four to six weeks abroad annually sourcing new direct import opportunities, traveling with other specialty food founders who he considered his friends.' Under Anderson's direction, Haddon House was among the first distributors to expand beyond set regional boundaries and make scheduled deliveries on company-owned trucks along the East Coast. Additionally, Haddon House was one of the few select food distributors to successfully navigate . . . the transition from small independent stores to major supermarket chains. Haddon House serviced supermarket chains such as Wegmans Food Markets, Ukrop's, and Harris Teeter. . . . Anderson was also busy developing his own private-label brand [Haddon House] which quickly became synonymous with gourmet foods."
Harold also served as president of the Specialty Food Association (SFA) from 1975-1977, and was a member of St. Andrew's United Methodist Church in Cherry Hill, NJ.
In 1980, Harold's wife Frances died. Later he built a relationship with Josephine Lane, his companion at the time of his death. He died on November 24, 1999 in Medford, NJ and is buried at Locustwood Memorial Park in Cherry Hill, NJ.
In 2014 he was posthumously awarded the Lifetime Achievement Award from the SFA. In accepting the award on his father's behalf, David Anderson remarked: "I believe my father would like to be remembered as a driving force—someone that contributed to the development of the industry he loved so much. But also as the type of man who enjoyed taking the time to sit, talk, and really develop a friendship with the people in the industry."
In 2015, Harold and his son, David, were members of the inaugural class inducted into the Specialty Food Association Hall of Fame.
In 2016, Haddon House was acquired for $217 million by UNFI of Providence, RI, a well-respected distributor and merchandiser of natural, organic, gourmet, and ethnic products in the eastern US.
Photo:
Specialty Food Association website
https://www.specialtyfood.com/awards/hall-fame/hall-fame/
Sources:
1920 census
https://www.ancestry.com/discoveryui-content/view/30071108:6061?tid=&pid=&queryId=73b3834f86218b33985aa7bc57bf1095&_phsrc=CTU24&_phstart=successSource
1930 census
https://www.ancestry.com/discoveryui-content/view/22135238:6224?tid=&pid=&queryId=2efe581e0e1592d43e5a6c56b762002b&_phsrc=CTU9&_phstart=successSource
1940 Camden NJ city directory
https://www.ancestry.com/discoveryui-content/view/582354733:2469?tid=&pid=&queryId=c79d8ebfa6732363e5521e1b0c3ad276&_phsrc=CTU6&_phstart=successSource
1940 census
https://www.ancestry.com/discoveryui-content/view/132810569:2442?tid=&pid=&queryId=6c072b6b539345ae14b731ce5286c30a&_phsrc=CTU19&_phstart=successSource
1940 draft card
https://www.ancestry.com/discoveryui-content/view/301608915:2238?tid=&pid=&queryId=dd1f4631a674b17cff490d2b03f10fe8&_phsrc=CTU11&_phstart=successSource
1943 marriage record
https://www.ancestry.com/discoveryui-content/view/990999312:61253?ssrc=pt&tid=16204767&pid=423082527
1943 article in the Morning Post (Camden, NJ) about him and 14 other Gloucester veterans of the 406th Engineers—all of them (plus others from the area) were being sent to Fort Dix for training
https://www.newspapers.com/image/479507931/?terms=alfred%20daubert&match=1
1945 article in the Morning Post (Camden, NJ) about him and 15 other Gloucester veterans of the 406th Engineers
https://www.newspapers.com/image/447898575/?terms=alfred%20daubert&match=1
1950 census
https://www.ancestry.com/discoveryui-content/view/169517921:62308?tid=&pid=&queryId=6c072b6b539345ae14b731ce5286c30a&_phsrc=CTU20&_phstart=successSource
1999 Find a Grave record
https://www.findagrave.com/memorial/210598473/harold-thomas-anderson?_gl=1*1t7vmwo*_ga*MTcxMjk5NjA1MS4xNjgwMjIxOTQ5*_ga_4QT8FMEX30*MGI0NTljZWUtODJkOS00ZjQ1LWEzMmYtMTUyM2JiNjEwZTY5LjE3LjEuMTY4MDg2OTU1NC41OS4wLjA.
1999 obituary in the Courier-Post (Camden, NJ)
https://www.newspapers.com/image/183749442/?clipping_id=122372277&fcfToken=eyJhbGciOiJIUzI1NiIsInR5cCI6IkpXVCJ9.eyJmcmVlLXZpZXctaWQiOjE4Mzc0OTQ0MiwiaWF0IjoxNjgwODY5NzY5LCJleHAiOjE2ODA5NTYxNjl9.5Cx4BBi2jidYYRPRQx1wgt3XG3kx-LzIq3XZj6ziEC4
1999 Social Security applications and claims index
https://www.ancestry.com/discoveryui-content/view/39148306:60901?tid=&pid=&queryId=6c072b6b539345ae14b731ce5286c30a&_phsrc=CTU21&_phstart=successSource
2014 Specialty Food Association website (wins lifetime achievement award)
https://www.specialtyfood.com/news/article/lifetime-achievement-award-winner-harold-anderson/
406th Unit History Compiled