Albert Raymond Albrecht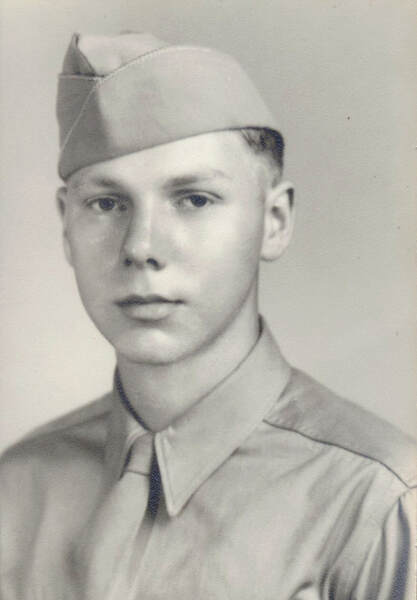 CPL in 3132nd Signal Service Co : 2nd Platoon
Born 1924 in WI, Died 2010
Other residence(s): Milwaukee, WI
United States Army, European Theatre of Operations
Source: W. Anderson Notes; Ghost Army roster by state; Post War Sonic List from Bill Anderson; bio info from The Ghost Army by Beyer/Sayles; photo from Albrecht Collection, GALP Archive
Al Albrecht was born on May 11, 1924 in Two Rivers, WI, a small town on Lake Michigan, about 40 miles southeast of Green Bay. He was the oldest of four children; his father was an insurance agent. His mother died when he was only four, though his father remarried within a year or two.
Al graduated from high school in 1942 and registered for the draft a few weeks later, on June 30. At the time he was working at Langer Brothers Garage.
He served overseas with the Ghost Army in the 3132 Signal Service Company. Al is famously quoted in the Ghost Army documentary describing the sonic deception: "I drove a half-track. I tell my children that was the biggest boom box you ever heard."
After he was released from the Army, with the rank of CPL, he returned to Twin Rivers where he met Doris Mae Grenier; they married in 1948. The couple settled in Milwaukee, where he worked as a salesman, including for businesses selling motor homes, appliances, building materials, and industrial roofing. He continued in sales until he was 84 years old.
Al and Doris had five children: Debbie, Karen, Bonnie, Bruce, and Dale. Al was active in the Salem Evangelical Lutheran Church, where he held many leadership positions, including elder and deacon. He was also active in his community, including organizing the neighborhood watch.
His obituary reports that "drawing on his experience as a salesman, Albrecht proved to be a natural speaker when he could finally give talks about the Ghost Army."
In 2010, a month before his death, his daughter Karen was able to set up a rough cut screening of the Ghost Army documentary, shown in the auditorium of the Zablocki VA Medical Center in Milwaukee. Al, wheeled in in his hospital bed, was the star of the show.
He died of pancreatic cancer on December 14, 2010 in Milwaukee and is buried at the West Granville Cemetery in Granville, WI.
Sources
1930 census record
ancestry.com/family-tree/person/tree/60622082/person/34241381067/f...
1942 draft card
ancestry.com/discoveryui-content/view/199342481:2238?_phsrc=gTt5&a...
2010 VA post about the special screening of the GA film
milwaukee.va.gov/articles/Milwaukee_VA_Helps_Dying_Wish_Come_True_...
2010 Find a Grave record (includes obituary and a Milwaukee Journal article from the prior month about his Ghost Army experiences)
findagrave.com/memorial/62958232/albert-albrecht
2010 obituary in Milwaukee Journal-Sentinel
genealogybank.com/doc/newspapers/image/v2%3A171B066E1D2FC666%40GB3...