Edmund Minor Archer
PVT in 603rd Engineer Camouflage Bn : HQ & Service Co
ASN#32523166
Born 1904 in VA, Died 1986
Artist
County of residence at enlistment: New York County, NY
Other residence(s): Richmond, VA
United States Army, did not accompany the unit to Europe
Occupation before the war: artists, sculptors, and teachers of art
College education before the war: Art Students League 4 years
Source: 603rd Camouflage Engineer Roster provided by W. Anderson
There is a detailed biography of him in the Dictionary Of Virginia Biography.
lva.virginia.gov/public/dvb/bio.php?b=Archer_Edmund_Minor
He was a fairly well-known artist at the time he enlisted in the service in October 1942.
Enlistment record:
https://aad.archives.gov/aad/record-detail.jsp?dt=893&mtch=1&tf=F&q=32523166&bc=,sl,fd&rpp=10&pg=1&rid=3131172
He had held his first one-man show at a gallery in Boston in 1929, and won the Corcoran Gallery bronze medal in 1930. Also in 1930 he was named assistant (and later associate) curator at the new Whitney Museum of American Art, which opened in 1931, and he worked there until 1940.
The subject of the vast majority of his work was the black American. Two examples are shown below.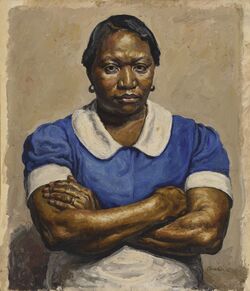 Here is the link for the painting owned by the Whitney Museum:
whitney.org/collection/works/1667
One of his works was chosen to be exhibited, representing Virginia, at the 1939 World's Fair in NY.
In 1939 he painted "Captain Francis Eppes Making Friends with the Appomattox Indians", a mural commissioned by the United States Department of the Treasury's Section of Fine Arts for the post office in Hopewell, Virginia.
https://postalmuseum.si.edu/exhibition/indians-at-the-post-office-murals-encounter/capt-francis-eppes-making-friends-with-the
After his service in the 603rd, he also worked on maps for the US Coast & Geodetic survey. In 1944 he became an instructor of painting, drawing, and composition at the Corcoran School of Art and also taught at George Washington University. [Sounds like he didn't go to Europe with the GA.] In March 1944, his painting of a portrait of the late Gov. Pollard of VA was unveiled in the House of Delegates there.
He retired from the Corcoran School in 1968, and died in Richmond VA in July 1986. His gravestone reads: "artist, painter, curator, teacher". His Find-a-Grave entry also includes a nice photograph of him painting, which is shown at the top of this page.
findagrave.com/memorial/6919906/edmund-archer
"One of the most-respected Virginia artists of his generation, his work was on display in many of the country's leading galleries, including the Virginia Museum of Fine Arts and the Whitney Museum of American Art."
More recently, in January, 2020, one of his paintings was exhibited as part of an exhibit at the Boston MFA entitled "Collecting Stories: A Mid-Century Experiment." (These were all items that the MFA had purchased in the 1940s and 50s.)
bostonglobe.com/2020/01/17/arts/mfa-revisiting-mid-century-cache-p...
On the MFA site, it says that they bought the 1933 painting "Colored Clairvoyant" from the artist in November, 1942 for $300. (Since he enlisted in October, he must have initiated this transaction right before.)