Charles Jefferson "Chuck" Tribble Jr.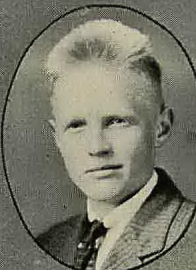 PFC in 603rd Engineer Camouflage Bn : Co B, 3rd Platoon
ASN#17090806
Born 1910 in CO, Died 1994
Artist
County of residence at enlistment: Teller County, CO
United States Army, European Theatre of Operations
Occupation before the war: commercial artists
College education before the war: Univ. of Denver 3 years
Source: 603rd Camouflage Engineer Roster provided by W. Anderson; Company B Names and Addresses roster; photo from 1929 high school yearbook
Chuck Tribble was born on June 23, 1910 in Pueblo, CO. He graduated from Central High School in Pueblo in 1929, and went to Denver to study painting at the University of Denver.
In Denver he did some painting for hire and dabbled in construction work. He worked on exterior murals at Morey Junior High as an assistant to another artist in 1934, and he painted a full wall mural/backdrop for a dinosaur display at the Colorado Museum of Natural History (now the Denver Museum of Nature and Science). He also advertised his services as "decorator, paper hanging, outside painting" in the Denver newspapers.
He married his first wife June around this time and on October 16, 1940, when Chuck filled out his draft registration, they were living in Colorado Springs. Chuck was working at the Cheyenne Mountain Zoo/Museum there, likely doing the same kind of work he'd done at the museum in Denver.
When he enlisted in the Army, on November 16, 1942, he stated that he had three years of college and was a commercial artist. He was discharged from the Army on September 26, 1945.
After the war, Chuck began quarrying stone northwest of Lyons, CO and selling it on the side of the road. In a 1992 oral history interview for the Boulder Public Library, he recalled that "when cars would come by looking for stone, I'd fill up the back of their car for a dollar. And things started growing a little bit." After a while people started asking him to do small jobs with the material he was selling.
Chuck met his second wife, Letha Mae Hinshaw, when she was working at the Boulderado Hotel, and he came in for lunch. They married and launched the business in 1947-48, building their home and business one room at a time on a 13 acre lot they had chosen together. They would go on to have three (or possibly four) children. Letha Mae's 2009 obituary states that she was "the co-owner and bookkeeper of that business, and could work a forklift as well as a calculator!"
A 2017 article about Tribble Stone says that: "The family business, which was founded in 1947, has remained a staple for stone masons, contractors, architects and landscapers, providing them with thousands of tons of raw and custom-cut stone over the years, including locally quarried red and buff sandstone. What started as a small mom-and-pop operation has blossomed into a multi-million-dollar per year business—without losing its focus on customer service."
Among the buildings in Boulder and neighboring communities that Chuck Tribble had a hand in are the Boulder Home Depot, the Bethel American Lutheran Church in Windsor, the Trinity Episcopal Church in West Greeley, the 29th Street Mall in Boulder, and many buildings on the University of Colorado campus. The 2017 article goes on to say that "more than five dozen buildings on the CU campus are covered in local sandstone, and Chuck Tribble had a hand in many of those built or renovated during the late 1980s and early 1990s. He spent eight years working at the university full time before transitioning into a consulting role in quality control. CU awarded him a University Medal in 1994 for his contribution to the campus."
One of Chuck's contributions to Boulder area stonework was to use his artistic background to create unusual or eye-catching stonework—instead of just stacking one stone on top of another.
When Chuck retired (and his son and daughter-in-law took over the business) he returned to his artistic roots and spent much of his free time creating bronze sculptures. He was also known for his work on silver medallions featuring local animals such as the pronghorn antelope and the bighorn sheep.
He died on August 22, 1994 in Boulder.
Photo:
High School, 1929 (clipping attached)
https://www.ancestry.com/discoveryui-content/view/270105663:1265?indiv=1&tid=&pid=&queryId=35954500722d0485a61ec5611d657a8e&usePUB=true&_phsrc=vIr10&_phstart=successSource
Sources:
1934 Denver Directory
https://search.ancestry.com/cgi-bin/sse.dll?indiv=1&dbid=2469&h=1137230341&tid=&pid=&queryId=35954500722d0485a61ec5611d657a8e&usePUB=true&_phsrc=vIr11&_phstart=successSource
1936 article in Denver Post re his work at Colorado Museum of Natural History
https://www.genealogybank.com/doc/newspapers/image/v2%3A12C7581AC4BD0728%40GB3NEWS-1728DFE898CE89F7%402428301-17269FAAA8DE57E1%4015-17269FAAA8DE57E1%40?h=1&fname=chuck&lname=tribble&fullname=&kwinc=&kwexc=&rgfromDate=1920&rgtoDate=1994&formDate=&formDateFlex=exact&dateType=range&processingtime=&addedFrom=&addedTo=&sid=ldvzzbwuwgilhcphswgjawzgzquobrhu_wma-gateway003_1603630048234
1940 Census
https://www.ancestry.com/discoveryui-content/view/39596795:2442?indiv=1&tid=&pid=&queryId=35954500722d0485a61ec5611d657a8e&usePUB=true&_phsrc=vIr8&_phstart=successSource
1940 Draft Registration
https://search.ancestry.com/cgi-bin/sse.dll?indiv=1&dbid=2238&h=8608691&tid=&pid=&queryId=d6d19226c74696fee0d999941e88dfe4&usePUB=true&_phsrc=vIr3&_phstart=successSource
1942 Enlistment Record
https://search.ancestry.com/cgi-bin/sse.dll?indiv=1&dbid=8939&h=1906598&tid=&pid=&queryId=d6d19226c74696fee0d999941e88dfe4&usePUB=true&_phsrc=vIr4&_phstart=successSource
1956 article in Fort Collins Coloradoan re his stone work
https://www.newspapers.com/image/589211166/?terms=chuck%2Btribble
1963 article in Greeley Daily Tribune (CO) re his stone work
https://www.newspapers.com/image/27286178/?terms=chuck%2Btribble
1994 Social Security Death Index
https://search.ancestry.com/cgi-bin/sse.dll?indiv=1&dbid=3693&h=63194926&tid=&pid=&queryId=35954500722d0485a61ec5611d657a8e&usePUB=true&_phsrc=vIr6&_phstart=successSource
2009 obituary for Letha Mae Tribble in Boulder Daily Camera
https://www.dailycamera.com/2009/08/19/letha-tribble-boulder-co/
2017 article in Boulder Daily Camera about Tribble Stone
https://www.dailycamera.com/2017/08/12/from-nothing-to-something-tribble-stone-co-marks-70-years-in-boulder-county/
2020 auction listing for Chuck Tribble silver medals