Training in the USA
November 24, 1942
Letters from Harold J. Dahl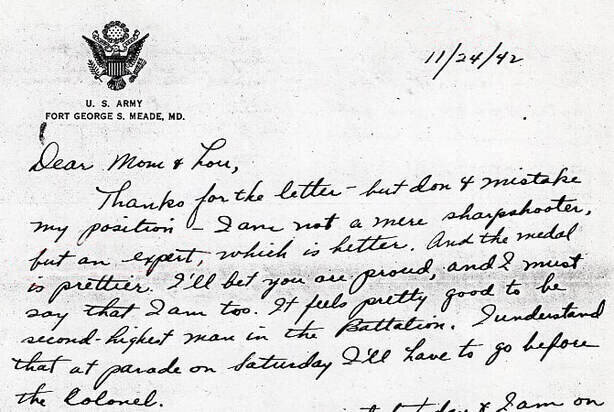 U.S. Army
Fort George S. Meade, MD.
[Tuesday]
11/24/42
Dear Mom & Lou,
Thanks for the letter - but don't mistake my position - I am not a mere sharpshooter, but an expert, which is better. And the medal is prettier. I'll bet you are proud, and I must say that I am too. It feels pretty good to be second-highest man in the Battalion. I understand that at parade on Saturday I'll have to go before the Colonel.
The furlough list was posted today & I am on it for Dec. 6 to 11 [1942]. That means that, excluding anything unforeseen, I'll leave here at 12:00 on the Sunday night - go right to N.Y.C. and pop into bed at the Pennsylvania. George can reserve me a room, I guess. Then I'll do my visiting in town that day & come home with Lucy. I'm glad Norman & Gladys [Dahl] will be there for Thanksgiving - it will make things jollier for you - it will also make me miss being there all the time.
Today we had drill in bayonet practice for endless hours & then in anti-air craft fire. Tomorrow [11/25/42] we go to the combat range and learn to shoot rifles at airplanes. That should be good sport. But I've never been so weary as I am tonight.
Lou, I'd say that if Maris doesn't come for the bicycle this coming Sunday [11/28/42] that you let Mr. Ogg have it, complete with the extra tires for the $40.00. I'd rather Walter had it, anyway. I'll probably be wanting some of that money when on furlough, which will be an expensive proposition.
Better tell Franklin & the Wolfson boy & Fogelson that I'm coming home - I'll want a little to eat anyway. While I was at Clint's he said he had the first package of bacon he'd had in 4 weeks!
It would be nice if we could all eat at the Pudding Stone Inn some night - you folks & Geo. & Pat [Dahl], etc. Don't you think so?
Maybe Mary [Van Duyne] did write to me, but I haven't received the letter yet. I'll be glad to get it, though.
Give Halsey money for the battery & charge me for it - nice of him to take care of it.
Well, I think I'll go to bed - I'll write to you again soon.
Love,
Harold