Training in the USA
December 19, 1942
Letters from Harold J. Dahl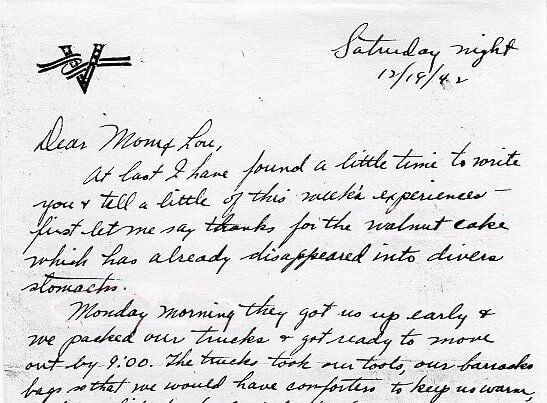 12/19/42
Saturday Night
Dear Mom & Lou,
At last I have found a little time to write you & tell a little of this week's experiences - first let me say thanks for the walnut cake which has already disappeared into diverse stomachs.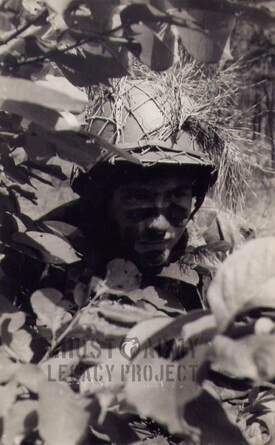 Monday [12/14/42] morning they got us up early & we packed our trucks & got ready to move out by 9:00. The trucks took our tools, our barracks bags so that we would have comforters to keep us warm, and we hiked the 9 miles to the combat range area in 2 1/2 hours, no rest periods at all. We were all a little uncomfortable in our new chapeaux, - each time you bend your head you can hardly get it straight again. But after 3 days of continuous wear, they got light as any other hat. We settled in a sparse country, torn by shell-holes &, of course completely evacuated - the houses look so awful as they are, half torn-down, or rather, blow-up, the trees blackened in places - very bleak and too much like a real battlefield. We were in a small wooded section, all dense underbrush.
We had a night problem of scouting & really got a warm nights sleep. The next day we worked on barbed wire obstacles & mine fields and that night we had hardly gone to sleep when they work us up & we had to pack all our things in the dark & move out. We walked another 9 or 10 miles & then dug in again, this time in a rather attractive pine grove. All the time the food was excellent & we slept warm although it was mighty cold during the day. We really are not clothed warmly enough & have to wear about everything at once.
Wednesday [12/16/42] morning another fellow & I had to operate some of the combat targets, which meant we huddled in a sort of apple cellar all morning - but we fooled them & built a fire in tin pail we found. I knocked holes in the side with my bayonet to give a draft & we found plenty of fuel around us. In the afternoon it was our turn to run the range & I want to tell you it was mighty tough. We had to run all the way, about 500 yds, top speed & with all equipment, stopping to fire when ordered to do so. At one point there is a creek between two long & steep, rough hills & we had to charge down one side, splash thru the icy water & up the other side, an uphill of about 100 yds.
Several of our boys got sick as they went but I managed to keep on although I was weak in the knees. At the top of the hill we had to fire at prone position, get right up again, run about 100 yds, fire standing & then the last 50 yds is a furious bayonet attack - Boy, was I glad when that was over! Everybody was.
When we got back to camp we had to attend a forced entertainment - Thursday was an ordinary day but that night we all changed beds & could not get anything done for another evening. Last night we had to get ready for today's inspection so this is the first evening I have had to myself since last Saturday [12/12/42] night. And people wonder what soldiers do in their spare time!
Friday [12/18/42] was quite a day, - in the morning we went thru the gas chamber - first they take you in with the mask already on - there is nothing to that - then you must go in without the mask, put it on inside & then, upon order, take it off for a minute & got outside. Everyone looks so silly, crying from the tear gas. Then they took us thru smoke screens mixed with tear gas which was alright except that on one occasion the wind changed & blew a pile of gas at us when we had our masks off. I got an awful dose and cried all over again. In the afternoon we (a few of us) observed the fort & our camouflage areas from the air - 3,000 ft up in a little cub plane flown by a Civil Air Patrol pilot. It was most interesting & everyone hopes it will be repeated now & then.
We are now on camouflage training again & will do experiments this week, plus a 24 hour problem which can only mean a night out again - I hope it will not have the bad effect the 3-day bivouac had - 35 men in the hospital. For me, I rather enjoyed it, but it was good to get home.
Our platoon has a new sergeant - a former football star named Pettit. He is a little rough but very nice, good natured as can be, and seems to like Herb Amborski & me quite well so we get along fine together.
Have lots of Xmas cards - even one from the Methodist Church & cigars from Blfd. Dahls. Very good.
Tomorrow [12/20/42] I have a Washington pass so I'm going to have dinner with Chas & Lulu at last. Have you hear anything from Jeannie?
Love
Harold