Training in the USA
January 17, 1943
Letters from Harold J. Dahl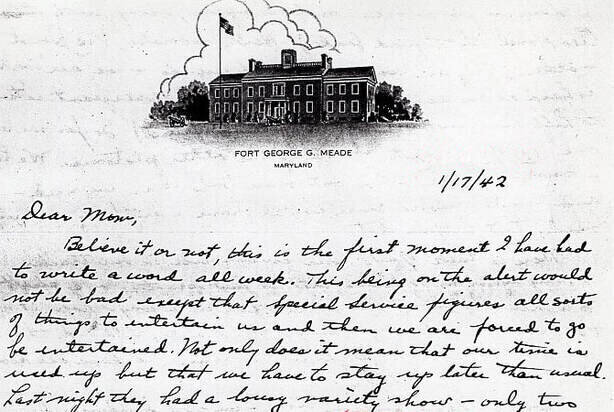 Fort George G. Meade
Maryland
[Sunday]
1/17/42[43]
Dear Mom,
Believe it or not, this is the first moment I have had to write a word all week. This being on the alert would not be bad except that Special Services figures all sort of things to entertain us and then we are forced to go be entertained. Not only does it mean that our time is used up but that we have to stay up later than usual. Last night they had a lousy variety show - only two things were any good, one, our Elliot Atkinson who plays piano so well, and the other a new fellow in our company, named Levinsky, who did slapstick pantomimes that rolled us all in the aisles. He is a funny looking bird to start with and is very clever on the stage. This afternoon they are having a movie and we are afraid we will get sent out to that as well.
The photograph, or whatever it is, at the top of the page is of Post Headquarters which is patterned after some famous Maryland home. The officers homes are built on the same general plan.
Lots of things have been happening around here and it looks like more we to come. On Friday [1/15/43] Gronwall and Carl Johnson left for the ski troops in Wisconsin and next week the cadre leaves and we think we are losing Co. Sollohub who is slated for some executive job at Ft. Belvoir. Our new Major will be some older man from Ft. Totten, N.Y.
I am in Junie Jones [Carrol Jones, Jr] platoon again, along with Cleo Hovel (he's squad leader), Herb Amborski, Vic Dowd & others. There are among my good friends & we are working as hard as we can to get Junie a staff sergeant rating to help him support Peck. (Jeannie's friend) So far we are one whole project ahead of the other platoons. We have a system - we take out more tools than we need - and try to make sure we'll have everything we might need. That helps a lot.
There is talk of a 12 hour convoy ride in our trucks coming up soon. Whether that is just practice or a shift to a new location, I don't know, but in a way I hope it is the latter. Can't say I adore Ft. Meade, although the present weather is gloriously warm. We have all doors & windows open today.
Monday I had quite a time - we were building a dummy Anti-aircraft position - 4 guns, each 16 ft high & made out of tree trunks. Each platoon made one, & ours was up already but had to be taken down to be painted OD. After it was finished we set it up & it fell to me to put stakes in to support the traces. All of a sudden the whole thing toppled over on me & knocked me cold for a few minutes. The rest of the boys were more shaken than I was, though - they thought I was all broken up, but you know my luck when it comes to accidents - I just had a lump on my beam. Now they make jokes about dropping A-A guns on a squarehead.
We are quite a squarehead bunch in our Platoon - Hovel is Norske & Jones is half Swedish.
I'm glad Halsey [Van Dyne] is home again. But he does strain at the traces some, doesn't he?
We have some radios here so we'll try to get one of the owners to get Marion Anderson. I'm trying to get hold of a tiny set somewhere so that I can listen to my own choice of programs but haven't been successful as yet. One of the fellows has the best I've ever seen. It is a Firestone, is only about 10" x 5" x 2 1/2" and plays on battery or AC-DC current. If Lucy sees one of those around Cortland St. [NYC] maybe she could price it for me.
The nut cake was super - better than the others. But I don't like to think of you using butter & eggs to send me cake. Better eat those things yourself & just send me such stuff as peanuts, spreads, fruit, etc. Tell Lou that last batch of candies will last me a long, long time & not to send me any more for awhile now.
As I remember it, you can make cookies just with Crisco & chicken fat, can't you? Well, a fellow here gets some swell ones I'm sure you could try. It is just a common soft cookie recipe. The batter is rolled out flat, & cut into circles. Three of these are put on top of one another with the center of the middle one cut out and a filling such as mince meat put in. Pastorcich got some Croatian or Dalmatian pastry I'd love to duplicate. It was very short pie crust with a filling rolled up in it, I imagine it was made by spreading something out on the pie crust & it is then folded into a triangle and baked. Mince meat would go good there too - why don't you try it sometime & see how it works? But be sure your crust is too short to use for pie.
Now a note for Lou
Thanks for the stuff - I won't be able to make the things but am busy making one by hand as a model. Think I'll send it to George [Dahl] & let him see what he can do with it thru his connections.
Better send me the tax blank & ask Mr. Hermann to let you know my total pay there so I can figure out how much I owe the government. That is going to hurt.
The Orozco [Jose Clemente - painter of large murals] is enclosed - I left it out of last Sunday's letter - "Blythe Spirit" was pretty good - I wish we had a good play every week. Seems funny to see Peggy Wood.
No, don't keep the tree - it will still be a couple of weeks at least before I get home & I've forgotten all about Christmas now.
I had an interview with the Company commander the other day. He was astounded to hear my age - asked how I wanted to be classified (I said carpenter - camouflage) and then told me he was pleased with my work, which he should be.
Give Elsie my congratulations - I'll write again as soon as I can.
Love
Harold
P.S.
Oh yes - will Mom call Boquist & tell him the Army wants my prescription so that they can make me a pair of gas mask specs?
H
Lou, call the acct balanced to date - OK?