Stanley Maxwell Casson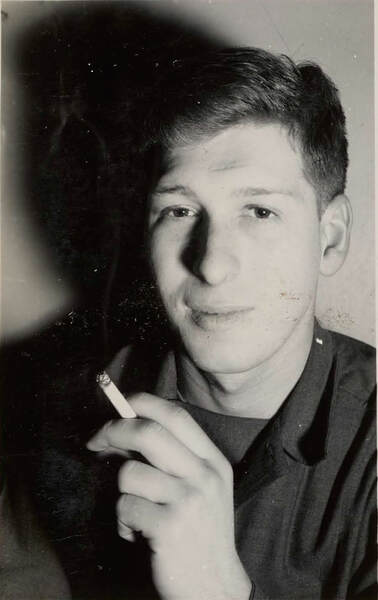 603rd Engineer Camouflage Bn : HQ & Service Co
ASN#32876323
Born 1923 in MA, Died 1994
Artist
County of residence at enlistment: Bronx County, NY
Other residence(s): Bluff City, TN (Banhof Flag)
United States Army, European Theatre of Operations
Occupation before the war: photographers
Source: Photo of Headquarters Company at Montcuit, in Nussenbaum scrapbook; ; photo from Nussenbaum Collection, GALP Archive
Stanley was born August 24, 1923 in Boston, Massachusetts.
By the time of the 1930 census, the family was living in New York City. When he filled out his draft card in June, 1942, he was working for a company called Lazarnick, Inc., which was a photography-related business of some sort.
When he enlisted, in March 1943, he stated that he had four years of high school and was a photographer.
On October 11, 1954 he married Gale Lane in Alexandria, Virginia. At the time his profession was advertising and hers was public relations.
He died on April 30, 1994.
Sources:
1942 draft card
https://search.ancestry.com/cgi-bin/sse.dll?indiv=1&dbid=2238&h=195045941&tid=&pid=&usePUB=true&_phsrc=DTT141&_phstart=successSource
1943 enlistment record
https://search.ancestry.com/cgi-bin/sse.dll?indiv=try&db=WWIIenlist&h=3900756
1954 marriage record
https://search.ancestry.com/cgi-bin/sse.dll?indiv=1&dbid=9279&h=11804405&tid=&pid=&usePUB=true&_phsrc=DTT143&_phstart=successSource
Veterans Death Record
https://search.ancestry.com/cgi-bin/sse.dll?indiv=1&dbid=2441&h=7520515&tid=&pid=&usePUB=true&_phsrc=DTT145&_phstart=successSource