Ralph William Creasman
PVT in 603rd Engineer Camouflage Bn : Co B
ASN#14159556
Born 1920 in TN, Died 1999
Artist
County of residence at enlistment: Williamson County, TN
Other residence(s): Nashville, TN; Dallas, TX; NY; Chicago, IL
United States Army, European Theatre of Operations
Occupation before the war: commercial artists
College education before the war: Chicago Art Institute 1 year
College education after the war: Chicago Art Institute
Source: 603rd Camouflage Engineer Roster provided by W. Anderson
Ralph W. Creasman was born in Spring City, Tennessee on August 14, 1920. He attended high school in Nashville, and then went to study at the Art Institute of Chicago. He enlisted in the Army on October 23, 1942 after a year at the Art Institute.
According to the biographical information on the Chicago Collections website, he "was assigned to a graphics unit that was responsible for producing information material and maps for the Quartermaster Corps."
After his release from the service in January 1946 he spent some time in Dallas and New York before returning to Chicago. He took up his studies at the Art Institute, and he remained in Chicago as a working artist until his death at home of a heart attack on December 14, 1999.
He mostly worked as a freelance artist, particularly for Scott Foresman, an elementary education publisher. He also created illustrations for children's books, cookbooks, magazine articles, and advertisements. His cover art, jacket covers, and interior illustrations grace dozens of books.
According to the Chicago Collections website, "he joined the STA Type Workshop when it started in 1952 and learned to set type and print his linocuts directly from the blocks. He . . . was a member of the Artists Guild and the Society of Typographic Arts, and was made a Fellow of STA in 1973. He was often formally recognized by both organizations for his work."
His obituary in the Chicago Tribune states that he "created waggish linocuts of animals and people, and [his] work was studied in the decades when Chicago was known as the nation's center of design. . . . 'He just had imagination, little whimsical things that tell you it was purely Ralph,' said Muriel Underwood, a retired designer who often worked with him. Mr. Creasman studied the cuts of John Avrill and painters such as Joan Miro and Paul Gauguin, combining elements from each into unique designs. . . . He began his career at the peak of a 30-year stretch of heavy Chicago influence in design, a period that spanned the Bauhaus style in the 1930s to Expressionism in the 1960s. 'Design in Chicago was pre-eminent,' said Gretchen Lagana, head of special collections at the Richard J. Daley Library of the University of Illinois at Chicago. 'And he was a very important part of it.'"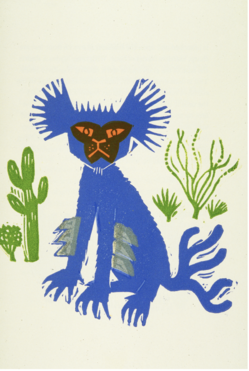 Sources:
1942 draft card
https://search.ancestry.com/cgi-bin/sse.dll?indiv=1&dbid=2238&h=201411269&tid=&pid=&queryId=bfb8bd104d649858fb836e4bb62eedf2&usePUB=true&_phsrc=uav42&_phstart=successSource
1942 enlistment record
https://aad.archives.gov/aad/record-detail.jsp?dt=893&mtch=1&cat=all&tf=F&q=14159556&bc=&rpp=10&pg=1&rid=966150
1956 illustrations in The Rotarian (pp. 7-9)
https://books.google.com/books?id=eEAEAAAAMBAJ&pg=PA4&lpg=PA4&dq=ralph+w+creasman+artist&source=bl&ots=D1WiNWf3wc&sig=ACfU3U1utbxH0CzvSFsXes1qmdjPpp3Kgg&hl=en&sa=X&ved=2ahUKEwjwz6np0NzqAhUjZjUKHf8hB6QQ6AEwC3oECAoQAQ#v=onepage&q=ralph%20w%20creasman%20artist&f=false
1999
Social Security death record
https://search.ancestry.com/cgi-bin/sse.dll?indiv=1&dbid=60901&h=34667012&tid=&pid=&queryId=bfb8bd104d649858fb836e4bb62eedf2&usePUB=true&_phsrc=uav44&_phstart=successSource
1999
VA death record
https://search.ancestry.com/cgi-bin/sse.dll?indiv=1&dbid=2441&h=4741599&tid=&pid=&queryId=bfb8bd104d649858fb836e4bb62eedf2&usePUB=true&_phsrc=uav45&_phstart=successSource
1999 Chicago Tribune Obituary
https://www.chicagotribune.com/news/ct-xpm-2000-01-29-0001290113-story.html
Examples of his art
https://chicagodesignarchive.org/designer/ralph-creasman
Description of his papers; biographical info; papers housed at University of Illinois at Chicago