Charles Bean Cagle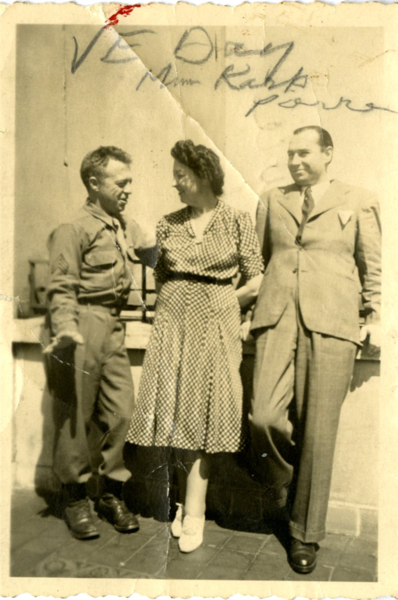 SGT in 603rd Engineer Camouflage Bn : Co D
ASN#11084912
Born 1907 in TN, Died 1968
Artist
County of residence at enlistment: Bennington County, VT
Other residence(s): Nashville, TN; Arlington, VT; New York, NY
United States Army, European Theatre of Operations
Occupation before the war: artists, sculptors and teachers of art
College education before the war: Pennsylvania Academy of the Fine Arts; Barnes Foundation; 4 years
College education after the war: Beaux-Arts Institute of Design
Notes: Formerly Co C; personal friend of Norman Rockwell; final rank SGT (changed from PVT in GA record to SGT per US Veterans' Gravesites)
Source: 603rd Camouflage Engineer Roster provided by W. Anderson; 603rd Company C handwritten roster; Comment by Howard Holt; photo from Tennessee State Museum
Charles Cagle was born on July 21, 1907 in Beersheba Spring, TN. He was the middle of three sons born to a carpenter (later a garage machinist) and his wife.
Charlie showed talent as an artist early in life. When his family moved to Nashville in 1918, he enrolled at the Tarbox School, a public elementary school, and simultaneously took art courses at the Watkins Institute Art School. He graduated from Hume-Fogg High School in Nashville in 1925, where he was a member of the Art Club—serving as treasurer, and later as president, of that organization. After graduation he continued to study at Watkins and at Peabody College in Nashville and taught manual training at the Clemons School.
According to his biography on askART, "he created some controversy with his progressive attitudes towards art and some of the art itself. This included a nude statue that had to be draped because of the outcry caused by its exhibition at the Centennial Club [in 1927]."
In 1927, he went on to study at the Pennsylvania Academy of the Fine Arts and at the Barnes Foundation, both in Philadelphia. According to a 1953 newspaper article, "neither school was aware that he was 'two-timing,' but Cagle managed to alternate his work between the two schools so well that he won scholarships for European study from both institutions." In 1930 he accepted the Academy's prestigious $1,000 Cresson Foreign Traveling Scholarship* (about $16,000 in today's dollars), which permitted him to study art abroad. He spent a year studying in the museums and churches of France, Spain, Italy, Austria, Hungary, Germany, and England. While in Europe he was particularly influenced by the post-impressionists, especially Cézanne and Matisse.
An artist profile in a 2015 issue of Nashville Arts Magazine says of his collegiate work that "grounded in the classics at Pennsylvania Academy and experimental work at Barnes Foundation, Cagle's skills were forged."
After returning from Europe, he studied briefly at the mural atelier at the Beaux-Arts Institute of Design in New York City where he won the Beaux-Arts medal.
He also married costume designer Maude Mills in New York in 1931. (They would divorce, without children, in 1955.)
He then returned to Nashville where he taught stage design at Peabody College and life drawing, painting, and art history at the Watkins Institute. He also ran a summer painting school in 1932. He also helped to organize the Tennessee Society of Artists and served as Nashville chairman for the American Artists Professional League. His first one-man show was given at Peabody College in 1931.
In the mid-1930s, he bought a farm in Arlington, VT and established the Charles Cagle Summer Painting Group, which continued until well into the 1960s. Vermont was also where he met Robert Frost, who became a friend. In the winter he lived and painted in New York City; by 1937 he was teaching life classes and painting at McLane Art Institute.
In 1941 he received the Schilling Fund Award—he was one of three artists chosen as its first recipients.** He also received Yaddo Foundation and Hartford grants in painting. These awards helped him to make a living as an artist, and he held one-man shows in New York in 1937, 1939, and 1940. The first show, held when he was only 30 years old, featured 26 paintings, four drawings, and two mural sketches. Of the works in this show, New York Times art critic Howard Devree said: "Charles Cagle's first solo revealed a bold individual talent, with almost as much achievement as promise. His figure pieces are strong; landscapes, if they occasionally reflect Segonzac*** or Vlaminck, are yet his own. He loves, and is not afraid of using, rich deep color. He can filter light through greenery into red earth."
Charlie registered for the draft on October 16, 1940 and enlisted on September 14, 1942. Along with other NYC artists he served in the 603rd Engineer Camouflage Battalion and saw duty in the European theatre. Fellow artist and 603rd soldier Arthur Singer mentioned Charlie's painting in a letter he wrote to his wife in November, 1943.
In some of his post-war recollections (currently in the collection of the Tennessee State Museum) he recalls (as did many other Ghost Army artists who were in Paris after the liberation) spending the day with Pablo Picasso in his studio.
He was discharged from the Army on September 4, 1945 with the rank of SGT and returned to New York and Vermont.
He continued to paint and show his work, with more one-man shows in 1947 at the Nashville Museum of Art and in 1950 and 1952 in New York City. He also exhibited at the Carnegie Hall Gallery in 1957 and 1959. His 30-year retrospective was shown at the Newark School of Fine and Industrial Art.
In 1953, American Artist described Charlie's work as follows: "Cagle demonstrated a pronounced development in power as a painter. This consists of both vigor and poetic delicacy, the former in his bold, directly painted landscapes, the latter in sensitive nudes conceived and executed with refined taste. He has attained great assurance of expression; his color is vibrant; his simplification of motives is effective and satisfying."
In 1966, he exhibited a retrospective exhibit of a lifetime of work at the Parthenon in Nashville; the works for the exhibit were borrowed from owners throughout the US.
Charles Cagle died on January 19, 1968 and is buried at the Nashville National Cemetery.
After his death, his work continued to be the subject of major exhibits. A six-month exhibit in 2015 at the Tennessee State Museum gathered and displayed 33 of his paintings from a variety of private collections. An article at the time in Nashville Arts says that Charlie brought modern art to the state of Tennessee. "Charles Cagle's work would not only change the perception of art in the state of Tennessee; his work would usher in a new era."
*Interestingly, Cagle's achievement would later be echoed by fellow Ghost Army soldier Gilbert Switzer, who won the same scholarship at the Pennsylvania Academy in 1937.
**This award involved the foundation buying a work of art from the artist who received the award, and then presenting it to a museum. Cagle's work was given to the Virginia Museum of Fine Arts.
***According to a 10/15/42 letter from Arthur Singer, the painter Segonzac was the cousin of Ghost Army soldiers Alan and Gilles Wood-Thomas.
Sources:
1910 census
https://www.ancestry.com/discoveryui-content/view/143346834:7884?tid=&pid=&queryId=8f284f38fca949397f9195e8f52336d9&_phsrc=nXC7&_phstart=successSource
1920 census
https://www.ancestry.com/discoveryui-content/view/69559921:6061?tid=&pid=&queryId=8f284f38fca949397f9195e8f52336d9&_phsrc=nXC6&_phstart=successSource
1925 high school yearbook
https://www.ancestry.com/discoveryui-content/view/1455300519:1265?tid=&pid=&queryId=8f284f38fca949397f9195e8f52336d9&_phsrc=nXC5&_phstart=successSource
1937 article in the Nashville Banner (TN) about his early art career
https://www.newspapers.com/image/605246585/?terms=charles%20cagle&match=1
1940 census
https://www.ancestry.com/discoveryui-content/view/7921821:2442?tid=&pid=&queryId=8f284f38fca949397f9195e8f52336d9&_phsrc=nXC4&_phstart=successSource
1940 draft card
https://www.ancestry.com/discoveryui-content/view/193587520:2238?tid=&pid=&queryId=8f284f38fca949397f9195e8f52336d9&_phsrc=nXC3&_phstart=successSource
1942 enlistment record
https://www.ancestry.com/discoveryui-content/view/3760135:8939?tid=&pid=&queryId=ca3e126e427e67d80088398ce819dcc1&_phsrc=VrR15&_phstart=successSource
1950 census
https://www.ancestry.com/discoveryui-content/view/289356724:62308?tid=&pid=&queryId=8f284f38fca949397f9195e8f52336d9&_phsrc=nXC2&_phstart=successSource
1953 article in the Nashville Tennessean re his career and art (first page and continuation page)
https://www.newspapers.com/image/111419970/
https://www.newspapers.com/image/111420055/?terms=charles%20cagle&match=1
1955 article in the Nashville Tennessean indicating that he and Maude were getting divorced
https://www.newspapers.com/image/112012131/?terms=maude%20cagle&match=1
1966 article in the Nashville Tennessean about a 50-year retrospective exhibit of his work
https://www.newspapers.com/image/111646131/?terms=charles%20cagle&match=1
1968 Find a Grave record
https://www.findagrave.com/memorial/3182994/charles-bean-cagle?_gl=1*2esgsd*_ga*OTUxMjIyNDkyLjE2NTQ2MzU0ODE.*_ga_4QT8FMEX30*MTY1NTIyNzc5OS4xMC4xLjE2NTUyMjc4NDEuMA
1968 US Veterans' Gravesites
https://www.ancestry.com/discoveryui-content/view/502693:8750?ssrc=pt&tid=101044706&pid=140007152118
1968 death notice in the Nashville Tennessean
https://www.newspapers.com/image/112117081/?terms=charles%20cagle&match=1
2015 article in Nashville Arts magazine about an exhibit of his opening
https://nashvillearts.com/2015/12/charlescagle-the-shock-of-the-new/
2022 (June 13) email from Annabeth Dooley at the Tennessee State Museum to Catherine Hurst about Cagle
Biography in AskArt (available for free on Fridays)
https://www.askart.com/artist/Charles_Cagle/108100/Charles_Cagle.aspx