George Ralston Crawford
PVT in 603rd Engineer Camouflage Bn : Co A
ASN#12098729
Born 1906 in Canada, Died 1978
Artist
County of residence at enlistment: Erie County, NY
Other residence(s): Buffalo, NY; Los Angeles, CA; Exton and Chadds Ford, PA; Cincinnati, OH; New York, NY; and numerous temporary residences
United States Army, did not accompany the unit to Europe
Occupation before the war: commercial artist
College education before the war: Otis Art Institute (now LA County Art Institute); Pennsylvania Academy of the Fine Arts; Barnes Foundation
Notes: Transferred to the Army Air Force early in 1943 where he obtained the rank of M/SGT and served mostly in Washington, DC
Source: 603rd Camouflage Engineer Roster provided by W. Anderson; photo courtesy of the Smithsonian American Art Museum, 1938
Ralston Crawford was born on September 25, 1906 in St. Catharines, ON, Canada, the youngest of three children. His father spent some years as a ship's captain on the Great Lakes, and later sold real estate. The family moved to Buffalo, NY when Ralston was about five years old, and that's where he grew up.
His father's lake travels apparently inspired a love of the sea in the young man; he spent a year or so sailing on tramp steamers to the Caribbean, Central America, New Orleans, and California. He settled in Los Angeles to study art at the Otis Art Institute (now the Los Angeles County Art Institute) in 1927, and worked at Walt Disney Studio as an illustrator (the year before Mickey Mouse entered the popular imagination).
After he returned East, he lived in New York for a time, and then continued his studies at the Pennsylvania Academy of the Fine Arts in Philadelphia and the Barnes Foundation in Merion, PA. He married sculptor and poet Margaret Warner Stone on October 7, 1932 in Wilmington, DE. They took a lengthy honeymoon in Paris, Spain, and Italy; while in Paris he studied at the Académie Colarossi and Académie Scandinave. They then returned to New York City where Ralston studied at Columbia, and was briefly employed by the Public Works of Art Project, an agency of the New Deal. In 1934 he held his first one-man show at the Maryland Institute College of Art.
By 1935 the couple had moved back to Pennsylvania with their two sons, James and Robert, living in Chadds Ford and Exton. Here the subjects of his painting were mostly local barns and industrial images.
While he started his career as a painter (and he is best known for his abstract renderings of industry and urban life) he took up photography and lithography in the 1930s as well. He pursued photography in Florida on a Bok fellowship in 1937, and traveled to New Orleans in 1938 where he began photographing black jazz musicians at work. His New York Times obituary says that he obtained "a permit from the city's police department that allowed him to visit bars off-limits to whites."
At some point Ralston and Margaret split up, and by the time he registered for the draft, on October 16, 1940, he was living in Cincinnati and teaching at the Cincinnati Academy of Art. In Cincinnati he met Peggy Frank, who had been a founder of the Modern Art Society in 1939, which would later become the Contemporary Arts Center in Cincinnati. Although he returned to Buffalo to teach at the Buffalo School of Fine Arts, he and Peggy married in Cincinnati on February 5, 1942.
Ralston enlisted in the Army in Buffalo on July 8, 1942 and was assigned to the 603rd Engineer Camouflage Battalion at Fort Meade. He stayed there for about seven months and then transferred to the Army Air Forces (AAF) in Washington, DC. There, with the rank of M/SGT, he became chief of the visual presentation unit of the AAF's weather division. His job was to prepare graphic information about weather for fliers and other military personnel. He also visited the Curtiss-Wright aircraft plant in Buffalo and in later years painted images inspired by his photographs of airplane wings at the plant. In 1945 he was assigned to the China-Burma-India theater, near the end of the war. In 1946, fresh from his military experience, Fortune magazine sent him to the Bikini Atoll to paint his impressions of a nuclear weapons test. (He was the only artist invited to observe and document the test, and the experience affected him profoundly.)
In 1946, Ralston and Peggy had their first child, a son, Neelon, who would be followed by a brother, John.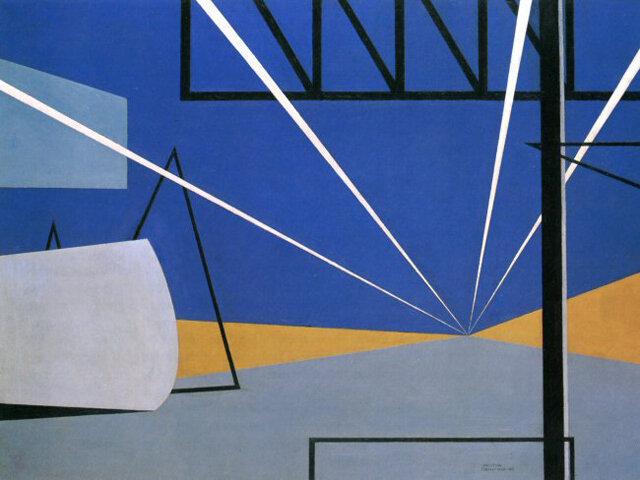 Ralston lived an itinerant life in the years to follow. While he described New York City as his "only home," he lectured frequently in different locations, and held a number of teaching posts. He taught and painted in Honolulu, Brooklyn, Cincinnati, Minneapolis, Baton Rouge, and New York City (at the New School for Social Research). He was a visiting artist at many universities, including LSU and the Universities of Michigan, Colorado, Southern California, and Illinois. Numerous solo shows of his work were held around the country.
In 1951, he traveled to Cologne, Germany where he photographed the ruins of that city in the aftermath of the war. From 1954-1958 he lived in France, and traveled to Spain to study Goya's paintings. He made many trips to New Orleans in the 1950s and 1960s to photograph the musical life of the city and its distinctive above-ground cemeteries, often accompanied by his son, Neelon. In about 1960 he was appointed consultant to the Archive of New Orleans Jazz at Tulane University. In the 1960s he traveled to Greece, France, and Egypt to make prints and photographs. In 1969, along with other artists, he participated in a special program, sponsored by the Department of the Interior, for which he rendered the Grand Coulee Dam in Washington. He traveled frequently to Spain to observe bullfights and the religious procession of the "penitentes" during Holy Week in Seville.
Ralston was diagnosed with leukemia in 1971, but continued to travel extensively and make art. In the 1970s he visited Europe, Asia, Nepal, Afghanistan, and the South Pacific. And he received awards from the National Academy of Arts and Letters and the National Academy of Design in New York during this period.
He died on April 27, 1978 in Houston, TX where he had been visiting to arrange for an exhibition of his work. (He and Peggy had separated by then.) In his will, written two decades before his death, he specified that he wanted to be buried in New Orleans, and seen to his final resting place with a traditional jazz funeral.*
His painting has been described as precisionist; an article by John H. Lawrence on the 64 Parishes website, says that his "compositions often featured crisply rendered geometric forms, abstractions of his real-world subjects." And his New York Times obituary says that "he brought to his work a fine eye for color and urban patterns, juggling the abstracted shapes of boats, construction girders, factory stacks and even priestly garments into rhythmic designs that conveyed the very best of city life." An article accompanying a 2021 exhibit of his work (Ralston Crawford: Air & Space & War) at the Brandywine River Museum of Art, says that "his exceptional eye and ability to community reality in abstract forms were the basis of the wartime work that pivoted the artist in . . . new directions. . . . Crawford's early career excitement about the artistic possibilities of industrialism (including aviation) was replaced by a growing pessimism about its destructive power and focus on violence."
His works are included in the collections of Harvard University Art Museums, Honolulu Museum of Art, the J. Paul Getty Museum in LA, the Metropolitan Museum of Art, the Museum of Modern Art, the National Gallery in DC, the Smithsonian, the Whitney Museum of American Art, and numerous other institutions.
*A New Orleans Times-Picayune article accompanying the opening of a 2012 exhibit of his work entitled "Ralston Crawford and Jazz" reports: "To find Ralston Crawford's burial vault, head to the farthest left-hand corner of St. Louis Cemetery Number Three. There, beyond the boulevards of traditional 19th-century-style tombs, you'll find an angular modernist mausoleum. Crawford's resting place is on the outdoor balcony, facing the French Quarter. . . . Carved beneath his name is the inscription 'Didn't he ramble,' the jazz funeral standard."
Sources:
1915 New York State census
https://www.ancestry.com/discoveryui-content/view/13213109:2703?ssrc=pt&tid=120314138&pid=140198514863
1930 census
https://www.ancestry.com/discoveryui-content/view/28402264:6224?ssrc=pt&tid=120314138&pid=140198514863
1932 Delaware marriage records
https://www.ancestry.com/discoveryui-content/view/31001:61368?ssrc=pt&tid=120314138&pid=140198514863
1940 draft card
https://www.ancestry.com/discoveryui-content/view/200719791:2238?tid=&pid=&queryId=bc5d811ae63f421939beca52a8abb369&_phsrc=ZIY6&_phstart=successSource
1942 article in the Cincinnati Enquirer (OH) about his marriage
https://www.newspapers.com/image/100559779/?terms=ralston%20crawford&match=1
1942 enlistment record
https://www.ancestry.com/discoveryui-content/view/4272069:8939?tid=&pid=&queryId=bc5d811ae63f421939beca52a8abb369&_phsrc=ZIY8&_phstart=successSource
1942 article in the Cincinnati Enquirer (OH) about his art; mentions he is in the 603rd
https://www.newspapers.com/image/100540087/?terms=ralston%20crawford&match=1
1945 article in the Evening Star (Washington DC); he has the rank of M/SGT in Army Air Force
https://www.newspapers.com/image/868205332/?terms=ralston%20crawford&match=1
1978 Find a Grave record
https://www.findagrave.com/memorial/216196257/ralston-crawford
1978 Texas death certificate
https://www.ancestry.com/discoveryui-content/view/910626:2272?ssrc=pt&tid=120314138&pid=140198514863
1978 VA death record
https://www.ancestry.com/discoveryui-content/view/1853670:2441?ssrc=pt&tid=120314138&pid=140198514863
1978 obituary in the New York Times
https://www.nytimes.com/1978/05/02/archives/ralston-crawford-is-dead-at-71-abstract-painter-and-lithographer.html
2012 info from exhibit at New Orleans Museum of Art entitled "Ralston Crawford and Jazz"
https://noma.org/ralston-crawford-and-jazz/
2021 review of an exhibit of his work at Brandywine Museum of Art (mentions he was in the Ghost Army)
https://www.broadstreetreview.com/reviews/the-brandywine-river-museum-of-art-presents-ralston-crawford-air-space-war
Page on the artist at Smithsonian American Art Museum
https://americanart.si.edu/artist/ralston-crawford-1038
Biography on artnet
https://www.artnet.com/artists/ralston-crawford/biography
Wikipedia page
https://en.wikipedia.org/wiki/Ralston_Crawford
wikiart, examples of his work
https://www.wikiart.org/en/ralston-crawford/all-works#!#filterName:all-paintings-chronologically,resultType:masonry
64 Parishes website; contains a number of his New Orleans jazz photographs