Seymour Murray Kent
PFC in 603rd Engineer Camouflage Bn : Co A
ASN#12137773
Born 1918 in NY, Died 2000
Artist
County of residence at enlistment: Oneida County, NY
Other residence(s): New York, NY; Scottsdale, AZ
United States Army, European Theatre of Operations
Occupation before the war: commercial artists
College education before the war: Pratt 4 years
Notes: Birth name Seymour Morris Kaplan; served in Europe per "The Official History of the 23rd…"
Source: 603rd Camouflage Engineer Roster provided by W. Anderson; B Company and Casualties; Bernie Mason Company A, B, D Roster
Seymour Morris Kaplan (his birth name) was born on June 3, 1918 in Rome, NY, the youngest of six children. Both his parents and his oldest sister were born in Russia, and emigrated to the U.S. in 1900. His father owned a tailor shop.
When Seymour turned 18 he changed his name to Seymour Murray Kent. He studied art at Pratt in New York City; in 1941 he played the lead in a dramatic production there. He registered for the draft on October 16, 1940, and enlisted on August 27, 1942. By that time he had graduated from Pratt and was working as a commercial artist.
Like many Pratt students, Seymour found his way into the 603rd Engineer Camouflage Battalion. He served in Europe with the unit and he was discharged with the rank of SGT. The Official History of the 23rd Headquarters Special Troops notes the activities of several members of the unit on the ship home from LeHavre in June, 1945. "Sgt. Seymour Kent produced a number of extravaganzas built around two Red Cross girls."
In 1947 Seymour married Miriam Lucerne Maxwell, and they took up residence in Manhattan. They were the parents of one son, Christopher.
Seymour made his career in product and package design for cosmetics companies, working at Helena Rubinstein, Dorothy Gray, and Revlon before taking on the newly created post of VP of package design at Avon in 1969. He stayed at Avon until he retired with the title of Corporate VP, Product and Package Design. He also designed some jewelry* and other items for Avon in the 1970s; his signature "S.M. Kent" formed part of the graphic design of several Avon scarves.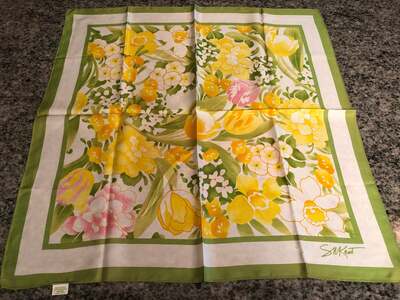 In retirement, the Kents moved to Scottsdale, AZ though it seems as if they kept their NYC apartment as well. Seymour died on February 28, 2000.
*Most Avon jewelry in the early years was not for sale separately, but packaged as a premium. The company's first jewelry collection intended for sale was not produced until 1967, and it wasn't until 1971 that jewelry got its own section in the Avon catalog. Seymour's new post was right in between those two dates; clearly part of their plan to expand their jewelry presence. By 1975, Avon was the world's biggest costume jewelry producer.
Sources:
1920 census
https://www.ancestry.com/discoveryui-content/view/110829557:6061?tid=&pid=&queryId=ef00ea4ba0a7e05a933efc98adf8c4c6&_phsrc=zRz11&_phstart=successSource
1930 census
https://www.ancestry.com/discoveryui-content/view/43617715:6224?tid=&pid=&queryId=ef00ea4ba0a7e05a933efc98adf8c4c6&_phsrc=Qxi2&_phstart=successSource
1940 draft card
https://www.ancestry.com/discoveryui-content/view/303268425:2238?tid=&pid=&queryId=e470b9cfe3f53b606fed6a1a97299431&_phsrc=zRz3&_phstart=successSource
1941 article in the Brooklyn Citizen (NY) re production at Pratt
https://www.newspapers.com/image/543785128/?terms=seymour%20m%20kent&match=1
1942 enlistment record
https://search.ancestry.com/cgi-bin/sse.dll?indiv=1&dbid=8939&h=6585176&tid=&pid=&queryId=e15abb965423dd102200b54e3af57b99&usePUB=true&_phsrc=zRz1&_phstart=successSource
1945 The Official History of the 23rd Headquarters Special Troops by Captain Fred Fox
http://www.ghostarmylegacyproject.org/official-history.html
1947 marriage license index
https://www.ancestry.com/discoveryui-content/view/2239526:61406?tid=&pid=&queryId=b11b10aeec737bc409749296592baeb2&_phsrc=zRz10&_phstart=successSource
1950 shipboard manifest from Rotterdam to NY
https://search.ancestry.com/cgi-bin/sse.dll?indiv=1&dbid=7488&h=3026093681&tid=&pid=&queryId=e15abb965423dd102200b54e3af57b99&usePUB=true&_phsrc=zRz5&_phstart=successSource
1958 flight from London to NY
https://search.ancestry.com/cgi-bin/sse.dll?indiv=1&dbid=1277&h=6905478&tid=&pid=&queryId=e15abb965423dd102200b54e3af57b99&usePUB=true&_phsrc=zRz7&_phstart=successSource
1969 article in NY Daily News; appointed VP at Avon
https://www.newspapers.com/image/395356244/?terms=seymour%20murray%20kent&match=1
1974-1993 US public records index
https://www.ancestry.com/discoveryui-content/view/323978728:1788?tid=&pid=&queryId=e15abb965423dd102200b54e3af57b99&_phsrc=zRz9&_phstart=successSource
2000 Social Security death index
https://search.ancestry.com/cgi-bin/sse.dll?indiv=1&dbid=3693&h=32937384&tid=&pid=&queryId=b11b10aeec737bc409749296592baeb2&usePUB=true&_phsrc=zRz8&_phstart=successSource
2000 Social Security applications and claims index (shows name change)
https://www.ancestry.com/discoveryui-content/view/47798741:60901?tid=&pid=&queryId=b11b10aeec737bc409749296592baeb2&_phsrc=zRz10&_phstart=successSource
2000 death notice in New York Times
https://www.nytimes.com/2000/02/29/classified/paid-notice-deaths-kent-seymour-m.html