Lawrence Sheldon Klein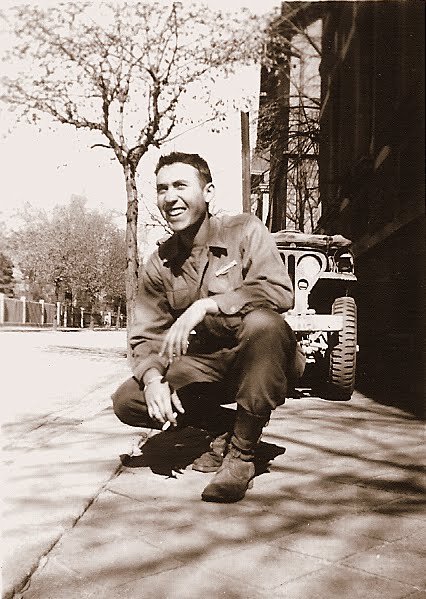 PFC in 603rd Engineer Camouflage Bn : Co D
ASN#32722587
Born 1924 in NJ, Died 1985
Artist
Other residence(s): Carteret, NJ; Mt Vernon, NY
United States Army, did not accompany the unit to Europe
Occupation before the war: artist
Source: Company D Names Only Roster; Bernie Mason Company D Roster; photo courtesy of son Michael Klein
Lawrence Klein was born on April 3, 1924 in Rahway NJ. He went to elementary school in Carteret NJ, and the family had moved to Mount Vernon NY by the time Lawrence registered for the draft on June 30, 1942. He was self-identified as a student at that time.
He enlisted in the Army on January 24, 1943, and was released on December 13, 1945.
He worked in New York City in the early days of television, and moved to Los Angeles in 1953-1954. There he married Patricia B. Chase on December 14, 1957. His sons Michael and Andrew were born in 1959 and 1961. His career in TV included set design, art direction, and some production. He worked on shows such as You Bet Your Life, Shindig, and Hollywood Squares.
Lawrence and Patricia were divorced in February, 1970. He left TV after the divorce and worked in advertising for some years thereafter. In "semi-retirement" he owned a hobby store in Sherman Oaks, CA where he could help kids of all ages build models.
He died on August 2, 1985 and is buried at LA National Cemetery.
Sources:
1942 draft card
https://search.ancestry.com/cgi-bin/sse.dll?indiv=1&dbid=2238&h=302718978&tid=&pid=&usePUB=true&_phsrc=Qol23&_phstart=successSource
1957 marriage record
https://search.ancestry.com/cgi-bin/sse.dll?indiv=1&dbid=5186&h=551446&tid=&pid=&usePUB=true&_phsrc=Qol24&_phstart=successSource
1985 Social Security death record
https://search.ancestry.com/cgi-bin/sse.dll?indiv=1&dbid=3693&h=33665595&tid=&pid=&usePUB=true&_phsrc=Qol26&_phstart=successSource
1985 VA death record
https://search.ancestry.com/cgi-bin/sse.dll?indiv=1&dbid=2441&h=13644675&tid=&pid=&usePUB=true&_phsrc=Qol29&_phstart=successSource
IMDB Art Director info