John Henry Kennedy
SGT in 603rd Engineer Camouflage Bn : Co B, 1st Platoon
ASN#12180163
Born 1922 in PA, Died 2013
Artist
County of residence at enlistment: Allegheny County, PA
Other residence(s): Pittston, PA; Philadelphia, PA; Pittsfield, VT
United States Army, European Theatre of Operations
Occupation before the war: commercial artists
College education before the war: Cooper Union 2 years
College education after the war: University of the Arts (Philadelphia)
Notes: Rank changed from PVT in GA records to SGT per tombstone in Vermont Veterans Memorial Cemetery
Source: 603rd Camouflage Engineer Roster provided by W. Anderson; Company B Names and Addresses roster; photo from Lynn Kennedy
John Kennedy was born on January 4, 1922 in Pittston, PA, the younger of two children. He graduated from St. John the Evangelist High School in Pittston in 1939. He received two years of higher education in art before the war broke out, including classes at Cooper Union in New York while he was working in the city at the Gilman Advertising Agency.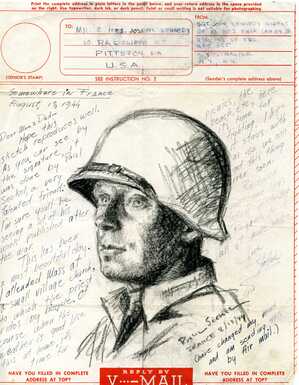 John enlisted in the Army on October 28, 1942. His aunt had heard a story on the radio about how the Army was looking for artists, so he applied to the 603rd Engineer Camouflage Battalion and was accepted into the unit. He served overseas in the Ghost Army from May 1944 to July 1945. While they were overseas, many of the men of the Ghost Army drew and painted each other; the drawing of John shown here was done by fellow soldier
Paul Seckel
.
John was discharged from the Army on October 21, 1945 with the rank of SGT. After the war he used the GI Bill to complete a degree in advertising art and design at the Philadelphia Museum School of Art (now the University of the Arts). Fellow Ghost Army veteran Buzz Senat entered the school at the same time, but did not complete a degree. John and Buzz would remain friends until Buzz's death in 1986.
After graduating in 1948, John taught art at the Museum School and at Moore College of Art. He also worked as a freelance artist. He married Helen Elizabeth Schmidt, a fellow graduate of the Philadelphia Museum School of Art, on June 11, 1949 in Philadelphia; they would go on to have two daughters: Lynn and Lisa. They lived in Philadelphia in the early years of their marriage and later fixed up a 250-year-old farmhouse on six acres in northern Bucks County, near Quakertown PA.
During those years, John was a member of the Philadelphia Sketch Club and contributed a historical sketch of Philadelphia to the 1960 Philadelphia Engagement Calendar.
John's friend Buzz Senat eventually became the art director for the Philadelphia office of Towers, Perrin, Forster & Crosby (TPF&C), a management consulting firm. He hired John to do some freelance projects in that capacity, and in 1965 John took over from Buzz as art director. Later he became the firm's first corporate (worldwide) art director, as well as continuing to serve as art director for the Philadelphia office.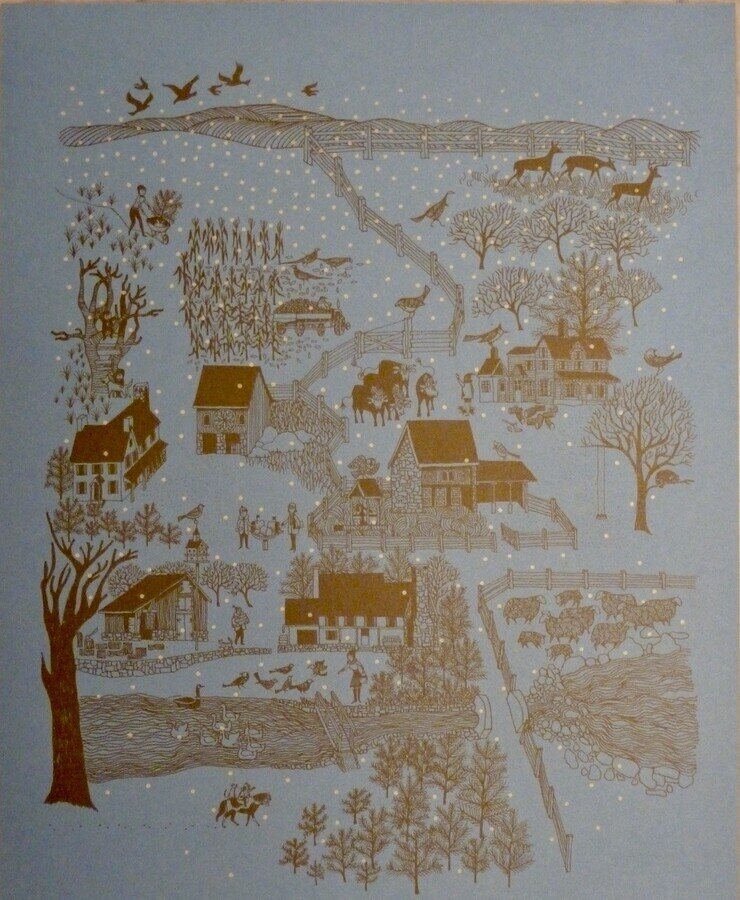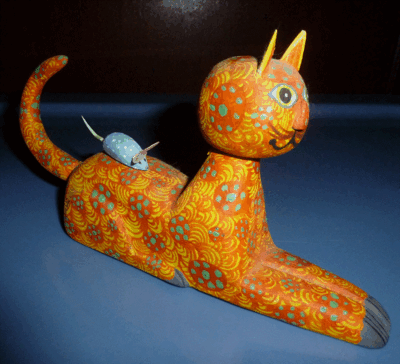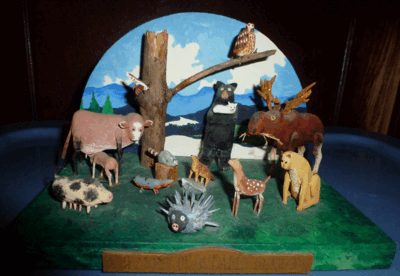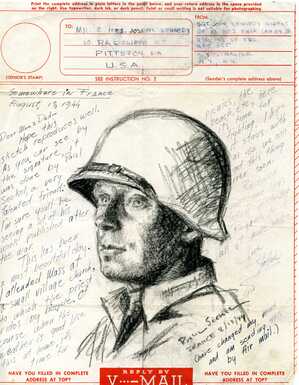 After retiring in 1982, he continued to do freelance art and design in Philadelphia and New York. He enjoyed hooking rugs, gardening, landscaping, building stone walls, tennis, baseball, football, environmental and political activism, hiking, history, and entertaining. Painting and sketching were always hobbies for him, as well as providing his living. He was a member of his local planning commission, president of his homeowner's association, and president of the Philadelphia Art Directors' Club.
Helen was also a freelance artist, and, according to their daughter Lynn, the couple was "famous for their homemade holiday cards for most of their lives."
In 1985, John and Helen moved to Pittsfield, VT. There he was an active volunteer, and both Kennedys served as docents at the Billings Farm and Museum in Woodstock. John continued drawing cartoons--some were published in the Saturday Evening Post and he had a weekly series in the Randolph Herald entitled "Local Color." He kept up that series until 2006 when the Kennedys moved to Bellows Falls.
John died on April 1, 2013 at the Continuing Care unit of Cedar Hall Retirement Community in Windsor, VT. Despite his dementia, he continued to draw and sketch until a couple of months before his death. He is buried at Vermont Veterans Memorial Cemetery in Randolph Center, VT. Helen died two years later and is buried with John.
Sources:
1942 enlistment record
https://search.ancestry.com/cgi-bin/sse.dll?indiv=1&dbid=8939&h=6577178&tid=&pid=&queryId=e4b17c9dc65d331c633c0928f38d7559&usePUB=true&_phsrc=CWn4&_phstart=successSource
1943 marriage announcement in the Scranton PA Times-Tribune
https://www.newspapers.com/image/534131048/?article=d3494fdc-3bd9-4495-902d-fcf7e590a429&focus=0.025985578,0.5532199,0.15181361,0.97583497&xid=3398&_ga=2.44373542.369252008.1624650068-34999148.1624650068
1950 Pennsylvania US Veteran Compensation File
https://search.ancestry.com/cgi-bin/sse.dll?indiv=1&dbid=3147&h=1495415&tid=&pid=&queryId=61c05e9dc9e024f477ab3ce14d000919&usePUB=true&_phsrc=CWn1&_phstart=successSource
1960 article in the Pittston Gazette (PA)
https://www.newspapers.com/image/79096275/?terms=john%20h%20kennedy&match=1
2013 obituary in the Allentown PA Morning Call
https://www.newspapers.com/image/273216991/?article=d55eafb6-9eee-46ba-8a0b-89859fda18b2&focus=0.49098086,0.035501637,0.66262347,0.82674897&xid=3355&_ga=2.116846980.369252008.1624650068-34999148.1624650068
2013 Find a Grave record
https://www.findagrave.com/memorial/107759568/john-henry-kennedy
2015 Find a Grave record for Helen Schmidt Kennedy
https://www.findagrave.com/memorial/146346279/helen-e-kennedy
2021 (June 13 ) GALP Veteran Biography Worksheet from daughter Lynn Kennedy.