Ellsworth Maurice Kelly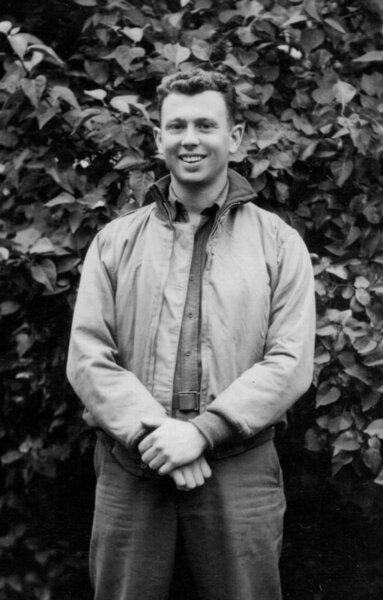 PFC in 603rd Engineer Camouflage Bn : Co A
ASN#32604570
Born 1923 in NY, Died 2015
Artist
County of residence at enlistment: Bergen County, NJ
Other residence(s): Oradell, NJ; New York, NY; Boston, MA; Paris, France; Spencertown, NY
United States Army, European Theatre of Operations
Occupation before the war: college student
College education before the war: Pratt 1+ years
College education after the war: School of the Museum of Fine Arts, Boston; École Nationale Supérieure des Beaux-Arts, Paris
Source: Travel Orders, 23d HQ, 29 August 1945; 603rd reunion mailing list; Company D With Addresses Roster; bio info from The Ghost Army by Beyer/Sayles; photo from estate of Ellsworth Kelly
Ellsworth Kelly was born on May 31, 1923 in Newburgh, NY, the middle of three sons; his father worked for the US Army and later was a manager with an insurance company. The family moved to Pittsburgh PA when he was a baby, and a few years later to Oradell, NJ. His paternal grandmother introduced him to ornithology and his mother encouraged his interest in the subject. His New York Times obituary credits his "observational exactitude" to his youthful bird-watching enthusiasm. His mother also gave him an inspiring art book when he was a teenager—though she later disapproved of his career choice.
After graduating from Dwight Morrow High School in Englewood, NJ in 1941, he pursued his study of art at Pratt in New York City. His parents were only willing to pay because they believed he would get a technical/commercial art education there. Like several other Ghost Army soldiers, he took a camouflage course at Pratt that gave him an entree into the 603rd Engineer Camouflage Battalion.
Ellsworth registered for the draft on June 30, 1942, and enlisted on January 1, 1943, after completing three semesters at Pratt. Once in the Army he experimented with camouflage techniques and helped to silk-screen posters that introduced infantry units to basic camouflage principles. Art critic Eugene Goossen argues that the exposure to military camouflage helped shape Kelly's aesthetic. "The involvement with form and shadow, with the construction and destruction of the visible . . . was to affect nearly everything he did in painting and sculpture." Once in Europe he spent most of his official time behind the steering wheel of a truck.
Like many other Ghost Army artists, he did his share of sketches and paintings while in the European theatre, and he appreciated the exposure to European architecture and landscape (and his brief visit to Paris). Reproductions of five of his wartime artworks are included in The Ghost Army of World War II.
Once he was stateside again, Ellsworth used the GI Bill to study art at the School of the Museum of Fine Arts in Boston, graduating with highest honors in 1948. He then headed back to Paris, to study at the École Nationale Supérieure des Beaux-Arts, still under the GI Bill. The Beaux-Arts did not require class attendance, and he attended only sporadically, finding the city, and its art, architecture, and artists, more stimulating.
He would spend six years in Paris, during which time he moved from the naturalism of his early work to almost entirely abstract work, inspired by shapes and pure colors. In a 1996 interview with The New York Times, he recalled his early days in the city: "Paris was grey after the war. I liked being alone. I liked being a stranger. I didn't speak French very well, and I liked the silence."
After his GI Bill funds ran out, he took a series of jobs as an art teacher, a textile designer, and a custodian. Eventually he decided to return home. Ellsworth's husband Jack Shears tells the story: "He always followed his own vision. When he was leaving Europe, he got sick, and he wired his parents and said, 'I need $200 for my passage back to New York, and I need $200 to bring all my artwork back.' They sent him $200, and they said, 'Leave your artwork there.' He went to all of the shipping companies, and Cunard was the only one that would give him credit. So he brought back all the paintings he did in Paris for $200. Now they are in all of the major museums in the world. That kind of foresight, believing in yourself, was really a hallmark of Ellsworth's life."
Back in New York in 1954 he ended up living in a half-deserted section of Lower Manhattan near South Street Seaport, in a 19th century sailmaker's loft. His New York Times obituary describes the area, which was populated by numerous artists: "Their lofts were spartan. Few had kitchens or hot water, and there were constant threats of eviction. The rewards were abundant space and light." One of the artists he met there was Robert Indiana, who became his partner for several years.
Ellsworth was discovered quickly. He held a solo exhibition in 1956, the same year he received his first sculptural commission for the lobby of the Transportation Building in Philadelphia. In 1957 the Whitney Museum of American Art bought a painting--it was his first museum purchase. In 1959, he was included in a survey of emerging artists at MOMA entitled "Sixteen Americans," a show which also included Jasper Johns, Robert Rauschenberg, and Louise Nevelson.
He was to go on to become one of the foremost American artists of the 20th century. The Art Story website summarizes his work this way: "Ellsworth Kelly has been a widely influential force in the post-war art world. He first rose to critical acclaim in the 1950s with his bright, multi-paneled, and largely monochromatic canvases. Maintaining a persistent focus on the dynamic relationships between shape, form, and color, Kelly was one of the first artists to create irregularly shaped canvases. His subsequent layered reliefs, flat sculptures, and line drawings further challenged viewers' conceptions of space. While not adhering to any one artistic movement, Kelly vitally influenced the development of minimalism, hard-edge painting, color field, and pop art."
He worked in several media, often combining two or more. Along with paintings, drawings, and collages, he produced free-standing and relief sculptures. He created cut-out wood and steel panels that functioned as monochromatic paintings, and composed works from two or more overlapping canvases.
In 1970 he left Manhattan for Spencertown, NY where he worked in a 15,000 square foot studio lit by skylights. In 1984 he began to share a home with photographer Jack Shear, who would eventually become his husband.
He created works for sensitive public spaces, including the US Holocaust Memorial Museum in Washington DC, the Deutscher Bundestag in Berlin, and the US courthouse in Boston.
In 1973 Ellsworth had his first American retrospective at MoMA in New York; his second, in 1996 at the Guggenheim, traveled to LA, London, and Munich. His first major European retrospective was held in Amsterdam in 1979. Other surveys, focusing on specific bodies of work, included sculpture at the Whitney in 1982, works on paper at the Fort Worth Art Museum and the MFA in Boston in 1987, and prints at the Detroit Institute of Art in 1987.
He was given three awards by the French Government and received numerous awards in the US for his work, including recognition by his alma mater. In 2010, he was the recipient of a Pratt Legends Award, which honors distinguished individuals and companies in the world of art and design. "Blue Green Yellow Orange Red," a painting with stark vertical color panels, was named a Pratt Top 125 Icon in 2012 as part of the Institute's 125th anniversary celebration. In 2013 he was awarded the National Medal of Arts, considered the nation's highest honor for artistic excellence, from President Obama.
During the last six years of his life he suffered from emphysema, and had to use oxygen; he blamed the condition on years of exposure to turpentine and paint fumes. He died on December 27, 2015 at his home in Spencertown, NY. He painted until the end. As Jack Shear tells it: "His mind was there, his memory was there. He was in great shape. He did sort of have this quality of an 11-year old boy. He had that sense of wonder, even at 92."
Sources:
1930 census
https://www.ancestry.com/discoveryui-content/view/22343653:6224?ssrc=pt&tid=3428797&pid=430069132055
1940 census
https://www.ancestry.com/discoveryui-content/view/131779335:2442?ssrc=pt&tid=3428797&pid=430069132055
1942 draft card
https://www.ancestry.com/discoveryui-content/view/302225331:2238?tid=&pid=&queryId=6e4deab095c0e94c3810cff637ad0859&_phsrc=FmW4&_phstart=successSource
1943 enlistment record
https://search.ancestry.com/cgi-bin/sse.dll?indiv=1&dbid=8939&h=6558740&ssrc=pt&tid=3428797&pid=430069132055&usePUB=true
2008 Prattfolio article "Faking Out the Enemy" about the Pratt students who were in the Ghost Army
https://issuu.com/prattinstitute/docs/prattfolio-fall-2008-artinthetimesofwar
2015 Find a Grave record
https://www.findagrave.com/memorial/156429077/ellsworth-kelly
2015 obituary in the New York Times
https://www.nytimes.com/2015/12/28/arts/ellsworth-kelly-artist-who-mixed-european-abstraction-into-everyday-life-dies-at-92.html
2015 obituary in The Guardian
https://www.theguardian.com/artanddesign/2015/dec/28/ellsworth-kelly
2016 article on the Pratt website; info re awards from Pratt
https://www.pratt.edu/news/view/pratt-remembers-celebrated-fine-arts-alumnus-and-abstract-painter-ellsworth
2017 article in the New York Times about his studio with photographs by his husband Jack Shear
https://www.nytimes.com/2017/05/05/arts/design/ellsworth-kellys-studio.html
2019 interview with Jack Shear in Galerie magazine
https://www.galeriemagazine.com/11-fascinating-insights-ellsworth-kelly/
Biography on Ellsworth Kelly website
https://ellsworthkelly.org/biography/
Wikipedia biography
https://en.wikipedia.org/wiki/Ellsworth_Kelly
The Art Story website