Samuel Lawrence Feinstein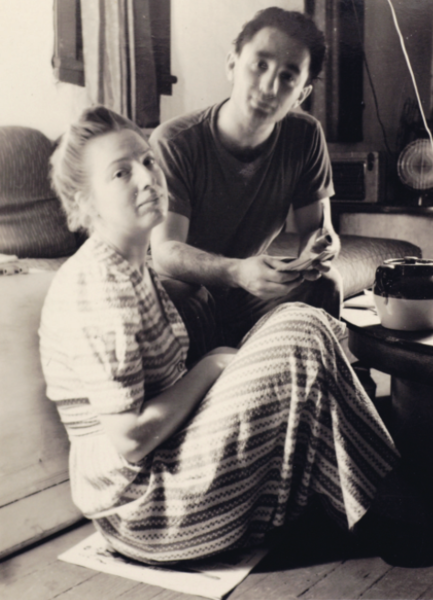 PFC in 603rd Engineer Camouflage Bn : Co D
ASN#13113073
Born 1915 in Russia, Died 2003
Artist
County of enlistment: Philadelphia, PA
Other residence(s): Philadelphia, PA; New York, NY; Dennis, MA
United States Army, did not accompany the unit to Europe
Occupation before the war: artists, sculptors, and teachers of art
College education before the war: Pennsylvania Museum and School of Industrial Art
Notes: WWII Army enlistment record said 4 years of high school
Source: 603rd Camouflage Engineer Roster provided by W. Anderson; photo from Chestnut Hill Academy
Samuel Feinstein was born on February 27, 1915, in Russia. He, along with his parents and younger brother, emigrated to the US in 1922, in the wake of the Russian Revolution. (A third brother was born in the US after the family's arrival.) They settled in Philadelphia where Sam's father became a fruit seller.
Sam attended Boys' Central High School in Philadelphia, graduating in 1932. He then earned his BA at the Pennsylvania Museum and School of Industrial Art (now The University of the Arts) in 1936, winning the prize for painting in his senior year. That year also saw his first one-man show, sponsored by the Philadelphia Art Alliance and held at the Philadelphia Museum of Art.
After graduation, Sam struggled to support himself as a teacher and commercial artist. He taught painting at the Philadelphia Museum School and printmaking at the Philadelphia Print Club. In 1938 he married Anna Beryl Cook and became the head of the Art Department at Chestnut Hill Academy (CHA), the boys' school of what is now Springside Chestnut Hill Academy (SCH).
He remained in that position until 1942, the year he married fellow artist Barbara Crawford, and enlisted in the Army.
According to an extensive biography published by the Springside Chestnut Hill Academy (SCH) on the occasion of a major showing of his work in Philadelphia in 2020-21, Sam had "struggled with the idea of war and applied for conscientious objector status. His request was denied and Sam went on to secure a position in the 603rd Engineer Camouflage Battalion by studying all he could find out about camouflage, as well as staging a camouflage exhibit at the Franklin Institute." He enlisted on August 31, 1942.
He was, apparently, frustrated by the lack of creativity in the camouflage work, and managed to convince the Army that he was better suited to pictorial work, such as creating posters and animations. He did realistic illustrations for recruitment and wartime posters in Queens, NY and Carlisle, PA. According to his obituary, he worked with a small group of artists including cartoonist Charles Addams and novelist William Saroyan.
Sam's wife Barbara had taken over his job at Chestnut Hill Academy when he joined the Army (and she would remain there for nearly 50 years!). After his release from the Army in 1945, Sam taught for a year at Springside School (Chestnut Hill's sister school).
He did some teaching at the Philadelphia Museum of Art, and (again quoting from the SCH biography) "became known in the region for his paintings, writings, and lectures." He also developed several short films--one for the UN on the splitting of the atom and one about Philadelphia painter Franklin Watkins.
In 1947 he moved to New York (though he maintained a Philadelphia studio) to pursue his painting, and worked for two years as art director for several graphics firms. During this period, he also taught at the Pratt Institute for several years. In 1949 he met, and began studying with, artist Hans Hoffman, and made the decision to become a full-time freelance artist. He also started working on a documentary film about Hoffman, which eventually premiered at the Metropolitan Museum of Art in 1999.
In the late 1940s/early 1950s he began spending time in the summer in Provincetown, MA to paint.
After 1950 he did not show his art in galleries but continued to paint and teach. According to a quote from his wife in his obituary, "he defined painting as the deepest kind of universal religion. He did not think art should be used for publicity and commercialism."
In the 1950s, Sam was a founder, and president for three years, of Group '55, an organization of thirty Philadelphia-based abstract artists. They held public forums to promote an understanding of modernism in art, architecture, music, and dance.
Sam and his second wife, Barbara, divorced in 1958, though they remained friends and continued to paint together for the rest of their lives. In 1962, he married artist Anita Askild, and they had a son Sachsa in 1963. (Sachsa is now a poet, essayist, editor, and college professor.)
Anita died in 1980, and he went on to marry Patricia Stark, a painter and art teacher in 1985.
In the period from 1950 until his death, he taught privately in New York, Princeton, Toronto, Cape Cod, and in Philadelphia at his Rittenhouse Square studio. He taught his last class in Philadelphia only two months before his death, on June 10, 2003, at his summer home in Dennis, MA.
His paintings (largely abstract) and drawings are in the collection of the Philadelphia Museum of Art, the Metropolitan Museum of Art, the Chrysler Collection, and in private collections throughout North America.
Photo
several photographs at different ages
https://resources.finalsite.net/images/v1597768169/schorg/xbgtcyaagmv83axpid4s/SamFeinsteinEarlyYears.pdf
at about 50 (clip attached)
https://www.ancestry.com/mediaui-viewer/collection/1030/tree/101039011/person/312059933181/media/a20bf122-09d6-41fd-8b9b-44ed1b369b62?_phsrc=tHx5&usePUBJs=true
in old age
https://www.newspapers.com/image/199536418/?terms=samuel%2Bl%2Bfeinstein
Sources:
1938 Marriage Record
https://search.ancestry.com/cgi-bin/sse.dll?indiv=1&dbid=2536&h=1182471&tid=&pid=&queryId=858924392fccf0f0328cd37f016dd993&usePUB=true&_phsrc=UKT17&_phstart=successSource
1940 Census
https://www.ancestry.com/imageviewer/collections/2442/images/M-T0627-03691-00339?usePUB=true&_phsrc=UKT18&_phstart=successSource&usePUBJs=true&pId=22595145
1940 Draft Registration
https://search.ancestry.com/cgi-bin/sse.dll?indiv=1&dbid=2238&h=5260566&tid=&pid=&queryId=c279763e0ccc5d162384a8227244902d&usePUB=true&_phsrc=UKT2&_phstart=successSource
1942 Marriage Record
https://search.ancestry.com/cgi-bin/sse.dll?indiv=1&dbid=61381&h=2561706&tid=&pid=&queryId=6316297b10b2bcd949c9a590c9cf446d&usePUB=true&_phsrc=UKT11&_phstart=successSource
1942 Enlistment Record
https://search.ancestry.com/cgi-bin/sse.dll?indiv=1&dbid=8939&h=4952663&tid=&pid=&queryId=41f0f06565c13329ff41444b123c90fd&usePUB=true&_phsrc=UKT5&_phstart=successSource
1945 WW2 Hospital Admission Record
https://search.ancestry.com/cgi-bin/sse.dll?indiv=1&dbid=61817&h=3333097&tid=&pid=&queryId=c279763e0ccc5d162384a8227244902d&usePUB=true&_phsrc=UKT7&_phstart=successSource
1950 Pennsylvania WW2 Veteran Compensation File
https://search.ancestry.com/cgi-bin/sse.dll?indiv=1&dbid=3147&h=445444&tid=&pid=&queryId=c279763e0ccc5d162384a8227244902d&usePUB=true&_phsrc=UKT4&_phstart=successSource
1985 Marriage Record
https://search.ancestry.com/cgi-bin/sse.dll?indiv=1&dbid=61406&h=4826359&tid=&pid=&queryId=6316297b10b2bcd949c9a590c9cf446d&usePUB=true&_phsrc=UKT14&_phstart=successSource
2003 Social Security Death Record
https://search.ancestry.com/cgi-bin/sse.dll?indiv=1&dbid=3693&h=70769510&tid=&pid=&queryId=6316297b10b2bcd949c9a590c9cf446d&usePUB=true&_phsrc=UKT12&_phstart=successSource
2003 Obituary from Philadelphia Inquirer
https://www.newspapers.com/image/199536418/?terms=samuel%2Bl%2Bfeinstein
2020 Biography, Evolution of Painting, etc. with Photographs and Images of Paintings (Sam Feinstein: The Early Years)
https://resources.finalsite.net/images/v1597768169/schorg/xbgtcyaagmv83axpid4s/SamFeinsteinEarlyYears.pdf