Brownlee Wallace Finnell Jr.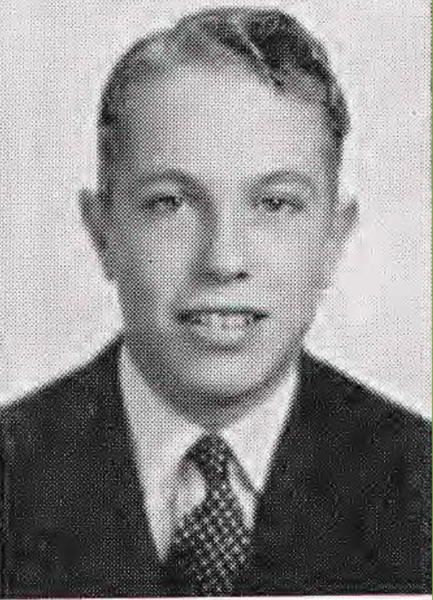 T/5 in 23rd Headquarters Co
Military occupational specialty: 345 (truck driver, light)
ASN#38372017
Born 1923 in TX, Died 1972
County of residence at enlistment: Archer County, TX
Other residence(s): Holliday, TX
United States Army, European Theatre of Operations
College education before the war: Texas Tech 1 year
Brownlee Finnell was born on December 27, 1923 in Holliday, TX. His father was a teamster for an oilfield and later a trucking contractor, and he was the youngest of five sons.
He attended Texas Tech (like most of his brothers before him); when he registered for the draft on June 30, 1942, he reported that he was a student. He enlisted on March 5, 1943, was assigned to the 23 Headquarters Company as a truck driver, and saw service in Europe with the unit. Two of his brothers also served during World War II. Brother John William was an officer in the Army and had a numbers job at the War Department (and would go on to have a career in the Army); brother Everett Wayne was an officer in the Naval Air Corps and served in the Pacific.
After his discharge from the Army with the rank of T/5 he returned to Texas. He married hometown girl Billie Jean Wooster on June 18, 1948, a few weeks after her graduation from nursing school. They would go on to have two children: Brenda and Bill.
Brownlee served as the County Commissioner for Precinct #1 of Archer County. He was a charter member of the Holliday Lions Club, and a member of Holliday First United Methodist Church.
He died of a massive heart attack on April 8, 1972, at the age of 48, and is buried at Holliday Cemetery.
Photo:
1942 Texas Tech yearbook
https://www.ancestry.com/discoveryui-content/view/1424524756:1265?tid=&pid=&queryId=95595d139feb6580ecb2af1a80d23489&_phsrc=LdJ6&_phstart=successSource
Sources:
1930 census
https://www.ancestry.com/discoveryui-content/view/65863266:6224?tid=&pid=&queryId=95595d139feb6580ecb2af1a80d23489&_phsrc=LdJ4&_phstart=successSource
1940 census
https://www.ancestry.com/discoveryui-content/view/152658343:2442?tid=&pid=&queryId=95595d139feb6580ecb2af1a80d23489&_phsrc=LdJ3&_phstart=successSource
1942 draft card
https://www.ancestry.com/discoveryui-content/view/19858214:2238?tid=&pid=&queryId=95595d139feb6580ecb2af1a80d23489&_phsrc=LdJ1&_phstart=successSource
1943 enlistment record
https://search.ancestry.com/cgi-bin/sse.dll?indiv=1&dbid=8939&h=5007671&tid=&pid=&queryId=95595d139feb6580ecb2af1a80d23489&usePUB=true&_phsrc=LdJ2&_phstart=successSource
1943 article in Lubbock Avalanche-Journal (TX) re his brother; mentions his military service
https://www.newspapers.com/image/9781341/?terms=b.%20w.%20finnell&match=1
1972 Texas U.S. death certificate
https://www.ancestry.com/discoveryui-content/view/1226804:2272?tid=&pid=&queryId=95595d139feb6580ecb2af1a80d23489&_phsrc=LdJ2&_phstart=successSource
1972 Find a Grave record
https://www.findagrave.com/memorial/75324071/brownlee-wallace-finnell
1972 obituary in the Lubbock Avalanche-Journal (TX)
https://www.newspapers.com/image/9581835/?terms=b.%20w.%20finnell&match=1
2013 wife's obituary
https://www.coursehero.com/file/75815581/BillieJeanFinnellObitdoc/