Joseph Michael Filler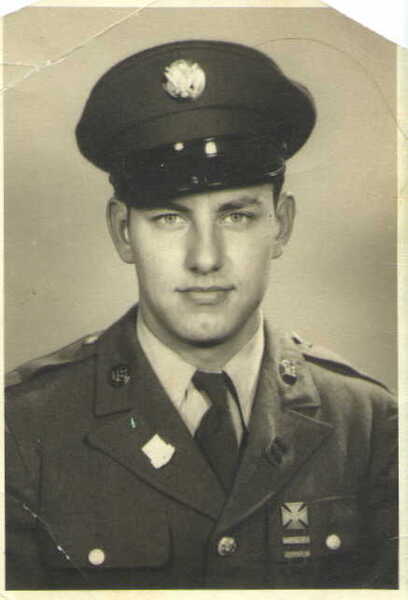 603rd Engineer Camouflage Bn : HQ & Service Co
ASN#37701093
Born 1923 in CO, Died 1993
County of residence at enlistment: Pueblo County, CO
Other residence(s): Pueblo, CO
United States Army, European Theatre of Operations
Notes: of Italian descent; grandfather's last name was Felice, family name changed to Filler
Source: Photo of Headquarters Company at Montcuit, in Nussenbaum scrapbook; Banhof flag; photo from Ancestry®
Joseph Filler was born on October 21, 1923 in Pueblo, CO, the second of four sons.
After graduating from Central High School, he went to work as a clerk at the Colorado Supply store in 1940. Colorado Supply was a division of the Colorado Fuel and Iron Corporation*, where both his father and two uncles worked.
He filled out his draft registration on June 30, 1942 and enlisted on June 11, 1943.
During his stint in the Ghost Army, he signed a flag with some of his fellow company members where he tagged himself as a "Wop" from Pueblo. (This was a nod to his grandfather's Italian birth, and a family name change from Felice to Filler.)
He was released from the Army on November 6, 1945, and went back to work at Colorado Supply--as a driver from 1945-1947, and as a clerk from 1947-1952. When he applied for another job in the company in 1952, he listed his skills as sign painter, carpenter, and clerk. (And the printing on his job application is noticeable for its quirky artistry.)
Joe married Eleanor Tomko on June 25, 1946; they would go on to have three or four children.
He remained at Colorado Fuel and Iron until 1976, retiring as a Forms Control Technician in MIS.
Joe died on October 11, 1993 of prostate cancer.
*Colorado Fuel and Iron was a large steel conglomerate founded in 1892. It was the largest employer in the state, and its steel mill in Pueblo was the city's main industry for most of its history. A few mills on the site are still functioning; the Steelworks Museum and Steelworks Archive are both housed there.
Photo:
In military uniform
https://www.ancestry.com/mediaui-viewer/tree/15051157/person/204774339/media/54c857ab-9d78-4f39-8c15-f293c4ce05f9?_phsrc=Cvf11&_phstart=successSource
Sources:
1940 Census
https://www.ancestry.com/discoveryui-content/view/41903014:2442?indiv=1&tid=&pid=&queryId=97d5e4124f422637b743df8fcc09a8eb&usePUB=true&_phsrc=Cvf10&_phstart=successSource
1942 Draft Registration
https://search.ancestry.com/cgi-bin/sse.dll?indiv=1&dbid=2238&h=8668410&tid=&pid=&queryId=97d5e4124f422637b743df8fcc09a8eb&usePUB=true&_phsrc=hyL10&_phstart=successSource
1943 Enlistment Record
https://search.ancestry.com/cgi-bin/sse.dll?indiv=1&dbid=8939&h=4997257&tid=&pid=&queryId=97d5e4124f422637b743df8fcc09a8eb&usePUB=true&_phsrc=hyL11&_phstart=successSource
1946 Family Tree Marriage Date Reference
https://www.ancestry.com/family-tree/person/tree/162809756/person/182168031193/facts
1962 Pueblo Directory
https://search.ancestry.com/cgi-bin/sse.dll?indiv=1&dbid=2469&h=1502536485&tid=&pid=&queryId=51b6f7a2833d7b164605aad35467f2a5&usePUB=true&_phsrc=QSi11&_phstart=successSource
1940-1976 Colorado Steel & Iron Works Employment Records (multiple pages)
https://search.ancestry.com/cgi-bin/sse.dll?indiv=1&dbid=61411&h=240584&tid=&pid=&queryId=97d5e4124f422637b743df8fcc09a8eb&usePUB=true&_phsrc=Cvf8&_phstart=successSource
1979 Pueblo Directory
https://search.ancestry.com/cgi-bin/sse.dll?indiv=1&dbid=2469&h=1515599476&tid=&pid=&queryId=51b6f7a2833d7b164605aad35467f2a5&usePUB=true&_phsrc=QSi12&_phstart=successSource
1993 Social Security Application and Claims Index
https://search.ancestry.com/cgi-bin/sse.dll?indiv=1&dbid=60901&h=28013752&ssrc=pt&tid=162809756&pid=182168031193&usePUB=true