Richard Lester Faurot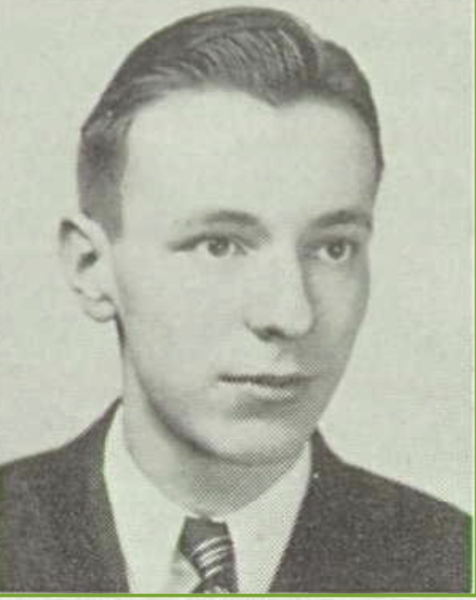 PFC in 603rd Engineer Camouflage Bn : Co D
ASN#12085217 Casualty: Wounded
Born 1921 in NY, Died 1992
Artist
County of residence at enlistment: Westchester Conty, NY
Other residence(s): Livonia, MI; Traverse City, MI
United States Army, European Theatre of Operations
Occupation before the war: student at Pratt Institute
College education before the war: Pratt 2 years
College education after the war: Midwestern Institute of Technology (Chicago)
Notes: Co A in photo
Source: 603rd Camouflage Engineer Roster provided by W. Anderson; Photo of 603rd Company A, 13 May 1945; Company A Roster; 603rd handwritten list; Teddy Katz Co A Roster; List of Casualties (Unofficial); photo from 1940 high school yearbook
Richard Faurot was born on April 10, 1921 in New Rochelle, NY, the third of four children. His father was a real estate broker in 1930, and later a recreation director at a playground. The family moved to Mamaroneck by 1925, and to Larchmont by 1930.
Richard graduated from Pelham Memorial High School in Pelham, NY in 1940 and went on to study industrial design at Pratt Institute in New York City. He was also a well-known sailor locally, competing in races on Great South Bay, Long Island (the waters between Long Island and Fire Island).
He registered for the draft on February 14, 1942, and enlisted on June 2, 1942 after finishing his second year at Pratt. Like many of his fellow Pratt art students, he was assigned to the 603rd Engineer Camouflage Battalion, and trained at Fort Meade and Camp Forrest. His older brother Robert also served in the war as a naval aviator in the Pacific.
Richard served in Europe with the unit and was discharged on October 12, 1945. He later studied at Midwestern Institute of Technology in Chicago, and married fellow artist Eleanor Corwin on May 20, 1950 in Detroit. Eleanor had worked for the US Army during the war, drafting blueprints and charts.
Richard and Eleanor went on to have two children: Susan and Kenneth, and the family settled in Livonia, MI. While nothing is known about Richard's career, Eleanor became a successful illustrator of children's books for Rand McNally in the 1950s and 60s.
Richard died on April 30, 1992 in Traverse City, MI, a waterfront community in the northern part of the state where the Faurots had retired. He is buried at Barnum Memorial Cemetery in Mayfield, MI.
Photos
1940 high school yearbook (see below)
Sources:
1930 census
https://www.ancestry.com/discoveryui-content/view/46887805:6224?tid=&pid=&queryId=b907d71d70b9575eff7ceebdc09b0b85&_phsrc=yHu16&_phstart=successSource
1940 high school yearbook
https://www.ancestry.com/discoveryui-content/view/363065801:1265?tid=&pid=&queryId=2b4ce21f4e627d7ab71be36ceba2d16f&_phsrc=yHu15&_phstart=successSource
1940 census
https://www.ancestry.com/discoveryui-content/view/13052823:2442?ssrc=pt&tid=115678894&pid=240143517993
1942 draft card
https://www.ancestry.com/discoveryui-content/view/302892674:2238?tid=&pid=&queryId=2b4ce21f4e627d7ab71be36ceba2d16f&_phsrc=yHu15&_phstart=successSource
1944 article in The Daily Times (Mamaroneck NY) re his military service
https://www.newspapers.com/image/726856499/?terms=richard%20l%20faurot&match=1
1948 article in The Daily Times (Mamaroneck NY) re his education
https://www.newspapers.com/image/728577708/?terms=richard%20l%20faurot&match=1
1950 marriage record
https://search.ancestry.com/cgi-bin/sse.dll?indiv=1&dbid=9093&h=1547551&tid=&pid=&queryId=2b4ce21f4e627d7ab71be36ceba2d16f&usePUB=true&_phsrc=yHu15&_phstart=successSource
1992 VA death record
https://www.ancestry.com/discoveryui-content/view/2183362:2441?tid=&pid=&queryId=8eac0b6ff55cc99c9afebddbd18344cb&_phsrc=yHu11&_phstart=successSource
1992 Social Security death index
xsearch.ancestry.com/cgi-bin/sse.dll?indiv=1&dbid=3693&h=18737736&tid=&pid=&queryId=1ebdddc185f52e1d7c629093aa1d42d5&usePUB=true&_phsrc=yHu12&_phstart=successSource
1992 Find a Grave record
https://www.findagrave.com/memorial/88907751/richard-lester-faurot
2011 wife's obituary
https://www.legacy.com/us/obituaries/theoaklandpress/name/eleanor-faurot-obituary?pid=147770046