Thomas G Wells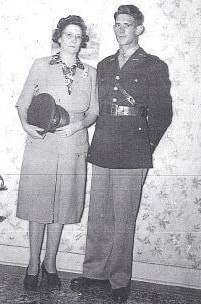 CPT in 23rd Headquarters Co
ASN#293685 Casualty: Killed
Born 1919 in CT (probably), Died 1945
Other residence(s): Chicopee Falls, MA
United States Army, European Theatre of Operations
Notes: Bronze Star; GO #21, Hq 12th A Gp, 1 May 45. Meritorious Service: Company Commander, France, Luxembourg, Belgium, and Germany, 20 Jul 44-12 Mar 45; killed in France
Source: Unit Shipment 10143-A, 23d HQ, from le Havre 23 June 1945; W. Anderson Notes; Awards and Decorations; Ghost Army roster by state; Additional members of the 23rd, 603rd, etc; 1945 Official History of the 23rd Headquarters Special Troops; photo courtesy of Ace Simpson family
Thomas Wells was born on February 27, 1919, most likely in the Manchester, CT area. He enlisted in the Army on January 18, 1940, a month before his 21st birthday.
He married Barbara White from Chicopee Falls, MA. They had a daughter Ruth, born in January, 1944 in Holyoke, MA, while her father was stationed at Camp Forrest in Tennessee.
Capt. Wells, according to the 1945 Official History of the 23rd Headquarters Special Troops, was the "earnest young headquarters commandant" of the unit. He was killed on March 12, 1945 during Operation Bouzonville when an artillery barrage hit the jeep in which he rode.
He was buried at the Luxembourg American Cemetery and Memorial; his body was returned to the U.S. in 1949 for reinterment at East Cemetery in Manchester, CT.
He was awarded a Bronze Star for Meritorious Service. His daughter, Ruth Wells Danckert, who never knew her father, was active in organizing reunions and publishing newsletters for the Ghost Army. In addition to her Ghost Army work, Ruth had a varied and accomplished career in journalism and publishing. She passed away in 2012.
Sources:
1944 article in the Springfield Republican (MA) about the birth of his daughter
https://www.genealogybank.com/doc/newspapers/image/v2%3A11BC3DF3E61E32B5%40GB3NEWS-12AA975F540C540C%402431120-12A517B0CD59610A%409-12A517B0CD59610A%40?h=1&fname=thomas%20g&lname=wells&fullname=&rgfromDate=1940&rgtoDate=1949&formDate=&formDateFlex=exact&dateType=range&kwinc=&kwexc=&state%5B0%5D=connecticut&state%5B1%5D=massachusetts&sid=stjrvoqvorvsztbconxhtxrdhokrfswv_wma-gateway014_1613427455231
1945 US headstone applications for military veterans
https://www.ancestry.com/discoveryui-content/view/1630240:2375?tid=&pid=&queryId=6d0b4c4c730a6d2c9896a439343d2a36&_phsrc=DMl7&_phstart=successSource
1945 article in the Springfield Republican (MA) about his death
https://www.genealogybank.com/doc/newspapers/image/v2%3A11BC3DF3E61E32B5%40GB3NEWS-12AA4F45E444D2D4%402431553-12A7FE44D7E06A70%4011-12A7FE44D7E06A70%40?h=5&fname=thomas%20g&lname=wells&fullname=&rgfromDate=1940&rgtoDate=1949&formDate=&formDateFlex=exact&dateType=range&kwinc=&kwexc=&state%5B0%5D=connecticut&state%5B1%5D=massachusetts&sid=stjrvoqvorvsztbconxhtxrdhokrfswv_wma-gateway014_1613427455231
1945 Official History of the 23rd Headquarters Special Troops
http://www.ghostarmylegacyproject.org/official-history.html#anchor042
1949 article in the Springfield Union (MA) about the return of his body to the US
https://www.genealogybank.com/doc/newspapers/image/v2%3A12AE9C35A497B0E8%40GB3NEWS-12B7C65F361DC1C0%402432986-12B5295BBA054EBC%4011-12B5295BBA054EBC%40?h=3&fname=thomas%20g&lname=wells&fullname=&rgfromDate=1940&rgtoDate=1949&formDate=&formDateFlex=exact&dateType=range&kwinc=&kwexc=&state%5B0%5D=connecticut&state%5B1%5D=massachusetts&sid=stjrvoqvorvsztbconxhtxrdhokrfswv_wma-gateway014_1613427455231
1949 Find a grave record (body moved to US in 1949)
https://www.findagrave.com/memorial/74300271/thomas-g-wells#view-photo=46317730