Keith Shaw Williams
SGT in 603rd Engineer Camouflage Bn
ASN#12219270
Born 1905 in MI, Died 1951
Artist
County of residence at enlistment: Bergen County, NJ
United States Army, European Theatre of Operations
Occupation before the war: artists, sculptors, and teachers of art
College education before the war: National Academy of Design, Pennsylvania Academy of the Fine Arts, Art Students League; Académie de la Grande Chaumière and Académie Colorassi (Paris)
Notes: Certificate of Merit; CG SP TRS, 12th A Gp, 9 Jun 45. Meritorious Service: Camouflage Technician, Germany, 11-13 Mar 45; final rank SGT
Source: John Jarvies talked about him extensively; Awards and Decorations; bio info from The Ghost Army by Beyer/Sayles; photo from Boyajian Collection, GALP Archive
Keith Williams was born on October 7, 1905, in Marquette, MI, one of four children. The family was originally from Ithaca and later Brooklyn, NY; they were living in Brooklyn in 1903 and back there by the time of the 1920 census.
Keith studied art at the National Academy of Design, the summer school of the Pennsylvania Academy of Fine Arts, the Art Students League, and in Paris at the Académie de la Grande Chaumière and Académie Colorassi.
He won a prize from the National Arts Club in 1928.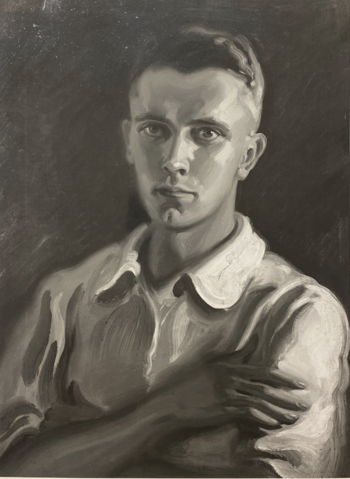 At the age of 24 he was named to head the Department of Fine Arts at the Brooklyn YWCA, and the following year he held a one-man show of his watercolors in Nova Scotia and won a prize for his painting from the National Arts Club.
In the 1930s he was teaching at Grand Central School of Art in New York, and continuing to paint and win awards for his work, including an award from the National Academy of Design in 1935. In 1939 he was named an Associate at that Academy, and in 1942 he was named a full Academician.
In 1938 he won the Allied Artists gold medal for oil painting, and a bronze medal from them in 1940. He also won a prize from the Salmagundi Art Club in New York in 1942.
So he entered the Ghost Army as a nationally known and respected artist.
Keith registered for the draft on October 16, 1940, and enlisted in the Army on December 15, 1942. At the time was living in Bergen, NJ with a studio in NY, not far from what is now Kennedy Airport.
He continued to paint while overseas with the Ghost Army; fellow GA veteran John Jarvie recalled seeing him standing guard with his hands cupped in front of him. Keith told him he was painting a watercolor and revealed a watch fob "made up of three little watercolor buttons. And his brush was the ferrule end of a watercolor brush with just the hairs. He did a beautiful watercolor with those three colors."
Keith was discharged from the Army with the rank of SGT.
He had married Ruth Moore in 1933; they were the parents of a daughter, Judith. But their marriage did not survive the war; their 1946 divorce record says they had been separated for more than three years. Later in 1946, Keith married Dr. Katherine Kernan.
After the war Keith continued to paint in New York City, and summered with his wife in White Creek in upstate New York, not far from the Vermont border. He won a prize from the Library of Congress in 1946 and held a one-man show at Grand Central Gallery in 1948.
Sadly, his promising career was cut short when he was stricken with a heart attack on February 11, 1951, when he was only 45 years old. He died in White Creek, and is buried in the family plot at the Ithaca City Cemetery.
Keith was a member of the Salmagundi Club, the Society of American Etchers, the National Art Club, the American Watercolor Society, Allied Artists, and Artists Equity.
He is known for his oil and watercolor painting, and for his etchings. He painted figures (including many nudes), landscapes, and still lifes. His work is held in many public and private collections including those of the Library of Congress, the National Academy of Design, the Norfolk Museum, the Rollins College Museum of Art, and the New York Historical Association. His papers are housed at the Smithsonian Archives of American Art.
Photos:
Adult portrait
https://americanart.si.edu/artist/keith-shaw-williams-5411
Sources:
1929 article in Brooklyn Life and Activities of Long Island Society
https://www.newspapers.com/image/83143670/?terms=keith%20s%20williams&match=1
1938 New York Times article re his medal for painting
https://www.nytimes.com/1938/10/15/archives/prizes-announced-by-allied-artists-keith-shaw-williams-winner-of.html?searchResultPosition=1
1940 Draft Card
https://search.ancestry.com/cgi-bin/sse.dll?indiv=1&dbid=2238&h=194554711&tid=&pid=&queryId=ca9854b3a1b1d2078d34e666505be7dc&usePUB=true&_phsrc=Bqh2&_phstart=successSource
1942 Enlistment Record
https://search.ancestry.com/cgi-bin/sse.dll?indiv=1&dbid=8939&h=2421746&tid=&pid=&queryId=ea92c81170ca57225e0fb4e33d0ef870&usePUB=true&_phsrc=MUW2&_phstart=successSource
1946 Divorce Record
https://search.ancestry.com/cgi-bin/sse.dll?indiv=1&dbid=8954&h=900111896&ssrc=pt&tid=10965519&pid=192048907128&usePUB=true
1951 Find a Grave Record
https://www.findagrave.com/memorial/43415614/keith-shaw-williams
1951 New York Times obituary
https://www.nytimes.com/1951/02/14/archives/keith-s-williams-painter-etcher-45.html?searchResultPosition=4
Childs Gallery Biography
https://childsgallery.com/artist/keith-shaw-williams/
Smithsonian Archives of American Art
https://www.aaa.si.edu/collections/keith-shaw-williams-papers-10348#overview
Watch fob story in The Ghost Army of World War II by Rick Beyer and Elizabeth Sayles