Quinty Carl "Kip" or "Kipp" De Angelis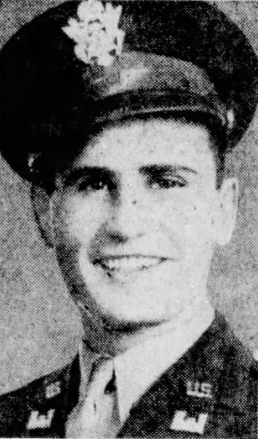 2LT in 603rd Engineer Camouflage Bn : Co B
Born 1918 in PA, Died 2003
Other residence(s): Hasbrouck Heights, NJ; Brackenridge, PA in 1942; Arlington, VA; Kent, WA in 2002
United States Army, European Theatre of Operations
Notes: Co D too?
Source: 603rd Camouflage Engineer Roster provided by W. Anderson; Roster of 23d HQ officers, from family of Oscar Seale; 603rd reunion mailing list; Headquarters Company Roster; Company D With Addresses Roster; Bernie Mason Company D Roster; photo from Pittsburgh Sun-Telegraph in 1943
NOTE: The ASN on the Ghost Army roster is blank. There are two army serial numbers on his PA Veteran's Compensation Form, one crossed out and another written in. Couldn't find enlistment record (or any other military records) for either of these numbers.
Quinty Carl DeAngelis was born on April 15, 1918 in Brackenridge, Pennsylvania. His parents had both been born in Italy.
In the 1940 census (filled out April 22, 1940), he is listed as a soldier stationed at Fort Belvoir, VA with one year of college.
On May 30, 1942 he completed an engineer officer candidate course at Fort Belvoir, and was commissioned as a 2LT.
He served in the army until December 20, 1945 and was overseas from May 2, 1944 to July 2, 1945. His obituary says that he worked in "cover and deception operations."
By 1950, he was living in Arlington, VA with a wife (Isabel Stuart Thompson) and two children. The Pennsylvania Veterans Compensation Form is for a "discharged vet still in service."
His various death records say that he retired from the Army Reserves in 1978 as a LTC, and that in addition to serving in WW2, he also served in Korea and Vietnam.
His obituary also says that he worked as a civil engineer with the government for 40 years, retiring in 1980. (Looks like 5 years of this, possibly more, was military service.) He may have continued to live in greater Washington DC during this period, since that's where he was in 1950 and he was working for the government, but I have no evidence of that.
He was active in the "Veterans of the Battle of the Bulge" group, serving as recording secretary in 1985, and traveling with the group to Belgium in 1984.
He was also a member of the Flotilla 32 Coast Guard Auxiliary in Des Moines.
He and Isabel moved to Kent, Washington in 1984.
He died on January 13, 2003 in Kent, and is buried at Tahoma National Cemetery in Kent.
Photo:
Photo in Uniform from Pittsburgh Sun-Telegraph, May 18, 1943 (clipping attached)
https://www.newspapers.com/image/524008948/?terms=quinty%2Bdeangelis#
Sources:
1940 Census
https://www.familysearch.org/ark:/61903/3:1:3QSQ-G9MR-3Q35?i=47&personaUrl=%2Fark%3A%2F61903%2F1%3A1%3AVRYR-1X6
1942 article from The Evening News (Harrisburg PA)
https://www.newspapers.com/image/60499391/?terms=quinty%2Bdeangelis
1950 Pennsylvania Veterans Compensation File
https://search.ancestry.com/cgi-bin/sse.dll?indiv=1&dbid=3147&h=943133&tid=&pid=&queryId=c9427f8543a6e4e52c44af5803e10d51&usePUB=true&_phsrc=QSk22&_phstart=successSource
1985 Veterans of the Battle of the Bulge newsletter
http://www.veteransofthebattleofthebulge.org/vbob/wp-content/uploads/2011/03/1985-Jan.pdf
1986 US Public Records Index
https://search.ancestry.com/cgi-bin/sse.dll?indiv=1&dbid=1788&h=249615750&tid=&pid=&queryId=33a1b2b7d779b15595780d9940fb5a13&usePUB=true&_phsrc=QSk28&_phstart=successSource
2003 Social Security death record
https://search.ancestry.com/cgi-bin/sse.dll?indiv=1&dbid=60901&h=19864698&tid=&pid=&queryId=c9427f8543a6e4e52c44af5803e10d51&usePUB=true&_phsrc=QSk21&_phstart=successSource
2003 VA death record
https://search.ancestry.com/cgi-bin/sse.dll?indiv=1&dbid=2441&h=5525495&tid=&pid=&queryId=b99a113a3bc6cb74462f27a72a7e01ed&usePUB=true&_phsrc=QSk27&_phstart=successSource
2003 US Veterans Gravesites
https://search.ancestry.com/cgi-bin/sse.dll?indiv=1&dbid=8750&h=813687&tid=&pid=&queryId=b99a113a3bc6cb74462f27a72a7e01ed&usePUB=true&_phsrc=QSk30&_phstart=successSource
2003 Find a Grave record
https://www.findagrave.com/memorial/72860965
2003 Obituary (clip attached)
https://www.genealogybank.com/doc/obituaries/obit/100F8E6119BA9F1F-100F8E6119BA9F1F?h=1&fname=&lname=deangelis&fullname=&rgfromDate=&rgtoDate=&formDate=&formDateFlex=exact&dateType=range&kwinc=&kwexc=&sid=orwxqrgrihyeseykpjfavlmsgofwdqry_wma-gateway007_1595620856876