Alfred Ernest Daubert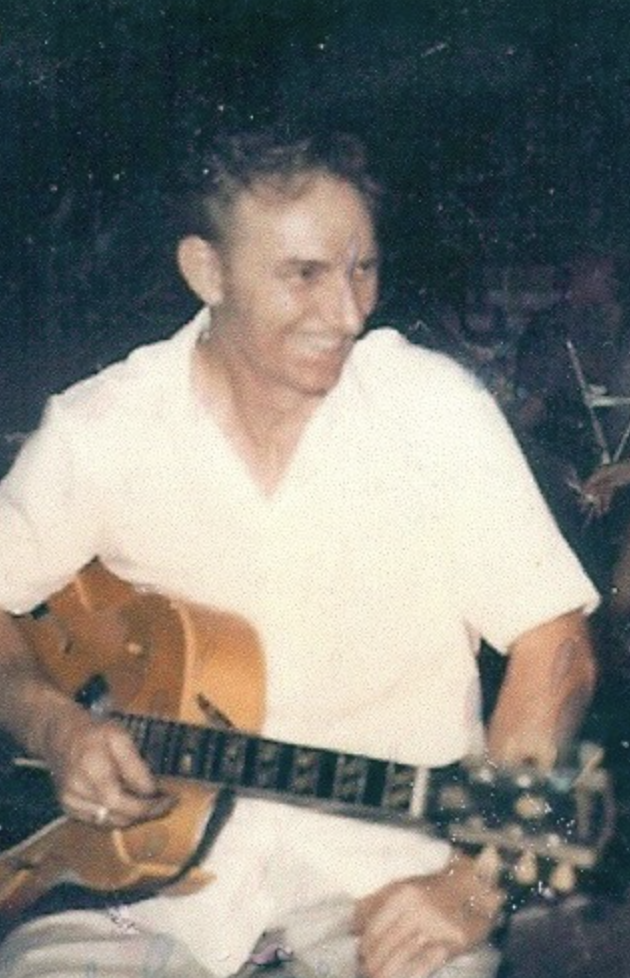 PVT in 406th Engineer Combat Co
Military occupational specialty: 121 (utility repairman)
ASN#32754183
Born 1923 in NJ, Died 1994
County of residence at enlistment: Camden County, NJ
Other residence(s): Blackwood, NJ; Deptford Township, NJ; Wenonah, NJ; Gloucester City, NJ
United States Army, European Theatre of Operations
Al Daubert was born on December 12, 1923 in Blackwood, NJ, the youngest of four children. His father worked as a machinist in a shipyard; his mother had been born in England.
The family was living in Deptford Township in 1930 and in Wenonah in 1940. But by June 30, 1942, when Al registered for the draft, they were living in Gloucester City, NJ and Al was working at the Radio Condenser Co. in Camden.
He was one of 15 young men from Gloucester City who enlisted in the Army between March 15-22, 1943; all but three of them were 18 or 19 years old. On March 25, they found themselves on a train headed to Camp Gordon, Georgia. There they would join the newly activated 293rd Engineer Combat Battalion, and be assigned to Company A. That spring and summer they trained in Georgia and Tennessee, and that fall boarded a train for Camp Pilot Knob, aka the Desert Training Center, five miles from Yuma, Arizona (just inside the California border). In mid-January 1944, the commander of the 293rd received an order to detach his best company for a secret mission. He selected Company A, and by January 30, 1944 the men were back in Tennessee.
Al married Isabella Marsden, his Gloucester City girlfriend, on February 15, 1944 in Coffee City, TN. Less than two months later, on April 7, 1944, Company A of the 293rd was officially reassigned and renamed as the 406th Engineer Combat Company, and the unit boarded a ship to England in early May.
That July, as the men of the 406th headed across England on their way to the war, the train stopped in the city of Gloucester. Here the local NAAFI (the organization that runs recreation, canteens, and PXs for British servicemen) served them tea, which was quaffed amid cheers from the soldiers from Gloucester City, New Jersey.
After their service in the Ghost Army all 15 men returned to the states. They were feted on July 14, 1945 by the Third Ward Regular Democratic Club while back in Gloucester City on 30-day furloughs.
Al and Isabella's first son, Alfred Ernest, Jr., was born in 1946 and all three Dauberts were baptized in the Episcopal Church of the Ascension in Gloucester City on July 7, 1946. They would go on to have four more children: Kenneth, James, Peggy, and Diana.
Sadly, Al's father drowned himself in 1947 while living with Al and his wife and young son—he was being treated for depression at the time.
In 1950, Al was working as a truck driver for an asphalt manufacturer. He spent most of his career working at Cutler Metals in Camden, NJ, retiring in 1986. He also exercised his musical skills as a member of the Garden State String Band.
Al died on July 20, 1994 and is buried at Lakeview Memorial Park in Cinnaminson, NJ.
Sources:
1930 census
https://www.ancestry.com/discoveryui-content/view/18353197:6224?tid=&pid=&queryId=218dee2db6fcaf2ef1997003262c86f8&_phsrc=DHN12&_phstart=successSource
1940 census
https://www.ancestry.com/discoveryui-content/view/134677910:2442?tid=&pid=&queryId=218dee2db6fcaf2ef1997003262c86f8&_phsrc=TTT16&_phstart=successSource
1942 draft card
https://www.ancestry.com/discoveryui-content/view/301509642:2238?tid=&pid=&queryId=5715f32daf8f98b0fdc60a8518a47d34&_phsrc=DHN5&_phstart=successSource
1943 article in the Morning Post (Camden, NJ) about him and 14 other Gloucester veterans of the 406th Engineers—all of them (plus others from the area) were being sent to Fort Dix for training
https://www.newspapers.com/image/479507931/?terms=alfred%20daubert&match=1
1944 Tennessee marriage record
https://www.ancestry.com/discoveryui-content/view/564075:1169?ssrc=pt&tid=108131757&pid=370176800728
1945 article in the Morning Post (Camden, NJ) about him and 14 other Gloucester veterans of the 406th Engineers
https://www.newspapers.com/image/447898575/?terms=alfred%20daubert&match=1
1946 Episcopal baptism record
https://www.ancestry.com/discoveryui-content/view/216853:62073?tid=&pid=&queryId=218dee2db6fcaf2ef1997003262c86f8&_phsrc=TTT17&_phstart=successSource
1947 article in the Courier-Post (Camden, NJ) about his father's suicide
https://www.newspapers.com/image/480408097/?terms=alfred%20e%20daubert
1950 census
https://www.ancestry.com/discoveryui-content/view/164654990:62308?tid=&pid=&queryId=3f22df4d0a73af4c16a13fdb545fedc2&_phsrc=TTT15&_phstart=successSource
1993 US Public Records Index
https://www.ancestry.com/discoveryui-content/view/400630823:1788?ssrc=pt&tid=108131757&pid=370176800728
1994 New Jersey death index
https://www.ancestry.com/discoveryui-content/view/4239713:61260?tid=&pid=&queryId=218dee2db6fcaf2ef1997003262c86f8&_phsrc=DHN11&_phstart=successSource
1994 Social Security death index
https://www.ancestry.com/discoveryui-content/view/14131679:3693?tid=&pid=&queryId=218dee2db6fcaf2ef1997003262c86f8&_phsrc=TTT1&_phstart=successSource
1994 obituary in the Philadelphia Inquirer (PA)
https://www.newspapers.com/image/170020100/?article=60da08d1-2823-4f19-abea-e999b588c61d&focus=0.33597884,0.89132756,0.49700645,0.97486764&xid=3355&_gl=1*1xg1a73*_ga*MTcxMjk5NjA1MS4xNjgwMjIxOTQ5*_ga_4QT8FMEX30*YTA1NWEyNDgtODc0Yi00ZWUwLWE4ZTktM2U4MDcxMTVlODFkLjkuMS4xNjgwNTU2MTA0LjU0LjAuMA..&_ga=2.220788368.925495078.1680221949-1712996051.1680221949
406th Unit History Compiled