George Robert Dramis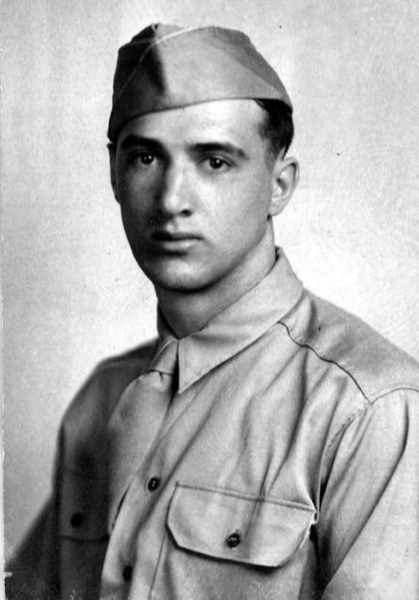 T/5 in Signal Co, Special : Radio C
Military occupational specialty: 740 (radio operator, intermediate speed)
ASN#35056900
Born 1924 in OH
County of residence at enlistment: Ashtabula County, OH
Other residence(s): Ashtabula, OH
United States Army, European Theatre of Operations
Occupation before the war: semiskilled welders and flame cutters
George Dramis was born on November 23, 1924 in Ashtabula, Ohio; both of his parents were born in Italy. He graduated in 1942 from Ashtabula High School, where he played on the high school basketball team, starting at center in his senior year. He was built like an athlete, 6'1" and 190 pounds at the time he was drafted on December 29, 1942, only a month after he turned 18. He enlisted in the Army three months later. Prior to entering the service he had been working as a welder/flame cutter at Turner Construction Company.
While stationed in Tennessee, he married his high school sweetheart, Shirley Elizabeth Johnson, on March 4, 1944. Shirley had trained as a nurse, but responded to the demand for factory workers during the war.
In a 2010 interview for his hometown newspaper, the Ashtabula Star Beacon, George recalled details of his service with the Ghost Army. The author, Karl Pearson, reports: "They landed on Utah Beach, where U.S. forces were assigned for the invasion, on June 7, when fighting was still fierce. On the beach, he was commandeered into becoming a Jeep operator for a time and actually was present at meetings conducted between Patton, fellow U.S. generals Dwight D. Eisenhower and Omar M. Bradley and British general Bernard Montgomery.
"Eventually, Dramis got back to the 23rd, returning to duties as a radio operator. . . . When the war in Europe ended on May 8, 1945, he and his comrades were actually in what was then known as Czechoslovakia.
"But they didn't get to sit idle for long. Sent back to the U.S and New York State again, he and his unit were training to head off to the Pacific Theater when the announcement of the Japanese surrender was made in Aug. 14, 1945. 'They were getting us ready to invade Japan,' Dramis said. 'They were even teaching us to speak Japanese.'"
George was discharged from the Army on October 26, 1945 with the rank of T/5. Shirley says that after he came back from the war she referred to him affectionately as "Sarge."
After George returned to Ashtabula, he became a factory worker at Ward Products, a company that manufactured auto antennas. He worked his way up to foreman there, and around 1953 he went to work for A. Louis Supply, a wholesale industrial distribution company in Ashtabula. He was a purchasing agent there in the late 1950s, and served as president of the company from 1972-1990, when he retired.
He and Shirley would go on to have four children, Randy, born in 1946, who served for many years as director of the Ashtabula Red Cross, and passed away in 2012; twin sons Jim and John, who live in Cary, NC and Fayetteville, AR, respectively; and a daughter who died in infancy. In 1960 George and Shirley built the home they would live in with their family for decades to come.
George had learned to play golf as a youngster, working as a caddy at the Ashtabula Country Club in the 1930s. Fitness had always been important to him, and he was an avid runner well into his 60s. When he retired, he re-immersed himself in golf once again, playing regularly and winning. He shot his third career hole-in-one in 2010, at the age of 85. At the same time he was still lifting weights and "working on the treadmill."
He continued into peacetime his WW2 involvement as a radio operator, serving for a time as President of the Ashtabula County Ham Radio Club.
He and Shirley traveled extensively to Europe, revisiting the areas where George had served during the war.
Shirley died in 2018; they had been married for 74 years.
George is still alive and living independently in Raleigh, NC as of this writing (August 2020).
Photos
High school yearbook with basketball team, 1942
https://search.ancestry.com/cgi-bin/sse.dll?indiv=1&dbid=1265&h=342042265&tid=&pid=&queryId=e4716a45dbfa6fdde0b651c9ac562086&usePUB=true&_phsrc=aLI101&_phstart=successSource
In Military uniform, 1943 or so
https://www.starbeacon.com/sports/local_sports/a-karl-pearson-column-he-answered-the-call/article_726abbea-feb8-59bf-bfc6-ed838300f926.html
Photo of him running, Ashtabula Star Beacon, 1976 photo, 2010 article
https://www.starbeacon.com/sports/local_sports/a-fine-life-by-george/article_d4ce28fe-ac75-5afc-b049-569c5e158aed.html
Sources:
1942 draft card
https://search.ancestry.com/cgi-bin/sse.dll?indiv=1&dbid=2238&h=200440764&tid=&pid=&queryId=e4716a45dbfa6fdde0b651c9ac562086&usePUB=true&_phsrc=aLI76&_phstart=successSource
1943 enlistment record
https://search.ancestry.com/cgi-bin/sse.dll?indiv=1&dbid=8939&h=4673941&tid=&pid=&queryId=e4716a45dbfa6fdde0b651c9ac562086&usePUB=true&_phsrc=aLI77&_phstart=successSource
1944 marriage record
https://search.ancestry.com/cgi-bin/sse.dll?indiv=1&dbid=1169&h=564066&tid=&pid=&queryId=e4716a45dbfa6fdde0b651c9ac562086&usePUB=true&_phsrc=aLI82&_phstart=successSource
1946 Ashtabula city directory
https://search.ancestry.com/cgi-bin/sse.dll?indiv=1&dbid=2469&h=275255254&tid=&pid=&queryId=e4716a45dbfa6fdde0b651c9ac562086&usePUB=true&_phsrc=aLI92&_phstart=successSource
1950 Ashtabula city directory
https://search.ancestry.com/cgi-bin/sse.dll?indiv=1&dbid=2469&h=276237447&tid=&pid=&queryId=e4716a45dbfa6fdde0b651c9ac562086&usePUB=true&_phsrc=aLI93&_phstart=successSource
1957 Ashtabula city directory
https://search.ancestry.com/cgi-bin/sse.dll?indiv=1&dbid=2469&h=296324566&tid=&pid=&queryId=e4716a45dbfa6fdde0b651c9ac562086&usePUB=true&_phsrc=aLI95&_phstart=successSource
2010 article from Ashtabula Star Beacon about his life and physical fitness
https://www.starbeacon.com/sports/local_sports/a-fine-life-by-george/article_d4ce28fe-ac75-5afc-b049-569c5e158aed.html
2010 article from Ashtabula Star Beacon about his military career
https://www.starbeacon.com/sports/local_sports/a-karl-pearson-column-he-answered-the-call/article_726abbea-feb8-59bf-bfc6-ed838300f926.html
2014 article from Ashtabula Star Beacon about George and Shirley's 70th wedding anniversary, includes some biographical details
https://www.starbeacon.com/archives/dramis/article_a2175703-bbfc-562b-ba8e-e049688ea70b.html
2018 obituary for his wife, Shirley
https://obituaries.starbeacon.com/obituary/shirley-dramis-1072035886