Benno de Térey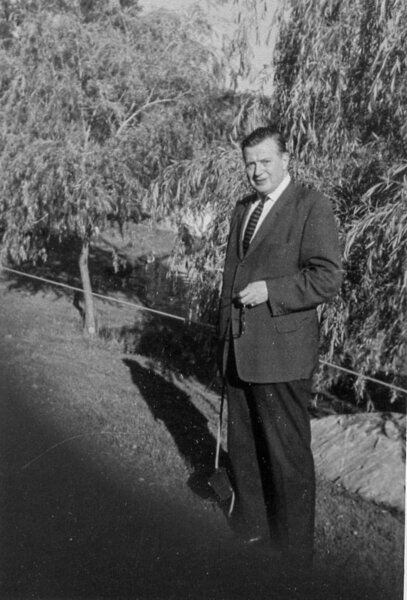 PVT in 603rd Engineer Camouflage Bn : Co B
ASN#32533592
Born 1902 in Germany, Died 1973
Artist
County of enlistment: New York, NY
Other residence(s): New York, NY
United States Army, did not accompany the unit to Europe
Occupation before the war: designers
College education before the war: Univ. of Berlin, Germany 2 years
Notes: also Co A
Source: 603rd Camouflage Engineer Roster provided by W. Anderson; 603rd roster in Seymour Nussenbaum's scrapbook, June 1943; photo from Dahl collection
Benno de Térey was born in Freiburg, Germany on October 17, 1902. Despite his German birth, his family was Hungarian. His father, an art historian and the author of a number of books, was the director of the Budapest Museum of Fine Arts. Benno, an only child, grew up with his family in an apartment in the Museum—what an environment for an artistic, inquisitive child! A 1908 portrait of him by well-known Hungarian painter Oszkár Glatz, which is in the collection of the Hungarian National Gallery, shows him with long blond hair and a book in his lap, ensconced in a velvet chair in a period room.
He studied art history and economics at the University of Berlin (now Humboldt University of Berlin) and also studied in France, Italy, and England, acquiring a total of five languages along the way.
According to Rick Beyer in a post on the Ghost Army Facebook page: "Benno is believed to be the inspiration for not one but two major characters in Antal Szerb's Hungarian novel Journey by Moonlight, which according to Wikipedia is 'one of the best-known novels in contemporary Hungarian literature' and has been called 'one of the greatest works of modern European Literature.'"
He emigrated to the United States in 1926, and found work as a window-dresser, a common profession for aspiring artists prior to World War II. He filled out his final petition for US citizenship in August, 1933.
By the late 1930s he was working at W. & J. Sloane on Fifth Avenue in New York City as manager of displays, winning prizes for his Christmas windows. W. & J. Sloane was a furniture and rug store that catered to the prominent, including the White House, and the wealthy, including the Rockefeller, Whitney, and Vanderbilt families. Benno would sometimes serve as a consultant on various interior decorating jobs. In her 2009 book The Irregulars: Roald Dahl and the British Spy Ring in Wartime Washington, author Jennet Conant describes a particular project for Benno. In 1937, multi-millionaire newspaper publisher Charles Marsh built an extravagant estate, called Longlea*, for his mistress, Alice Glass, near Boston, VA, about 60 miles southwest of Washington DC. "Marsh set up his bride-to-be in great style, giving her free rein over the design and decoration of their palatial new home. She hired the New York decorator Benno de Terey, a handsome Hungarian known for his exquisite taste, and filled the interior rooms with sumptuous furnishings." These included Aubusson carpets, paintings by Monet, and Chinese Chippendale pieces.
As the war loomed larger, Benno took a camouflage course in New York City, hoping to work his way into a camouflage unit. He registered for the draft on February 15, 1942, and enlisted on October 19, 1942, becoming a fairly old private in the 603rd Engineers Camouflage Battalion.
Benno did not go overseas with the Ghost Army. Perhaps "old age" disqualified him, but in any case he was discharged from the Army in November, 1944 and went back to New York.
He spent most of the rest of his career working as an interior designer with French & Company. Today the company describes itself as follows: "French & Company was founded in the mid-19th century and was active in supplying American robber barons—and the museums they founded—with decorative arts, sculpture and tapestries." According to his obituary in the New York Times, Benno was a specialist in post-Renaissance fine arts and a collector of the decorative arts of the period. In 1967, he was one of New York's top 13 designers invited to decorate a room in a decorator's atelier in a Park Avenue townhouse.
He died of a heart attack at his apartment on the Upper East Side on May 18, 1973.
*Longlea is now an Opus Dei Catholic retreat center, but is also a venue for professional conferences, seminars, study weekends, and other programs.
Sources:
1908 portrait of him as a child in the Hungarian National Gallery
https://en.mng.hu/artworks/benno-de-terey-as-a-child-portrait-of-beno-terey/
1933 petition for citizenship
https://search.ancestry.com/cgi-bin/sse.dll?indiv=1&dbid=2280&h=3960029&tid=&pid=&queryId=9890f22887b7e62dd88e587c9eb47251&usePUB=true&_phsrc=IlN8&_phstart=successSource
1942 draft card
https://www.ancestry.com/discoveryui-content/view/194908354:2238?tid=&pid=&queryId=7068ca33a5857afb37608e122ea226a3&_phsrc=IlN2&_phstart=successSource
1942 enlistment record
https://aad.archives.gov/aad/record-detail.jsp?dt=893&mtch=1&cat=all&tf=F&q=32533592&bc=&rpp=10&pg=1&rid=3140925
1943 article about him in the 603rd's Flat Top newsletter
https://www.facebook.com/TheGhostArmyofWWII/posts/the-ghost-army-contained-many-fascinating-characters-but-perhaps-none-so-exotic-/10155706536061330/
1967 article in the Boston Herald re his participation in a decorators' show house
https://www.genealogybank.com/doc/newspapers/image/v2%3A1386BF60B4F67060%40GB3NEWS-140D41BD6E57FDD5%402439679-140D3B8DA154E394%4018-140D3B8DA154E394%40?h=1&fname=benno&lname=de%20terey&fullname=&rgfromDate=&rgtoDate=&formDate=&formDateFlex=exact&dateType=range&kwinc=&kwexc=&sid=lpxfcjskvslmbatxprrmobejdmsrqohq_wma-gateway009_1624381088442
1973 obituary in New York Times
https://timesmachine.nytimes.com/timesmachine/1973/05/21/99145572.html?pageNumber=36
1973 VA death record
https://www.ancestry.com/discoveryui-content/view/6148164:2441?tid=&pid=&queryId=d570476e165f3581032a828f114a61e7&_phsrc=Pnm2&_phstart=successSource
2009 from The Irregulars: Roald Dahl and the British Spy Ring in Wartime Washington by Jennet Conant
https://books.google.com/books?id=a-UuDQAAQBAJ&pg=PA156&lpg=PA156&dq=benno+de+terey&source=bl&ots=znNceFhoW3&sig=ACfU3U2DSQP0HZ18IOYwYO9o1XnzwWtiGA&hl=en&sa=X&ved=2ahUKEwiS4a-gmavxAhXKQs0KHYrxDaMQ6AEwEXoECBQQAw#v=onepage&q=benno%20de%20terey&f=false